Czym jest Igloo i tu: Igloo są to restauracyjne kopuły Polidomes. To idealne rozwiązanie dla restauracji, kawiarni, pubów i innych miejsc konsumpcji, które cierpią na sezonowość. Igloo umożliwiają organizowanie komfortowej przestrzeni w dowolnym miejscu (dach, ogródek, taras). Kopuły restauracyjne Polidomes przyciągają uwagę, są proste i nowoczesne jednocześnie. Stają się wizytówką i znakiem rozpoznawczym swoich właścicieli.
Inwestując w nasze Igloo zyskujesz
Większy ruch
Ruch w ogródkach/ patio/ na tarasie – również poza sezonem letnim
Bezpieczeństwo
Przyjmowanie klientów w bezpiecznych warunkach
Więcej miejsca
Zwiększenie ilości stolików o te usytuowane poza restauracją – w Igloo
Atrakcja
Dodatkowa atrakcja przyciągającą potencjalnych klientów (nowoczesny design Igloo, możliwość zainstalowania listew ledowych)
Ogrody zimowe
Możliwość wykorzystania dachu, tarasu czy innych niezadaszonych miejsc do stworzenia ogrodu zimowego dostępnego dla gości niezależnie od pory roku
Punkt widokowy
Usytuowanie kulistych namiotów Polidomes na dachu budynku może okazać się wspaniałym pomysłem na uwydatnienie walorów krajobrazowych lokalu
Zabawa formą
Możliwość dowolnej aranżacji kopuły (np. styl tradycyjny: kwadratowy/okrągły stół, krzesła, styl nowoczesny: worki do siedzenia/ leżenia)
Igloo 10
Powierzchnia: 10,2 m2
Średnica: 3,6 m
Wysokość: 2,96 m
Ilość miejsc siedzących: 2-6
Kubatura/ogrzewanie: V=23 m3/1,3kW
Igloo 13
Powierzchnia: 12,6 m2
Średnica: 4 m
Wysokość: 3,05 m
Ilość miejsc siedzących: 6-8
Kubatura/ogrzewanie: V=30 m3/1,67kW
Igloo 20
Powierzchnia: 19,6 m2
Średnica: 5 m
Wysokość: 3,87 m
Ilość miejsc siedzących: 8-12
Kubatura/ogrzewanie: V=58,8 m3/3,28kW
Zmontuj Igloo samodzielnie
Konstrukcja stalowa, ocynkowana, pomalowana
proszkowo. Poszycie w zależności od wariantu składa się z
membrany typu opaque (nieprzepuszczającej światła) o
gramaturze 850 g/m2 i klasie reakcji na ogień B-s2, d0 oraz
membrany wysoko transparentnej o grubości 0,5mm.
Wentylacja grawitacyjna, system odprowadzania wilgoci,
jedno wejście. Stopy przygotowane pod balastowanie.
Kopuła, której stelaż ma kształt kulisty ma doskonałą
odporność na wiatr.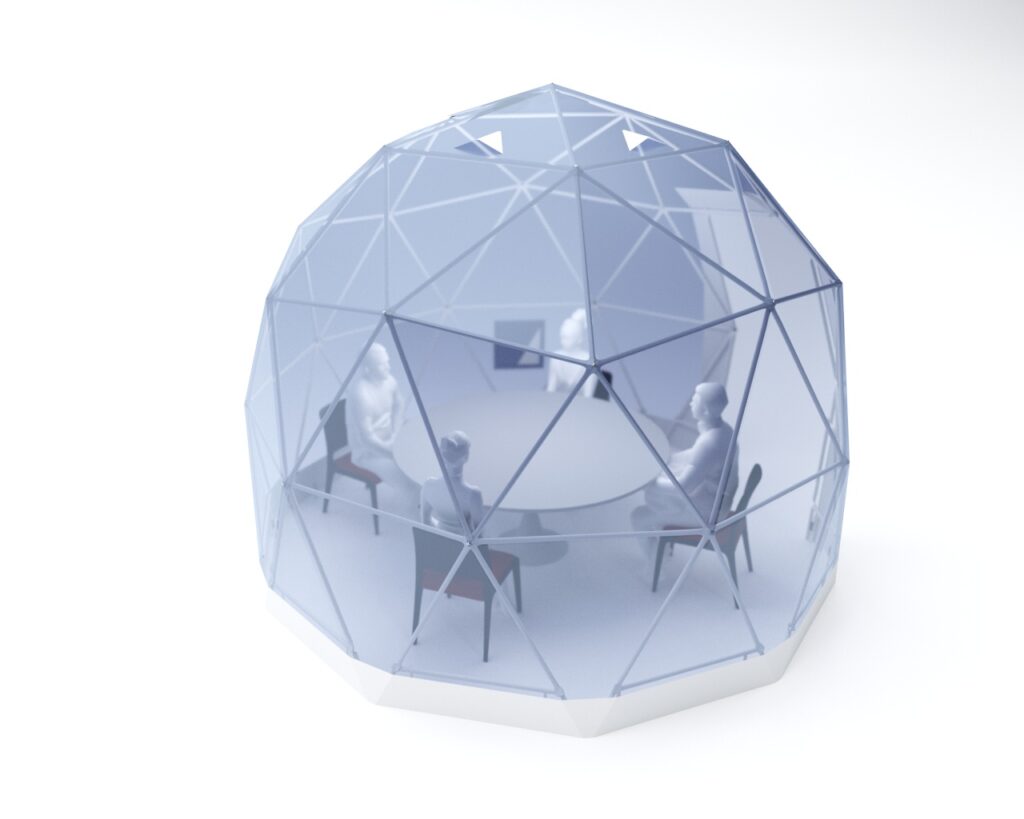 Dzięki Igloo zagwarantujesz swoim gościom:
• Dostępność ogródków restauracyjnych o każdej porze roku
• Bezpieczeństwo – brak kontaktu
z innymi gośćmi restauracji
• Obcowanie z naturą podczas deszczu czy śniegu
• Niepowtarzalna atmosfera związana z bezpośrednim
widokiem na miasto
• Niecodzienne warunki spożywania posiłków
(podczas padającego deszczu czy śniegu)
• Możliwość zaplanowania imprezy plenerowej
bez martwienia się o pogodę
• Spektakularny efekt wow!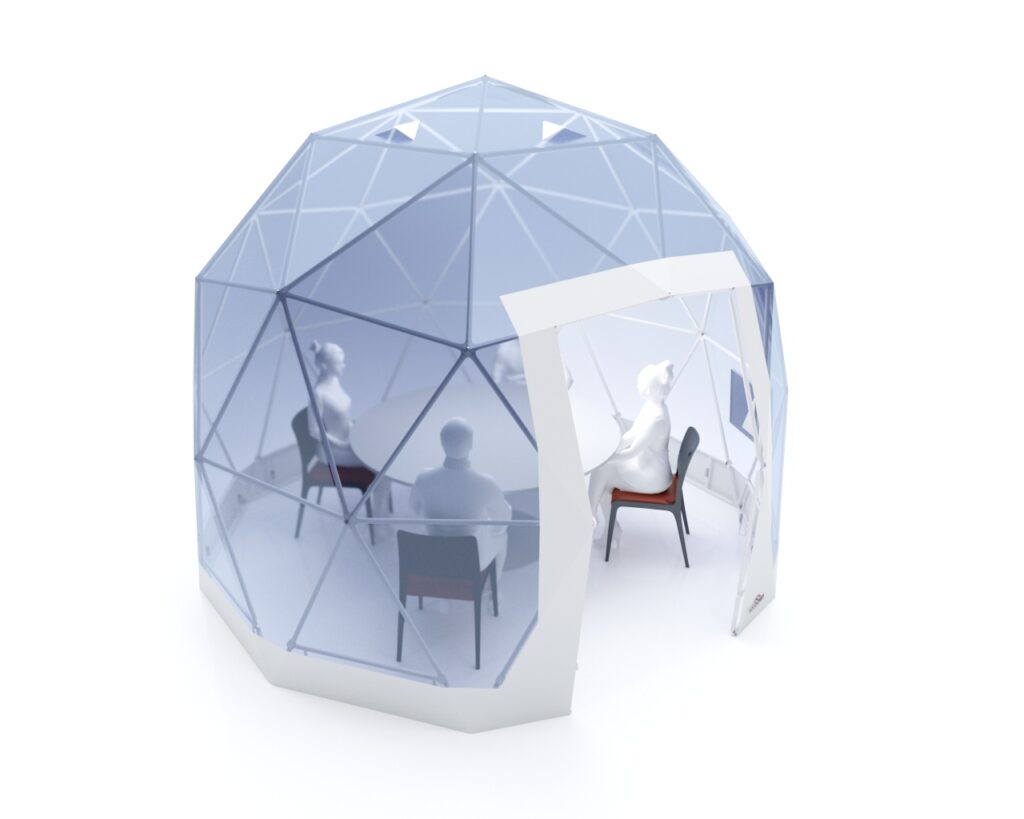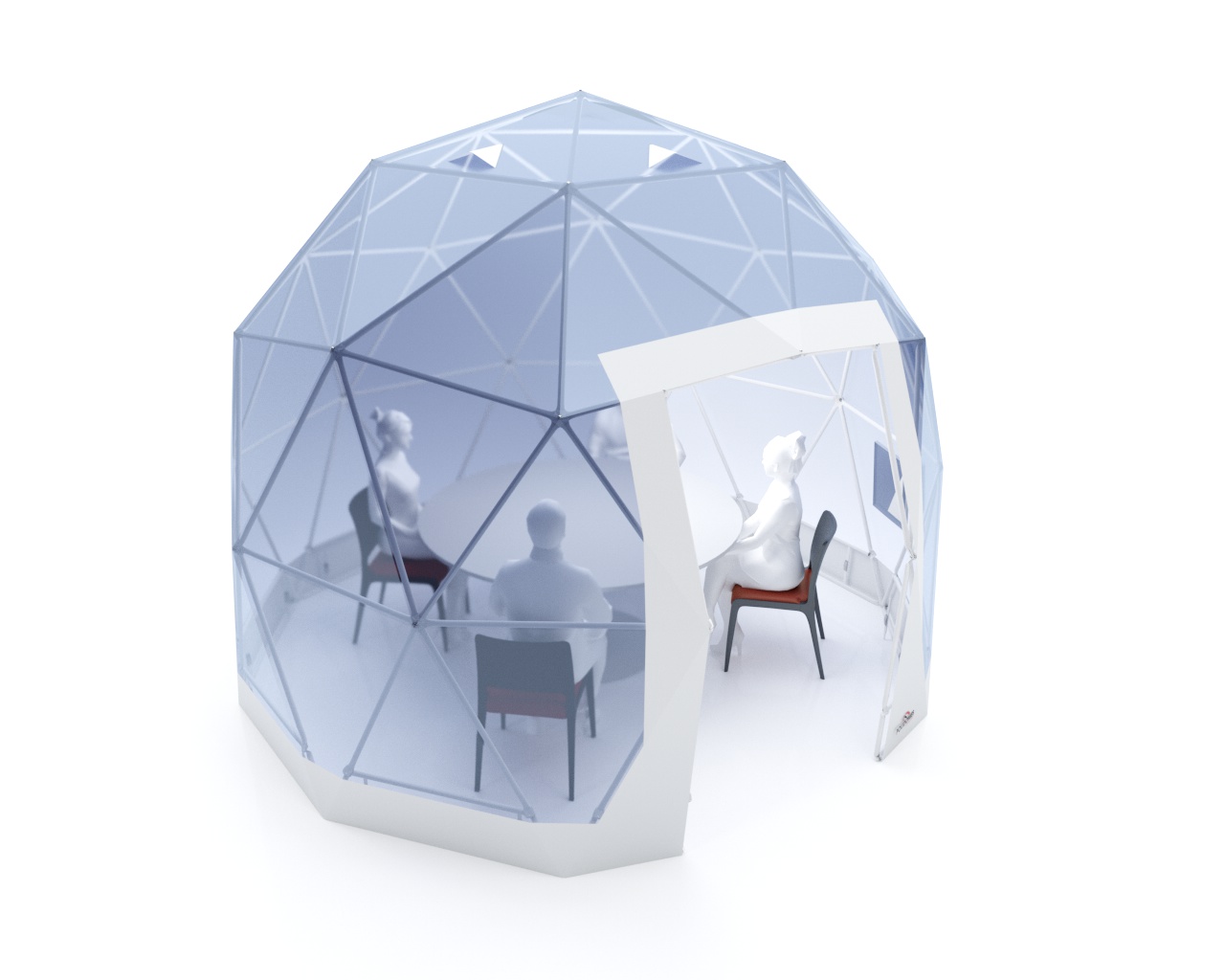 poszycie
stelaż
ogrzewanie
oświetlenie
2x LED
1x promiennik
Promiennik ciepła podczerwieni wiszący
Promiennik ciepła wiszący
CENA SPRZEDAŻY: 10,500 zł
CENA MONTAŻU: zależne od ilości sztuk
CENA TRANSPORTU: 5zł/km
igloo@polidomes.pl
tel. 575 555 291
info@polidomes.pl
tel. 605 525 915