Inflatable Bubble

Tent Structures
Extraordinary bespoke
& Turnkey Bubble
Tent Solutions

Sales and rental
of event domes
We offer worldwide sales
and short-term rentals
for any event

Theme
design
Creation, development
manufacture, service

Attract
customers
Our transparent igloo
domes draw customers
like a magnet

Privacy
with a view
Besides the ergonomic
bubble design, guests love the
seclusion and privacy

Mega
-tough
Highest quality, material,
tear, fire resistant

Worldwide service
& delivery
We guarantee reliable setup,
projects in more than 40 countries

Fast
setup
Quick easy,
assembly anywhere

Modular
bubbles
Connect multiple
bubbles with tunnels

Your
Branding
Custom printed
graphics and logos

Weather
proof
Withstands wind, snow,
rain, extreme temperatures

Custom
solutions
Unique, futuristic
designs and styles

VFX & XR
additions
Immersive, interactive,
multimedia solutions
Make any event spectacular
with a Bubble Tent!

Make any event
spectacular with

a Bubble Tent!
Polidomes inflatable
bubble tents and snow
globes
are an unmissable, easy to use,
custom display solution for events,
roadshows, product launches,
promotions and much more. Our
transparent bubble structures come
in all sizes and are a great way to
showcase any product or theme
message.

Bespoke
Bubble tent
Structures
You dream it
& we'll build it!
Remember your childhood and the magic world
hidden inside a glass snow globe. Now imagine
a giant, clear bubble globe you can actually step
inside filled with a wondrous scene of your own
creation. We specialize in making dreams a reality!
No limits!
Our custom bubble tents and snow globes offer
unlimited possibilities. Host a concert or large
corporate meeting inside a giant bubble. Set up
a lounge, bar or kids playroom inside a bubble tent.
Our inflatable bubble tents are used for artistic
displays or even live performances, among others.
Make any event spectacular
with a Snow Globe!

Breaking Boundaries!
Creators of World's
largest Snow Globe
with a McDonald's
restaurant inside!
McDonalds corporation asked us to create a
unique marketing experience that would
attract nationwide attention. The result was
a full size McDonald's restaurant enclosed
inside the world's largest snow globe.
National audience
of
26.5 million reached!
Over 200,000 positive
reactions on social media!
This huge bubble tent with blowing artificial snow was 14m high, enclosed a space of 2,700 m3 and took only 5 days to setup. Thousands of visitors enjoyed the fun in this one of a kind creation and national media outlets reached an audience of over 26.5 million !
World's largest Snow Globe with McDonalds
restaurant inside!

Custom
Solutions
Meditation Station
for Hyatt International
Hyatt International promotes Mindfulness
and Wellbeing and asked us to design an
original event marketing experience in line
with their theme. The result was a 7m
diameter bubble tent called the Hyatt
Meditation Station which has been used at
hotels, expos and conferences worldwide.
For quietness, the custom designed
Meditation Station consists of two large,
tinted bubbles (one inside the other), which
is entered through a special airlock tunnel
entrance. Guests are treated to a
seven-minute, guided meditation session
completely isolated from the hustle and
bustle of the surroundings.
Marketing &
Event Displays
Our bubble tents and snow globes
are used as attractive displays by
event companies at expos, malls or
any indoor or outdoor event to
present any product or theme. The
background banner and interior
setup are easily changed which
makes our bubbles reusable for any
theme event display.
Our bubble tents can be used to display new
cars or virtually any product. What better way
than to showcase your product than on a
rotating stage inside a giant clear bubble with
special sound and lighting effects!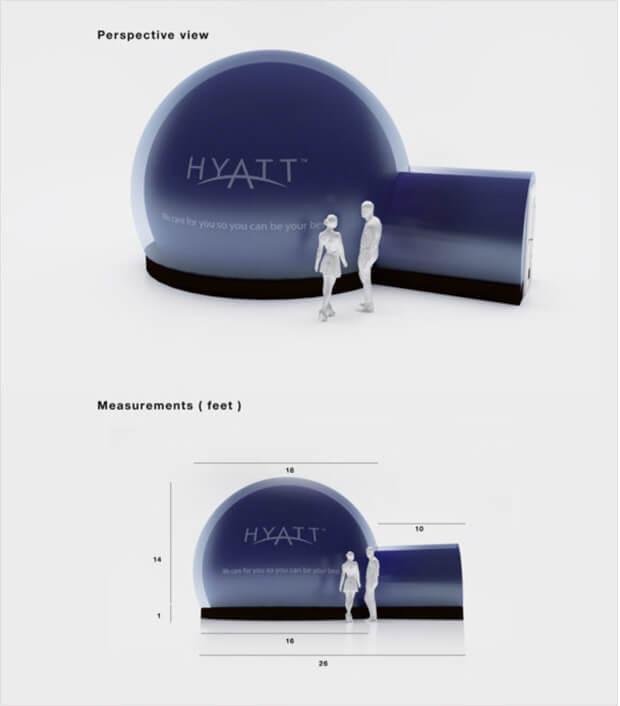 Hyatt Meditation Station reactions from
Hyatt executives and visitors
Your choose
Product specification
We offer two different rental options
for all Polidomes Bubble tents. The
basic model includes only the basic
tent elements (framework, tunnel
and floor).
surface area

m2

bubble height

m

bubble diameter

m

floor diameter

m

floor height

m

area of the floor

m2

persons standing

p

persons seated

p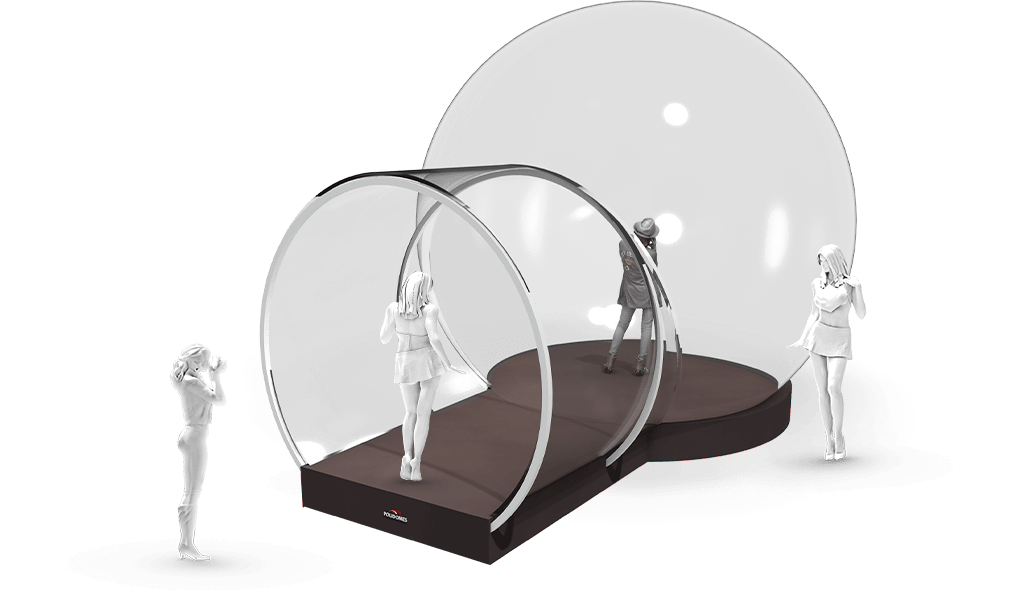 Price
to find out the exact price use the price calculator below, or contact us
---

Custom
equipment
Standard
Equipment
All of our bubble tents and
snow globes are equipped
with the following standard
equipment: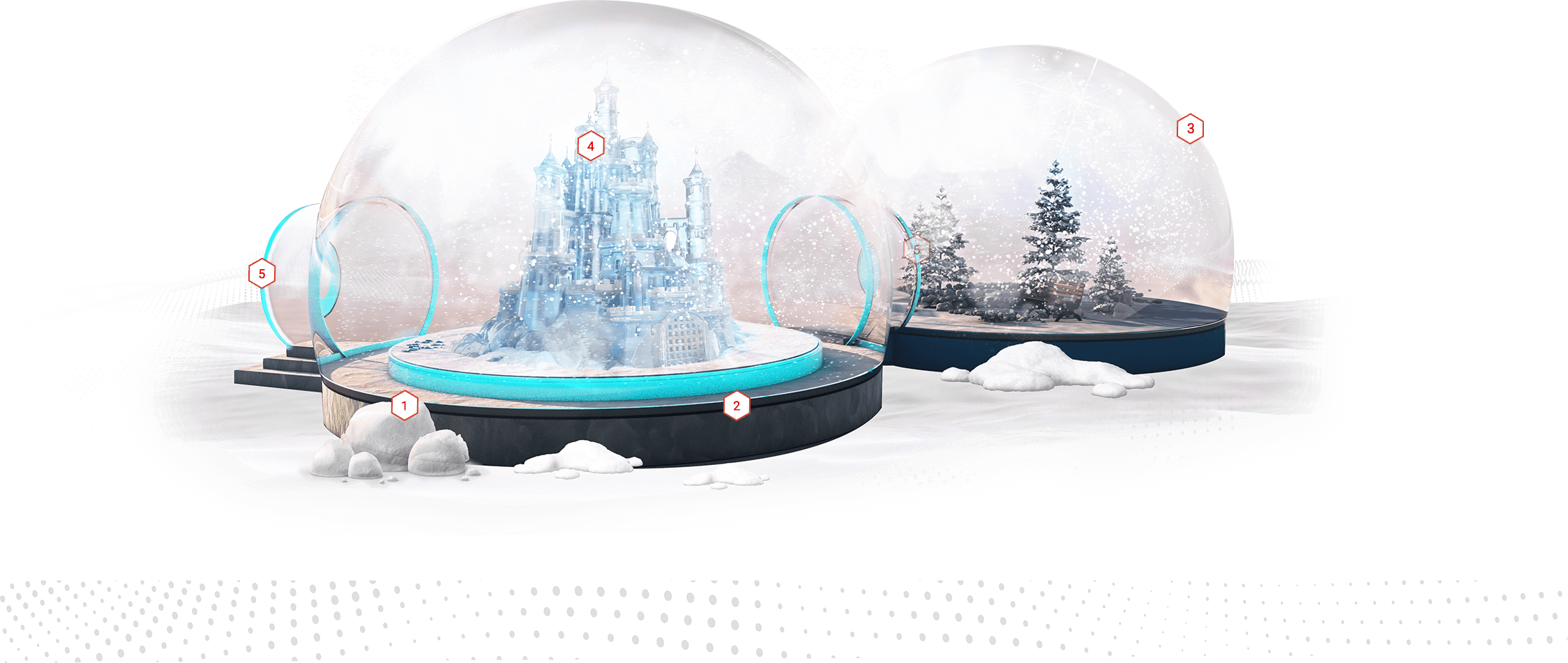 1
Flooring
Polidomes modular, water ballasted
floor-systems come in all sizes and can
be adjusted to any height (better higher
flooring for snow globes).
2
Blowers
Our ultra-silent blowers are adjusted to
the size and shape of the bubble. A
heating or aircon system can be
integrated with the blower for use in any
climate. Depending on the flooring
height, the blower is setup either under
the floor or outside the bubble.
3
Cover membranes
Our mega-tough, high quality, all
weather, PVC covers are built to last.
They can be made transparent, opaque
or tinted any colour.
4
Custom Branding
We offer high quality personalized cover
branding with permanent or temporary
logos or printed cover graphics. See
personalized branding.
5
Tunnels and entryways
Add a tunnel to your bubble tent with a
simple zipper entryway or exclusive,
aluminium rotating doors. See: tunnels
and entryways.
6
Custom equipment
There are no limits to interior solutions
which can range from a simple standup
banner to a live performance. It all
depends on how simple or elaborate
you would like your bubble tent or snow
globe to be. Among many other
solutions, additional options can
include:
Next step
Get an instant quote
You can use our online
price domes calculator
Dome Calculator
Next step
Get a quote for your project
Tell us about Your project and ask
the expert questions.
Free consultation
Next step
Order your Polidomes dome now!
Contact the team you can trust
and let's build something tremendous!

Interesting ideas
& Solutions
Seasonal Events
& photo sessions
For seasonal events and photo shoots our
bubbles tents and snow globes create th
e perfect space for kids to meet Santa, for
Valentine's day, Easter, weddings or to make
any special occasion extraordinary.
Our bubble tents are guaranteed to attract
attention. There is no limit to their uses.
The interior can be designed to fit any occasion.
Promotions
For a bank we created scenes in a
bubble tent (winter in summer, summer
in winter) and a hostess would take
photos. Visitors were then issued a fake
credit card to log in to the bank website
and download their photos.
The bank reported they had a tremendous response and it was a
highly successful marketing promotion. Our creative team use
original approaches to unleash the potential of our products.
Design
& production
Our bubble tents are heavy duty,
handcrafted products produced in our
state-of-art factory. We deliver and set
them up with special care to simulate
the look of a real glass globe. Every
detail is well planned, designed and
crafted and come with guaranteed
safety and security certifications.
These are not toy-like substitutes. If you are looking for the best
bubble tent products on the market we are the right partners for
you! Discover how Polidomes can create an outstanding custom
branded bubble tent event solution just for you!
How they work
Our bubble tents and snow globes can be
installed indoor or out. The heavy duty
transparent bubble is supported by a quiet
blower set up either under or outside the
bubble depending on the height of the
flooring,
Our bubble tent structures can be used year
round. Rain, snow or shine, they are fully
weather proof, heat and cold resistant (can
withstand winds up to 80 km/h). Each bubble
is specially constructed for the external
conditions and purpose for which it is
intended.
Custom &
Standard Models
Whether you would like a custom
designed model or standard size bubble
(as seen in the diagrams below) just
share your idea with us of how you want
to use the bubble tent and we will
recommend the best option for you.
For standard sizes we do not offer
a rental option. For large size custom
bubbles we can oversee the entire setup
and technical side of the event to free
you for what is important such as
entertaining your guests or customers.
Contact Us!
For pricing, contact our friendly advisory
team and let us know what size bubble
tent or snow globe you are looking for
and details of how you would like to use
it. We look forward to serving you.
Contact Us
Additional possibilities
Basic


Equipment

Explore the
HQ standard
features of
our Geodomes