Inflatable Bubble
Tent Structures
Enter our enchanting inflatable bubble tent, like a mesmerizing glass ball, capturing people, brands, or products within a snowball-like Christmas souvenir, for an extraordinary and lasting impression
Our inflatable bubble tent is a magical and captivating spectacle, serving as an immersive experience that leaves a lasting impression. This all-season marvel transforms any space into an enchanting playground, effortlessly adapting to any theme or climate you desire. More than just a visual delight, it's a social-media ready experience that helps connect your brand or product with attendees and potential customers. Photos taken within this crystal-clear orb not only serve as memorable keepsakes but also as a powerful marketing tool. Trust us, everyone loves the bubble, a testament to the power of innovative and interactive experiences in today's digital age.

Bubble Tents: Sales & Rentals
Offering flexible options, we cater to your needs with rental or purchase of our customizable bubble tents

Elevated Impact
Creation, development
manufacture, service

Universal Appeal
Leveraging our experience, we've seen how our bubble tents captivate and delight individuals across all age groups.

Magical Realities
From confetti to Christmas trees, our bubble tents let you craft enchanting artificial worlds for a magical experience.

Weather-Proof Design
Thanks to high-frequency welding, our bubble tents ensure waterproofing, providing independence from rain or snow.

Global Delivery
Whether via air or sea shipping, with full setup or supervision, we ensure our bubble tents reach you anywhere.

Quality Assured: European Manufacture
As a Europe-based manufacturer, we utilize fire-retardant materials and take full responsibility for our production process.

Modular Design
Our bubble tents offer modularity, enabling multiple configurations interconnected by tunnels.

Versatile Enclosure
From concealing cars to showcasing products, our bubble tents can house any concept for a cool presentation.

Weatherproof World
Forget about external weather conditions; we craft an immersive environment reminiscent of the Truman Show.

Co-creation: Your Bubble Masterpiece
We provide the empty canvas of a bubble tent, but together, we'll transform it into a remarkable masterpiece.

Upgrades Galore: Bubble Tents
From lights and sound to falling snow or confetti, our bubble tents accommodate a range of exciting upgrades.
Elevate Every Event with our Bubble Tents!

Unleash the Coolness:
Bubble Tents

Redefining Brand Experiences!

At Polidomes, we've taken brand experiences to a whole new level inside our spacious and captivating bubble tents.

Imagine stepping into a mesmerizing world where brand stories come to life, and creativity knows no bounds. We have collaborated with McDonald's for a TV commercial, and the results were nothing short of awe-inspiring. The enormous bubble tent became the canvas for an extraordinary production, leaving a lasting impression on everyone who witnessed it.

Branding Magic Unleashed
Our bubble tents provide an innovative and engaging space for big brands to showcase their products, connect with their audience, and create magical moments that go beyond the ordinary.
Whether it's hosting product launches, experiential marketing events, or promotional campaigns, our custom-made bubble tents offer limitless possibilities.The transparent and visually stunning structure of the bubble tent allows for seamless branding and immersive experiences, making it a powerful tool for building brand awareness and loyalty. Inside, you have the freedom to design and create your dream setting, whether it's a cozy lounge, an interactive play zone, or a futuristic exhibition space.
Experience Enchantment: Inside Bubble Tents
Let your brand story shine with our unique, custom productions, including confetti-filled celebrations, artificial snow wonderlands, mesmerizing lotto machine activations, and so much more. The flexibility of our bubble tents enables big brands to embrace their creativity and set the stage for unforgettable experiences that leave a lasting impact on their target audience.So, if you're seeking a cool and extraordinary way to engage your audience and elevate your brand's presence, look no further than Polidomes Bubble Tents. Step inside the realm of endless possibilities, where the magic of your brand comes to life inside these enchanting, transparent bubbles. Get ready to redefine brand experiences and make memories that will resonate with your customers long after the event ends. Together, let's unleash the coolness of bubble tents and elevate your brand to new heights!
Unleash Experiential Magic:
Inside the Enchanting World of Bubble Tents

Breaking Boundaries!
World's Largest
Snow Globe

Featuring a McDonald's Restaurant Inside!

We were approached by McDonald's Corporation to craft an unforgettable marketing experience that would capture the nation's attention. The outcome? A groundbreaking achievement - the world's largest snow globe, housing a full-size McDonald's restaurant within its magical walls.
National audience
of
26.5 million reached!
Over 200,000 positive
reactions on social media!
Standing at an impressive 14m high and enclosing a space of 2,700 m3, this extraordinary bubble tent captured the hearts of thousands of visitors, offering an unparalleled winter wonderland experience. In just 5 days, this one-of-a-kind creation came to life, and its enchanting presence caught the attention of national media outlets, reaching an astounding audience of over 26.5 million!
World's largest Snow Globe with McDonalds restaurant inside!

Custom Solutions
Unlocking Mindfulness: Custom Solutions for Experiential
Marketing Agencies
Our creations are always tailor-made to fit the specific idea and context for experiential marketing agencies, delivering unforgettable brand experiences. Take the Hyatt International Meditation Station, a bespoke 7m diameter bubble tent designed to promote mindfulness and wellbeing.
With two large, tinted bubbles and a unique airlock tunnel entrance, guests are immersed in a serene environment, indulging in a seven-minute guided meditation session, away from the distractions of the outside world. Our custom solutions have graced hotels, expos, and conferences worldwide, setting the stage for extraordinary brand encounters.
Bubble Tents

for TV Commercials & Marketing Campaigns

Our bubble tents and snow globes serve as captivating displays, attracting the attention of TV commercial producers and innovative marketing companies at expos, malls, and diverse indoor or outdoor events. These eye-catching setups allow for seamless presentation of any product or theme, with easily changeable background banners and interior setups, making our bubbles the ultimate reusable solution for any event display.

Imagine showcasing your latest cars or products on a rotating stage within a mesmerizing giant clear bubble, accompanied by special sound and lighting effects that leave a lasting impression on viewers. With our bubble tents, your brand can shine like never before, creating memorable brand experiences that captivate audiences and set your marketing campaigns apart from the rest.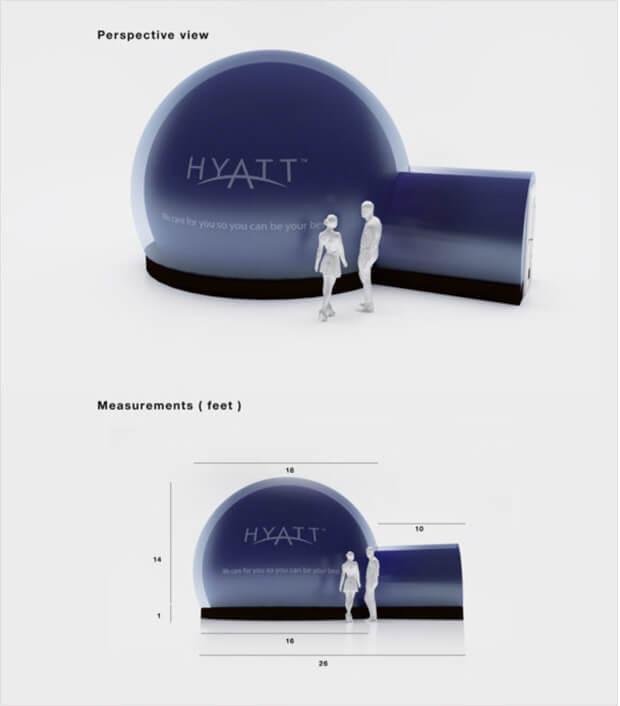 Hyatt Meditation Station reactions from Hyatt executives and visitors
Your selection
SGT 32
Product Overview
McDonald's Bubble Tent Details: Dive into the specifications of our largest creation to date, the McDonald's Bubble Tent. While it stands as a testament to our capabilities, we're always prepared to scale even greater heights.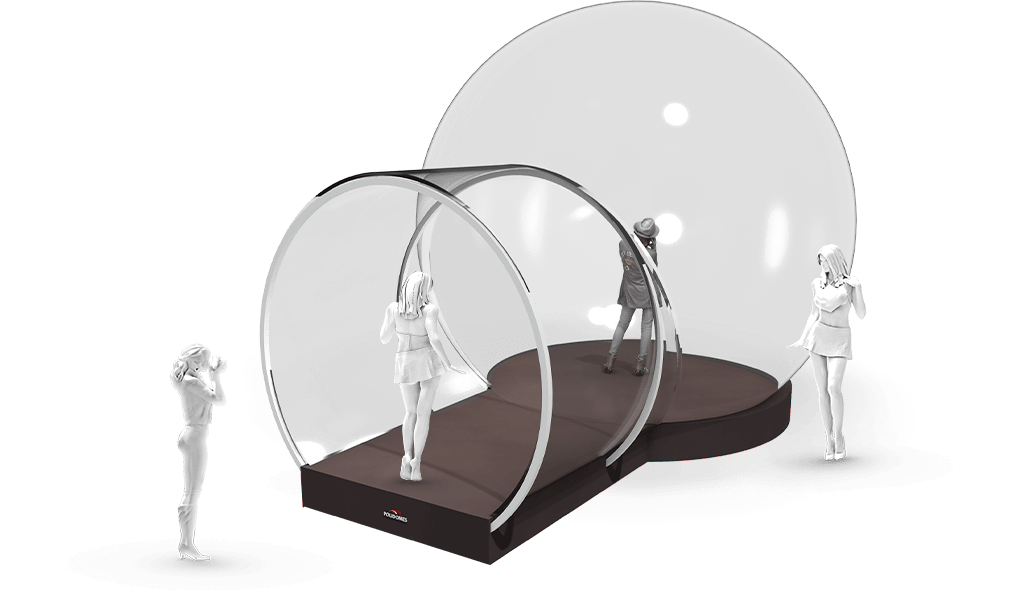 Price
to find out the exact price use the price calculator below, or contact us
---

The Magic of
Bubble Tents
Why They're So Great
Bubble tents are truly magical because they effortlessly transform ordinary spaces into captivating environments, capturing imaginations and creating unforgettable experiences.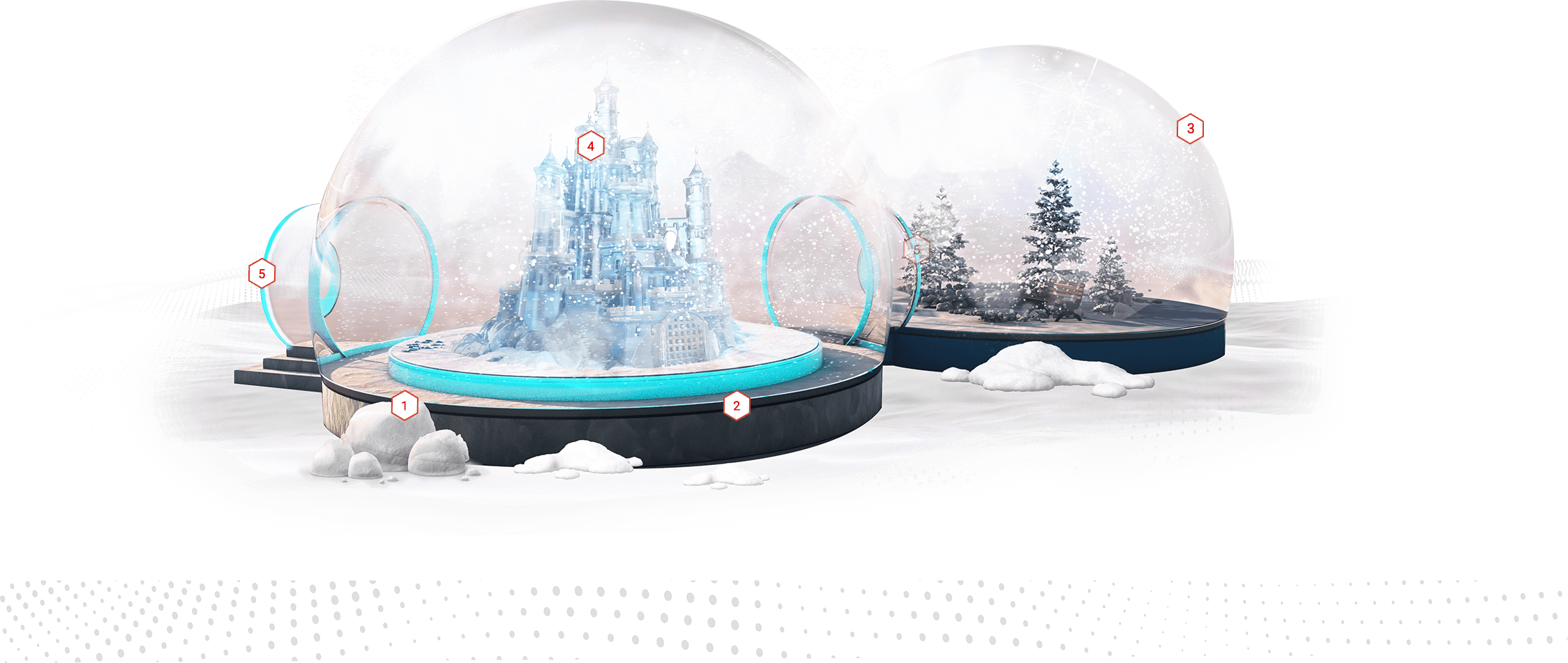 Unleashing the Potential:
Bubble Tents for TV Commercials & Event Innovations
1
Flooring
Transform Basketball Courts: Take your audience to new heights by covering basketball courts with our bubble tents, creating a magical and immersive experience that leaves a lasting impact.
2
Blowers
Bring Winter to Hot Spots: Bring the enchantment of winter to hot locations with blowing artificial snow and a cozy winter wonderland setting, captivating visitors with an extraordinary contrast of climates.
3
Cover membranes
Create Hot Islands: Stand out during inter-season periods with our innovative hot island concept, offering a unique escape that captivates and entertains guests with a memorable and immersive tropical experience.
4
Custom Branding
Picture-Perfect Memories: Encapsulate everyone inside the bubble and create picture-perfect memories for all, providing an interactive and Instagram-worthy space that sparks joy and engagement.
5
Tunnels and entryways
Captivate Audiences: Attract the attention of TV commercial producers and innovative marketing companies with our captivating displays at expos, malls, and various indoor or outdoor events, offering a unique and eye-catching way to present products and themes.
6
Custom equipment
Unleash Brand Power: Showcase your brand like never before on a rotating stage inside a giant clear bubble, enhanced by special sound and lighting effects that leave a lasting impression, elevating your marketing campaigns to new heights.
Next step
Relaxing Oasis
Experience the tranquility of our meditation bubbles, perfectly exemplified by our collaboration with Hyatt. Don't miss the chance to provide a serene and calming environment for your guests
Go to Hyatt
Case Study
Next step
Trustworthy Manufacturing
We're proud to be producers, not importers, ensuring every step of our manufacturing process is done right, as shown in our case study. If you value quality and integrity, reach out to us - let's make your bubble tent vision a reality together.
Polidomes
Manufacturing Process
Next step
Idea Realization
Have an unconventional idea but unsure of its feasibility? Don't hesitate - schedule a Zoom call with us today and let's turn your imaginative concept into an achievable reality together.

Interesting ideas
& Solutions
Seasonal Events & Photo Sessions
Elevate your events with our captivating bubble tents and snow globes, perfect for creating enchanting spaces for kids to meet Santa, celebrating Valentine's Day, Easter, weddings, and any special occasion you can imagine.
Our versatile and attention-grabbing structures can be custom-designed to fit the theme of your choice.
Engaging Promotions
Drive success with unique marketing promotions. Take the example of a bank, where we created scenes in a bubble tent, bringing winter to summer and summer to winter, while a hostess captured photos. Visitors received a special credit card to access their photos online, resulting in a tremendous response and highly successful marketing campaign.
Our creative team is here to unleash the potential of our products for your brand.
Meticulous Design & Production
Our heavy-duty bubble tents are handcrafted in our state-of-the-art factory with utmost care and precision. We ensure they resemble real glass globes, while every detail is meticulously planned, designed, and crafted for safety and security. These are not mere toy-like substitutes; they are the finest bubble tent products on the market.
Unleash the Possibilities: At Polidomes, we take pride in delivering outstanding custom branded bubble tent event solutions that cater to your unique needs and leave a lasting impact on your audience. Partner with us to create extraordinary experiences that captivate and inspire!
How it works
Our Bubble Tent, also known as the Snow Globe, is an air-supported structure designed for seamless setup. With a double entrance for efficient air management and stability, your guests will enjoy a comfortable experience.
The welded construction ensures 100% waterproofing, making it weather-resistant for rain or shine. Safety is paramount, and while the Bubble Tent provides a captivating experience, wind limitations are in place for added security.
Glass Ball design
The ingenious design eliminates visible framework, creating a stunning, short-term glass ball spectacle that delights and surprises guests. Despite its temporary nature, it guarantees an unforgettable and entertaining experience for all.
Each Bubble Tent is meticulously crafted to suit its purpose and environment, ensuring flawless performance. At Polidomes, we take pride in delivering exceptional custom solutions that bring your vision to life and cater to your unique event needs.
Unleash Creativity with Polidomes Bubble Tents
Call to Action: Whether you're an experiential agency or a TV commercial creative director, we invite you to explore the limitless possibilities of our bubble tents. Let's collaborate and co-create remarkable experiences that will leave your customers in awe. Embrace innovation and join forces with Polidomes to make your events unforgettable. Together, we'll set new standards in the event industry and make magic happen!
Contact Us
Additional possibilities
Basic

Equipment

Delve into the extraordinary standard features of our geodomes and unlock their full potential. Embark on an extraordinary journey of enhanced possibilities