Shared
Virtual
Reality
Polidomes Shared VR
Spaces use immersive
technology to simulate
a virtual reality
experience in an open
360° space that can be
physically shared by
groups. Unlimited
applications.
Engage your audience,
inspire emotions and
offer a remarkable,
unique experience.

Seated
or standing
places
You choose an open space or comfortableseating

Virtual room
for comfortable
viewing
Make your event spectacular with an event dome

360o Projectors

(cinema 5D)
Full spherical
map projections

Edit
&

Interact
with the presented
content

You are in full control of content in real-time.

Surround
screen
&

multiple
screens

Add additional screens for 180 degree displays

Worldwide
service
All our Geodomes come
with full service
and ongoing support
We create a spectacular 360°
immersive reality experience
without headsets!

Shared VR


solutions

From design and construction
of the physical space to the
professional equipment and
digital content.
Shared VR spaces are ideal for business, industry,
entertainment, education, events and multiple
other purposes.
From design and
construction of the physical
space to the professional
equipment and digital
content, we specialize in
producing custom designed
shared virtual room spaces
of any size and dimension.
360° shared VR
spaces without
headsets
Digital Content
It's easy to use and create
Your own content using
images, videos and
standard office tools like
Microsoft Office, Google
and Adobe Suites.
Content production
We also offer full production
services for any digital
content (fulldome,
animated. CGI. etc.)
We cooperate with some
of the world's top graphic
and digital design
companies.
Shared Virtual Reality
No need
of VR
headsets
Up to 45% of people complain of
discomfort such as dizziness, nausea,
messy hair, headaches etc. from using
VR headsets.
Shared VR, an open VR experience effectively
eliminates problems from perception and bad
experience.
Group immersion without headsets
Group
immersion
Shared VR allows Group Immersion and
freedom of sight and movement that
opens a whole new world of possibilities
in a multi-eyepoint immersive room.
Being able to discuss projected content in an open atmosphere without the restraints of confining headsets makes collaborative work much more versatile.
360o shared virtual environments
360°
Display
Display your own or any other video
content up to 360°. Play fulldome
surround videos, CGI and panoramas
enhanced with surround sound and
projection VR.
Control your virtual content using
a laptop or mobile device.
Applications of Shared VR

For the office
Modernize your office
workspace with the inclusion
of Shared VR conference
rooms or a hybrid workspace
- ideal for presentations,
simulations,
tele-conferencing, trainings
and direct sales.

Education

&

training

Shared VR is the solution for
impactful learning and
hands-on training sessions.
Any digital content can be
imported, both pre-recorded
as well as live-streamed.

Simulations
Simulations allow entire
teams to experience and
interact in real-life training
scenarios without the
expense and need to travel to
a remote location. Hardware
and software integration for
any industry

Education

&

training

Polidomes 360° geodesic
dome structures come
custom equipped with the
widest choice of immersive
equipment available.

Entertainment
venues
With Shared VR group
immersion provide multiple
ways to add a futuristic
dimension of sight and sound
to any entertainment venue to
make your existing project
absolutely outstanding.

Business

&

industries

From healthcare to
architecture and engineering,
Shared VR provides the ideal
solution for presentations,
direct designing, trainings,
simulations etc.

Tourism

&

real estate

With immersive shared VR
technology it's incredibly easy
to create panoramic
visualizations of distant
locations potential tourists or
clients might be interested in
visiting or buying.

Virtual
presentation
Our award winning team
of content creators produce
HQ, 360 and fulldome content
from any digital formats;
CGI, animation, projection
mapping, 3D etc. for all
education or entertainment
venues
Polidomes viurtual solutions

Augumented
Reality
(AR)

Mixed
Reality
(MR)

Spatial
Augmented
Reality (SAR)

Shared-VR
(SVR)
3D
Projection
Mapping

Volumetric
Video

Two-way, life-size
Holographic
Displays

Virtual
Reality
(VR)

IT digital
solutions
& integration

3D Digital
content
production

Visual
& special effects

Sound
& lighting

3D
Projection
Mapping

Personalized
Branding

Developing
Unique Projects
Our Expert
Team
Sales and rental
of Shared VR
structures
Aside from custom design projects,
Polidomes offers a wide range of all
size, ready-to-go, fully equipped 360°
immersive Shared VR projection
structures for sale and for short
term rental.
Our geodesic dome structures range from 6.2 to 30 meters in diameter and are capable of hosting from 10 to as many as 1,000 persons in our larger domes. Whether you want to buy your own dome structure or need short-term rental, we have exactly what You need and provide worldwide service.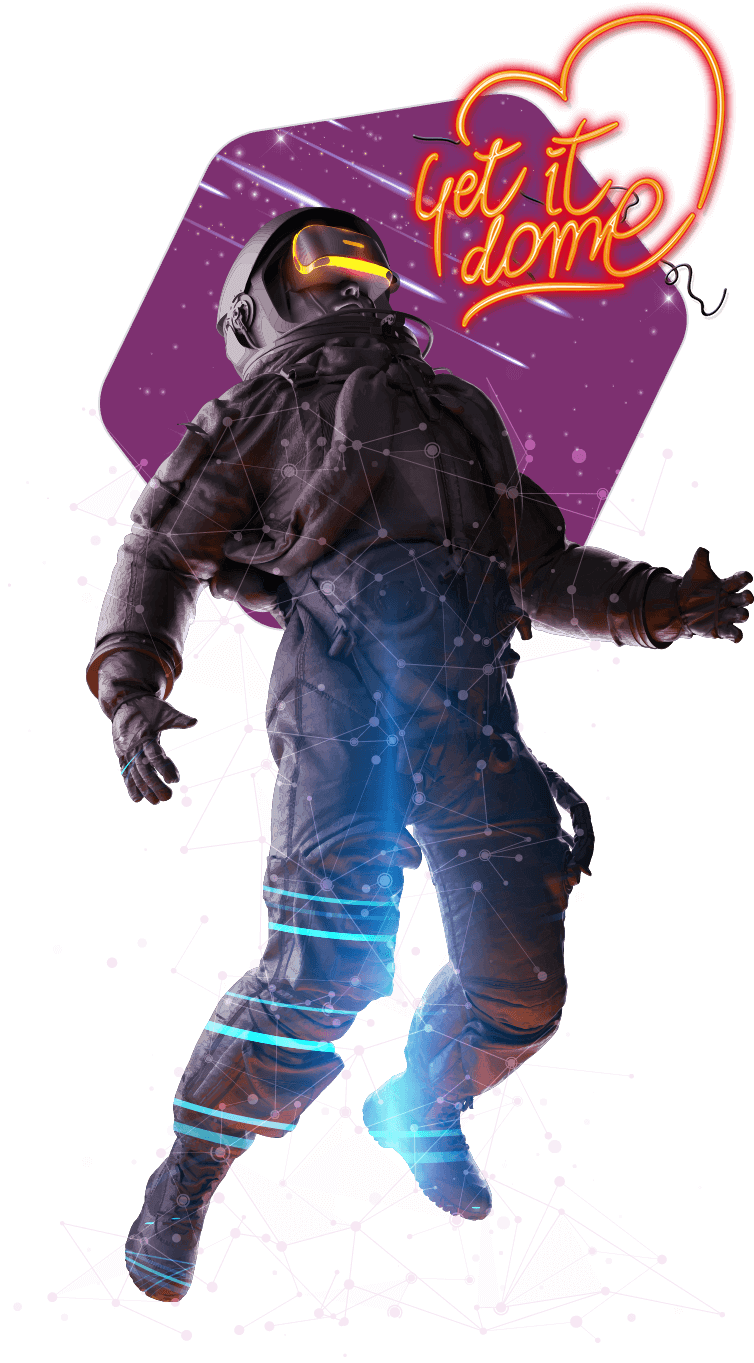 We are
Technology
integrators
Polidomes International
provides full audiovisual
and technology integration
services. We design, build
and support immersive
and innovative technology
solutions that create
lasting experiences for
work and play.
Our professional services include
technology consultation, systems
design and programming,
software and hardware
development, systems
installation, system integration
and training as well as
maintenance and support.
Partner
companies
Polidomes has established
strong partnerships with
world renown companies
from many different
industries.
We fully realize we cannot be best
at everything, so when needed
(such as for projection mapping
or custom technological
equipment and software
solutions) we partner with
companies that are the best.

We provide
Step 01
1

Consultation

We provide full consultation
services to be certain your
project comes out exactly
as planned.
Step 02

2

Concept
development

We are a creative / experimental
design company and specialize in
bringing customer's wild ideas to
life.
Step 03

3

Graphic
Design

Our team will create a 3D graphic
illustration of your proposal to be
certain the final project will come
out exactly as envisioned.
Step 04

4

Construction

Polidomes produces 99% of its
structural elements in-house in
our own modern factory.
Step 05

5

Hardware, software


&

IT services

Every project is different
depending on its size and
ultimate purpose.
Regardless of whether you
want a smaller installation
for your office or company
or a large geodesic
structure requiring 4K or
8K projection and audio
equipment our team will
make certain that the
lighting, projection and
audio equipment will
operate perfectly and fulfill
its intended purpose.
Step 06

6

Transport


&

assembly

After testing, parts are
moved on-site and
assembled by our
professional construction
team.
Step 07

7

Training


&

operation

We offer full training and
ongoing support for Your
own team to be certain
they are fully capable of
operating any technical
equipment.
Step 08

8

Ongoing service


&

support

Whether you need full-time
personnel to operate Your
equipment or need
ongoing service and
support, our team is ready
to serve you 24/7.
We have offices throughout Europe, in the Middle East and USA.
Let us know Your vision, and we'll find a way to make it a realtity.
Additional possibilities
Basic


Equipment

Explore the
HQ standard
features of
our Geodomes