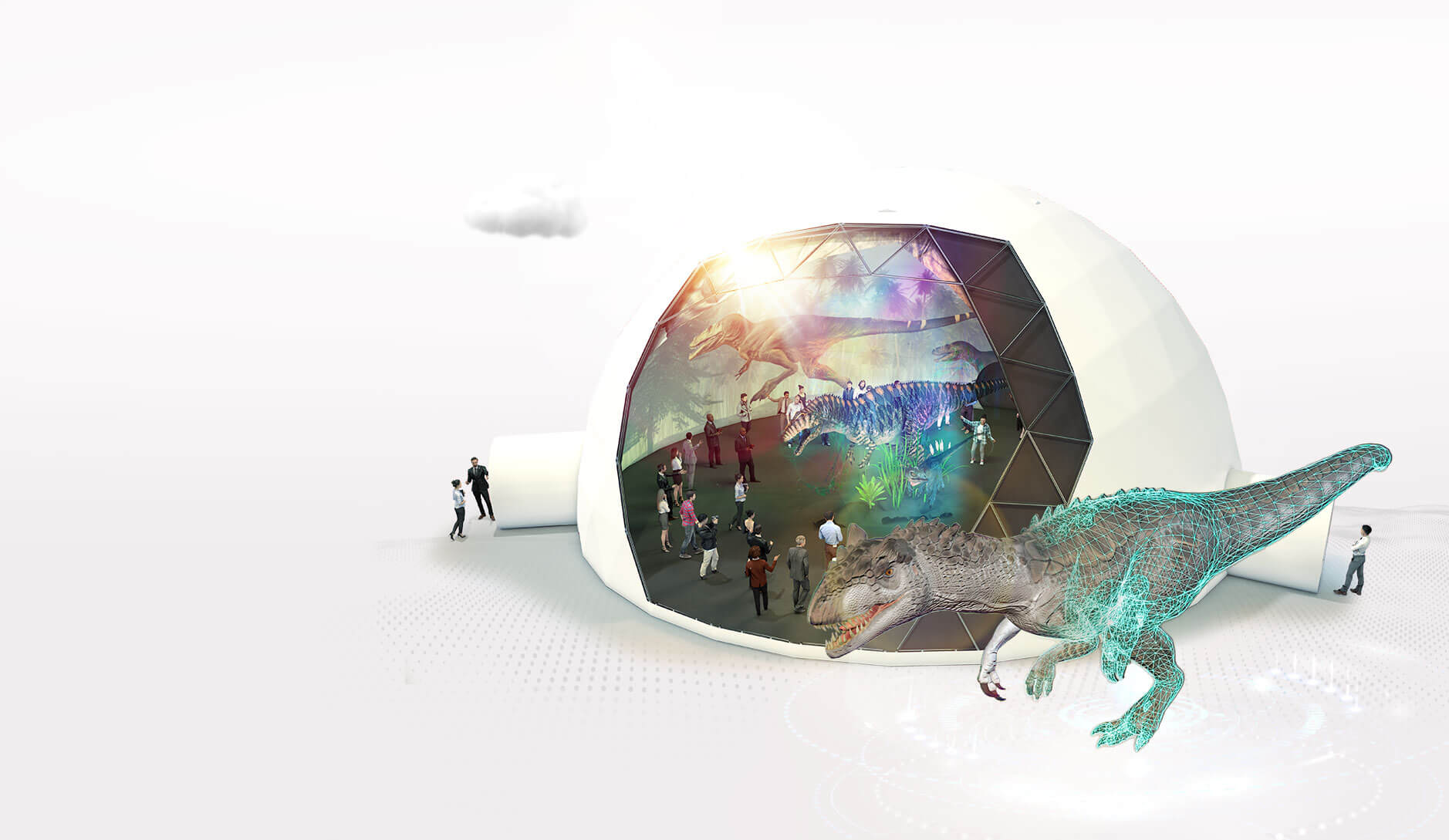 Holographic Augmented

Projection System

HAPS pioneers a revolution in virtual engagement. By integrating advanced technology into our geodesic domes, we've created Virtual Technology Rooms that captivate with 360-degree immersive experiences

This fusion of full-dome projection, holography, live-streaming, and interactive virtual desks brings a new dimension to events and education, making it an all-in-one solution for next-level experiences

Dynamics Transformation
Represents the strategy of adjusting physical environments based on event specifics to either facilitate formal discussions or encourage casual interactions

Holotech Dome Revolution
Signifies a pioneering shift in virtual meetings, using advanced holography in a unique dome structure for unparalleled immersive experiences

Immersive Impact Evolution
Portrays the newfound ability to deepen engagement, enhance memory, and magnify impact through unprecedented full-immersion environments in advertising

Adaptive Tech Solutions
Encapsulates the use of top-tier technology to deliver impressive and practical experiences, custom-tailored for education, entertainment, or simulation needs

Symbiotic Growth Journey
Signifies our mutual growth strategy, where we continually update and enhance your product with the latest advancements, symbolizing our shared path towards success

Worldwide
service
All our Geodomes come
with full service
and ongoing support
Polidomes' Holographic Advanced Presentation System (HAPS) sets the gold standard for the next generation of immersive presentations, whether live or pre-recorded. At the heart of this experience are life-size holograms, capturing the essence of individuals or objects with startling accuracy.
Not only does our system offer comprehensive mapping capabilities, but it also seamlessly integrates live adaptive mapping with the hologram, all in a plug-and-play model. This innovative system takes the concept of a technology conference room and elevates it to new heights, virtually.
Housed within our signature geodesic dome, the HAPS system is a masterstroke of adaptability. It can be effortlessly scaled and installed in any location according to your needs. But the innovation doesn't stop there. The system also incorporates volumetric video capture, allowing the repetition of the experience in other domes, creating a synergistic blend of reality and technology that's never been seen before.
Our Holographic Advanced Presentation System is the epitome of technology innovation, driving forward what's possible in communication, interaction, and presentation. It's more than a technological marvel; it's a leap into the future of immersive experiences.

Unified Tri-Tech Revolution
HAPS represents the seamless integration of mapping, immersive, and hologram technologies into one comprehensive solution. This revolution enhances presentation and interaction possibilities, creating unforgettable experiences that surpass traditional constraints.
The amalgamation of distinct technologies into a singular venue is no simple task. For instance, the intense light needed for mapping to create an immersive experience often conflicts with the demands of hologram technology. This complex integration requires not only deep expertise but also a replicable method to avoid costly and time-consuming bespoke design for every different venue.
Our roots lie in the geodesic dome tent manufacturing, giving us an innate understanding of the advantages and limitations of this technology. We're not content to accept these limitations; instead, we strive to push the boundaries with our Polidomes Holographic Live Presentation System, a revolutionary method for broadcasting holographic presentations.
What sets our Holographic Advanced Presentation System (HAPS) apart is its ability to transform any existing geodesic dome, whether temporary or permanent, into a live conference venue. This capability enhances the dynamics of our service as it caters to any environment, breaking the barriers of traditional venues.
In a secondary dome located elsewhere, a recording room is established. This room is where the individual, be it a high-profile celebrity or an important figure, is recorded to be displayed as a hologram in the main venue. This process isn't merely a one-way interaction - the hologram can interactively communicate with people, answer questions, and even influence the mapping environment based on these interactions. This functionality allows the hologram to explain or demonstrate concepts through changes in the surrounding environment.
Additionally, our system employs volumetric 360-degree cameras to capture the entire dome's proceedings. This recorded content can then be replayed in different-sized domes anywhere, anytime. In essence, the HAPS brings the versatility of real-time, interactive holography, environmental transformation, and replay capabilities to elevate the experience beyond what's conventionally possible.

Shaping Tomorrow's Experiences
Innovative Technology Domes, Your Future-Proof Rooms for a Technologically Evolving World. As we look toward the future, the relentless march of technological innovation shows no signs of abating. This progress will only further increase the demand for specially designed venues capable of incorporating advanced technologies.
Recognizing this, we underscore the myriad benefits of free-standing geodesic domes. Not only are they weatherproof, but they also offer unparalleled versatility – they can be resized, scaled, and relocated as needed. Additionally, the potential to create dome clusters – 'cities of installation' – speaks volumes about the domes' enduring utility.
One of the striking characteristics of our domes is their structural integrity. They are self-supporting, which enables unobstructed internal spaces. These can be equipped with materials and technologies that ensure uninterrupted, optimal functioning of the chosen technological applications.
We, at Polidomes, have created specially designed methodologies to integrate existing and emerging technologies, extracting the most beneficial features from each. This integration becomes a reality within our structures.
Remember, partnering with us does not necessitate outright ownership. We operate worldwide, and we can deliver any necessary technology or content directly to the dome of your chosen size. This ensures we can cater to a wide range of audience sizes and requirements.
While we're eager to see what the future holds, we're confident in our ability to adapt and thrive amidst the changes. As experts in dome technology, we're adept at making the most of any situation, ready to squeeze every last drop of potential from the lemons the future might throw our way. The future of immersive experiences is here, and it's taking shape within our geodesic domes.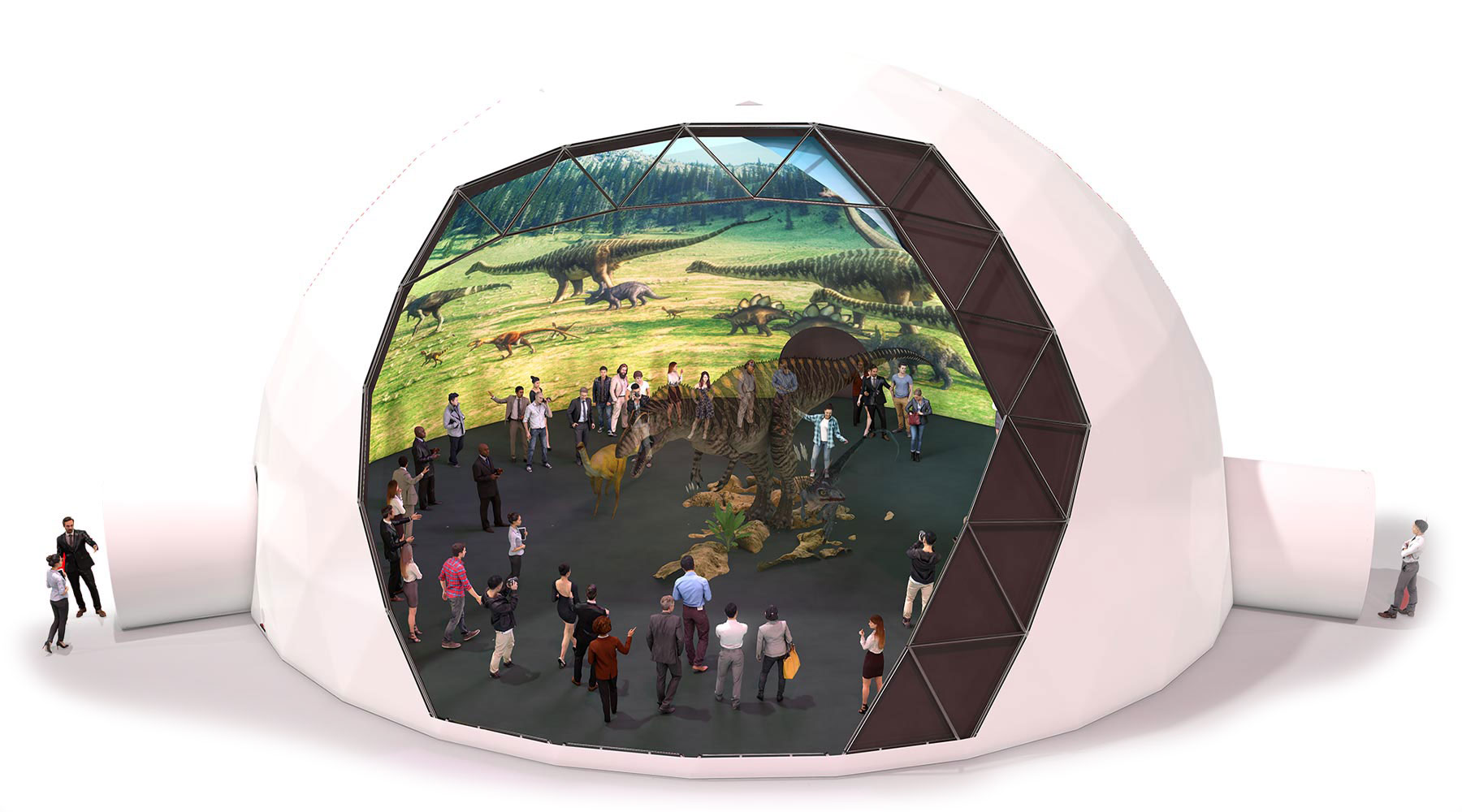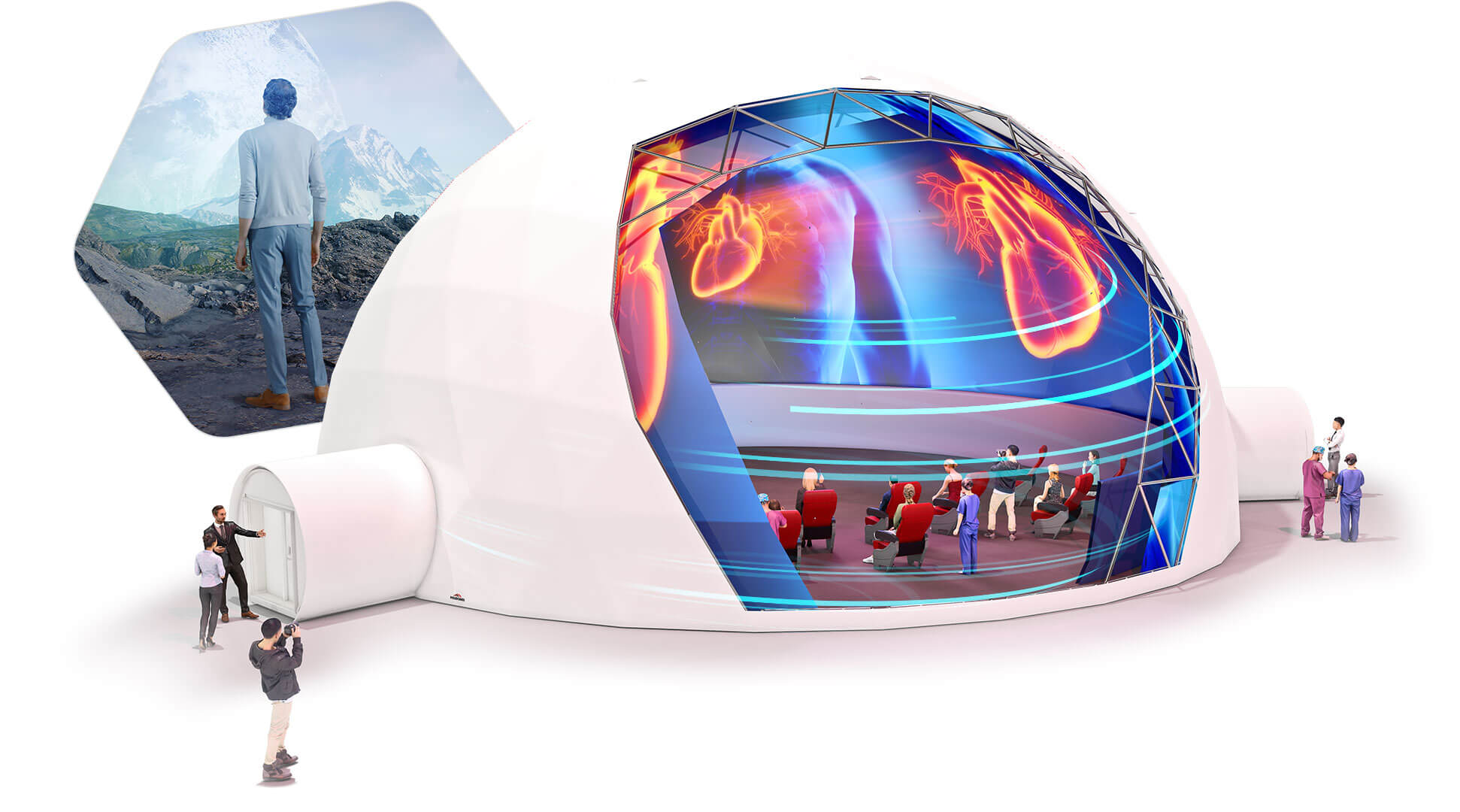 HAPS Domes: Experience Unleashed
Step Beyond Reality, No Glasses Needed
In our HAPS domes, you can immerse yourself in a shared VR environment without the need for glasses. Our cutting-edge technologies elevate your experience, adding layers of interaction and visual enhancements that take virtual reality to a new dimension.
Collective Immersion: Redefined
Experience the Magic of Unity
At Polidomes, our multidisciplinary team comes together to shape ambitious Stage Holograms and Immersive Reality projects. Our combined expertise across diverse fields empowers us to create unparalleled group immersion experiences, transforming the virtual into a shared reality.
VFX Mastery: Holographic Excellence
Crafting Mesmerizing Virtual Realities
Our team, proficient in Visual Effects and holographic technology, masterfully handles all aspects, from lighting to stage design, content production to projection. Entrust us with your ideas and dreams, and watch as we transform them into stunning installations and unforgettable hologram performances.
Applications of Shared VR

Immersive Spaces Unleashed
Description: Anchored in full environmental immersion, our HAPS system transports you to extraordinary realms. Be it panoramic cylinders or domes, we craft spaces that encapsulate and sharpen focus, transforming simulations into truly immersive experiences.

Innovative Learning Unveiled
Our immersive environments serve as powerful educational tools, captivating attention and fostering focused engagement. By removing distractions and making a profound impression, we guide learners to fully immerse in and absorb the desired content.

Practical Virtual Training
To provide the most practical and immersive learning experiences, our technology is unrivaled. Whether it's transporting medical students to an emergency room, or oil and gas workers to a platform, we facilitate interactive, real-world simulations.

Dynamic Presentation Upgrade
Transform mundane presentations with our all-encompassing solution, offering an array of tools and functionalities in one package. Simplify your process and captivate audiences with our intuitive, plug-and-play system.

Stunning Event Innovations
Elevate your events and promotions with our immersive technology, transporting guests to a tropical island or facilitating an encounter with a celebrity. Like a modern-day Copperfield, we're here to astound and inspire.

Revolutionizing Brainstorms
Overcome industry complexities by uniting top experts in our virtual meeting dome. Facilitate deeply productive brainstorming sessions like never before. With our technology, time and space are no longer constraints to innovation.

Teleportation Made Real
Ever imagined standing atop Mount Everest one minute and on Mount Fuji the next? With our immersive technology, you're in the heart of the action. Welcome to your travel capsule experience - no glasses required.

Interactive Learning Elevated
Experience hands-on learning in our immersive dome, where you can manipulate visuals and solicit opinions from peers. A revolutionary tool for practical medical classes, including high-precision surgery simulations.


Holographic Advanced


Presentation System
HAPS is a game-changer, a technological marvel that brings immersive experiences to life. Have you ever dreamt of attending a concert featuring a hologram of a legendary musician or wanted to learn a complex subject through a detailed, interactive 3D model? With HAPS, such dreams can become reality.
Consider this - what if we could make business presentations more engaging, educational lessons more impactful, and entertainment more captivating? How transformative would it be to interact with 3D projections, and have them respond to your actions in real-time? Intrigued yet?
Stay with us as we take you on a journey through the incredible capabilities and boundless potential of HAPS - a revolution in communication and engagement. Are you ready to step into the future?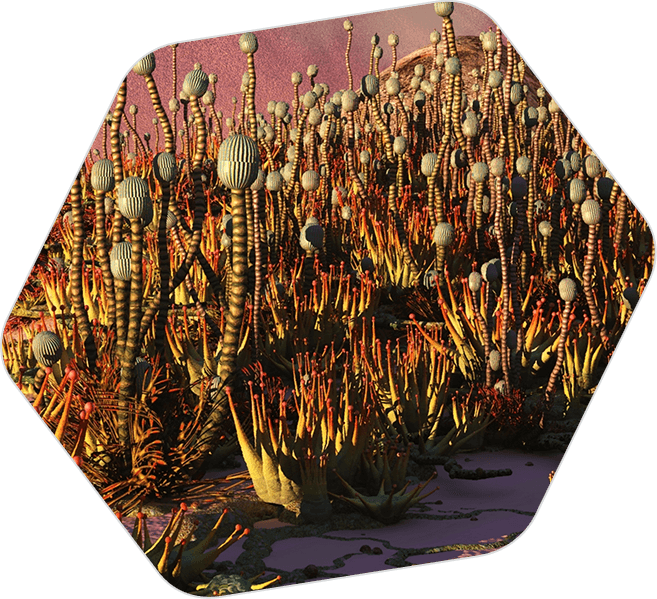 Immersive Experience
HAPS provides a truly immersive environment where users can engage with 3D holographic projections in a realistic way. This facilitates greater understanding and retention of information.
Real-time Interaction
The system allows for live, two-way interaction. This makes the experience more engaging and versatile, as the content can be adapted in real time based on audience responses.
Versatility
Whether for entertainment, education, or business presentations, HAPS can be adapted to suit different purposes. It supports both pre-recorded and live content, catering to a wide range of uses.
Location Flexibility
With HAPS, the limitations of physical location are overcome. The technology can be set up in various venues, either temporarily or permanently.
Scalability
The system can be scaled up or down according to the size of the audience or the nature of the presentation. This means it can be as effective for small group presentations as it is for larger audience engagements.
Innovation
HAPS leverages cutting-edge technology to offer innovative solutions for presentations and demonstrations. The fusion of mapping, immersive, and hologram technologies takes communication and engagement to a new level.
Seamless Integration of Technologies
HAPS, or Holographic Augmented Projection System, utilizes cutting-edge technology to transform ordinary spaces into extraordinary interactive experiences. Our system integrates advanced lighting, stage design, and content production to create an immersive environment.
Our approach blends various technologies, including holography, Virtual Reality (VR), and immersive projection. This seamless integration takes visual storytelling to new heights, enhancing audience engagement and delivering memorable experiences.
The HAPS Advantage: Real-time Interaction
A standout feature of HAPS is its ability to facilitate real-time interactions. Be it a live concert or a corporate event, the technology offers the chance for audiences to engage directly with the holographic content.
This level of interaction fosters a sense of presence, making each event more personal and immersive. HAPS transcends the limitations of physical distance, enabling the convergence of real and virtual spaces for transformative experiences.
Versatility in Venue: The HAPS Approach
At the core of HAPS is the versatility it offers in venue selection. The technology can be implemented in a variety of settings - from conference halls to open-air stadiums, enhancing any event with immersive holographic content.
The adaptability of HAPS allows for creativity and flexibility in event planning. It transcends physical barriers, delivering compelling visual experiences in a range of venues, whether indoors or outdoors, small or large.
HAPS: Expanding the Horizons of Education and Training
HAPS is more than just an event technology; it has profound implications for education and training. By creating realistic holographic content, HAPS can transport students to far-off places, replicate complex environments, or bring historical events to life.
Whether it's a medical student exploring the human anatomy or an engineer studying a complex machine, HAPS allows learners to fully engage with the material, making the learning process interactive, immersive, and effective.
Making Events Unforgettable with HAPS
HAPS holds the power to make every event an unforgettable spectacle. By creating realistic, interactive holograms, we can make any event - be it a concert, product launch, or corporate presentation, a one-of-a-kind experience.
More than just a spectacle, HAPS has the power to create emotional connections and deliver impactful messages, turning every event into an immersive, unforgettable journey.
Free Consultation

at Your Service
Share your vision. We'll transform it into a mesmerizing, immersive holographic marvel.
Innovation Unleashed
Living in a tech-driven world with dynamic market demands, we are ceaselessly innovating. As passionate creators and tech-geeks, we constantly bring forth new concepts that we believe will eventually become reality. Welcome to our space where we reveal the magic behind the scenes of our daily creative process.
Go to Case Study
Versatile Domed Marvels
As dome manufacturers, our product takes on a unique identity and impact based on its specific usage and branding. Explore an array of projects we've actualized since 2012, showcasing the versatile power of our domes.
Go to Projects
Uncovering Dome Add-Ons
Explanation: Recognizing that the details make a difference, we routinely receive inquiries about our domes and additional features. Browse our accessories website to identify a myriad of options to accessorize your dome, pinpointing exactly what you require to augment your dome experience.
Go to additional equipment
Additional possibilities
Basic

Equipment

Delve into the extraordinary standard features of our geodomes and unlock their full potential. Embark on an extraordinary journey of enhanced possibilities