Sales and rental
of event domes
We offer worldwide sales
and short-term rentals
for any event

Theme
design
Creation, development
manufacture, service

Mega
-tough
Highest quality, material,
tear, fire resistant

Worldwide service
& delivery
We guarantee reliable setup,
projects in more than 40 countries

Fast
setup
Quick easy,
assembly anywhere

Your
Branding
Custom printed
graphics and logos

Weather
proof
Withstands wind, snow,
rain, extreme temperatures

Custom
solutions
Unique, futuristic
designs and styles

VFX & XR
additions
Immersive, interactive,
multimedia solutions
Polidomes designs and manufactures HQ, tension fabric sports and training facilities for any sport or
recreational activity. We use geodesic and truss arch architecture to create long lasting indoor sports
facility roofing solutions of any shape, design and purpose.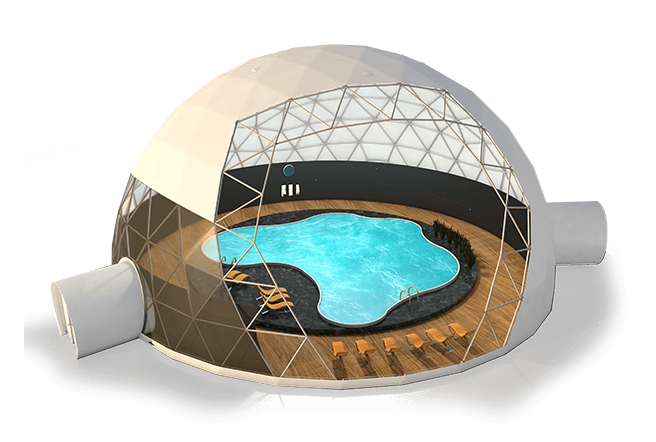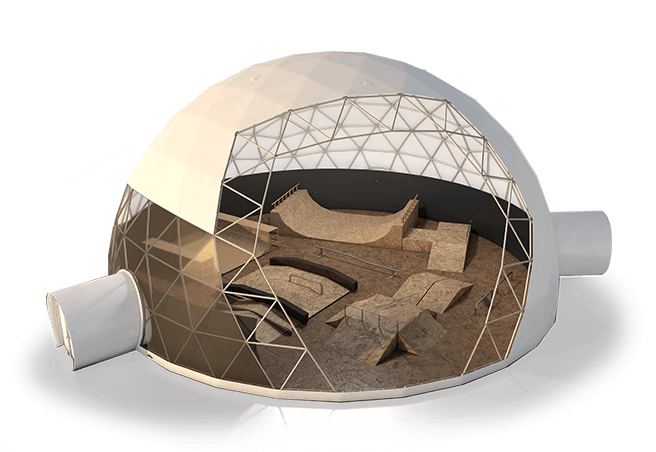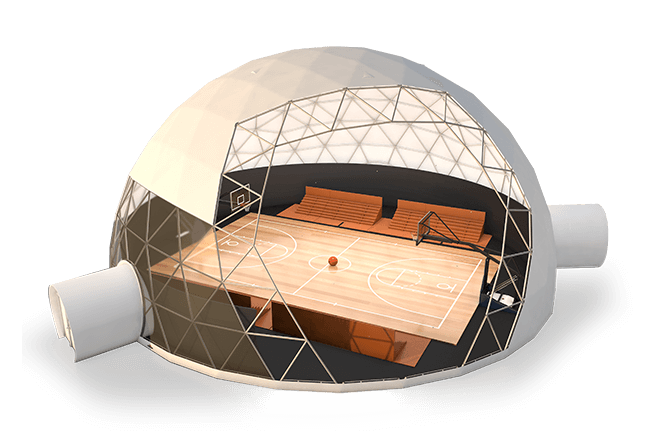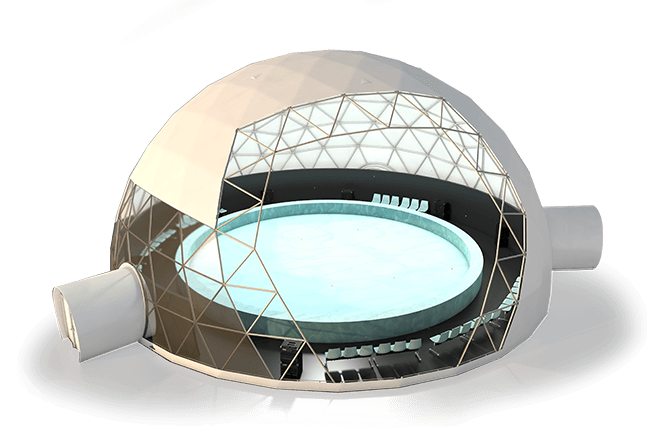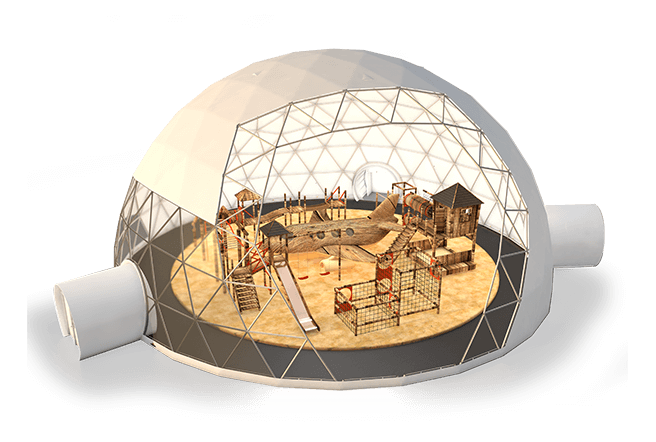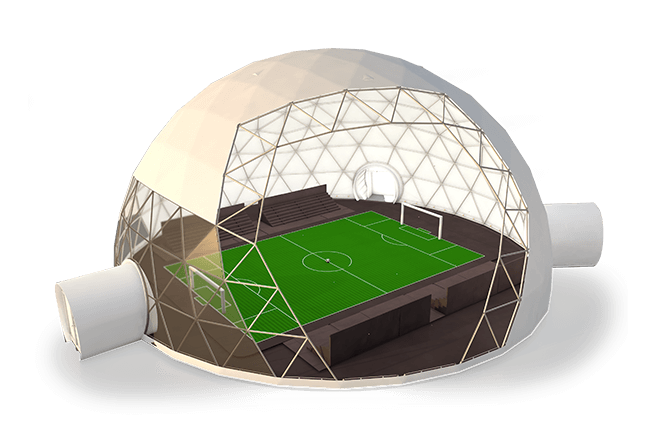 Our fabric cover structures are custom designed for indoor training and athletic facilities, gymnasiums, pitches and courts,
pool and ice rinks, among others. We offer schools, clubs, businesses and organizations long lasting, budget friendly fabric
structure roofing solutions to provide their athletes with an ideal space to practice and play year-round.

Bespoke Sport
Facility roofing
solutions
Design and
Manufacture
From initial concept to completed project
Polidomes experts collaborate closely with
our clients to assure the planned sports
facility meets your every expectation. Our
architecture and design department will
supply you with CAD graphics of how your
final project will look.
Our fabric structures are manufactured in
our state-of-the-art factory then
transported and assembled on-site.
Contact our advisory team today to get an
estimate and learn how easy it can be to
make your indoor sports facility a reality at
a fraction of the normal cost.
World's first
Teqball Halls
Teqball, world's fastest growing sport, is played
with a football on a curved table by either two or
four players. Teqball originated in Hungary, the
sport's international headquarters, and is expected
to soon be recognized as an official Olympic game.
By direction and inspiration of Gattyán György,
owner of Docler Holding and co-founder of Teqball,
Polidomes created two specially designed
geodesic dome Teqball halls in Budapest. Each
dome is 27 m in diameter with a floor space of over
570 m2 each, which allows plenty room for two
courts in each dome.
All aspects of the two Teqball halls were specially
designed. They are built for year round use with
special wool insulated flooring, attractive, extra
thick insulation panels and cost efficient HVAC
systems. Extra wide panoramic windows provide
plenty of daytime lighting and suspended LED light
systems keep things bright for night time play.
More> Teqball-sport-dome
Fabric Roofing
for Sports Fields
We offer lasting, great looking, full-scale, fabric
roofing solutions for any size pitch, field, rink or
court! The tunnel shaped football hall we created
for Rawicz is a prime example of how attractive and
practical Polidomes fabric sports field covers can
be. The Rawicz sports hall has a beautifully printed
outer cover and combines all the qualities of a
traditionally constructed hall at a mere fraction of
the cost.
Unique
Designs
Polidomes architects specialize in creating indoor
fabric sport facilities as unique as the sport they
represent. Our customers are looking for
functional, lasting, indoor sport facilities with
cutting-edge designs and features that stand out
above the competition.
Pools
& Aqua Parks
Polidomes geodesic fabric covers are ideal
to enclose an outdoor pool or expand an
existing pool facility. There is no limit to the
possibilities.
Lemon Park hotel & aqua park chose four
colorfully branded Polidomes geodesic
tents to expand their facility. The huge
domes completely transformed the look
and atmosphere of this seaside resort. The
domes are joined together by our special
tunnel system so guests can enter the
domes directly from the hotel.
Combined, the domes cover an area of over
1,200 m2. The larger, 706 m2 dome with
special lighting, adjoins the pools and is
used as a lounge / restaurant, a P300 dome
as a reception area, a P150 as a spherical
cinema theater, and a P110 as a buffet
area.
Geodesic
Pool Covers
Our geodesic domes are an easy way to enclose
any size pool. A client in Hungary wanted a highly
attractive cover to use for their outdoor pool in
warmer months. They chose a custom designed
dome cover that is 70% transparent with an opaque
top.
The pool dome has a double glass door entryway
and is ballasted so there was no need to dig costly
foundations. To prevent condensation the
bubble-like dome is double insulated and has a
dedicated HVAC system. A suspended lighting
system creates a warmly lit atmosphere for night time swims.
SPA & Wellness,
Relax centers
Our spherical domes align with nature and provide
a perfect space for health and beauty oriented
activities such as yoga, massage, dance and
aerobics.
Imagine hosting a training workshop or yoga retreat
in a dome tent with large panoramic windows in the
middle of your favorite nature spot. Our dome tents
are easily relocated and can be quickly set up on
virtually a surface indoor or out.

Upgrade or Expand
an Existing Sport
Facility
We also modernize
and renovate all types
of existing sports
and training facilities
with tension fabric covers.
Polidomes geodesic span structures
and rigid-frame fabric buildings are
used to combine traditional
architecture with a flexible exterior.
Expand your sports facility - Our modular, structural
solutions make it easy to add additional rooms or
cover multiple connected courts of any size.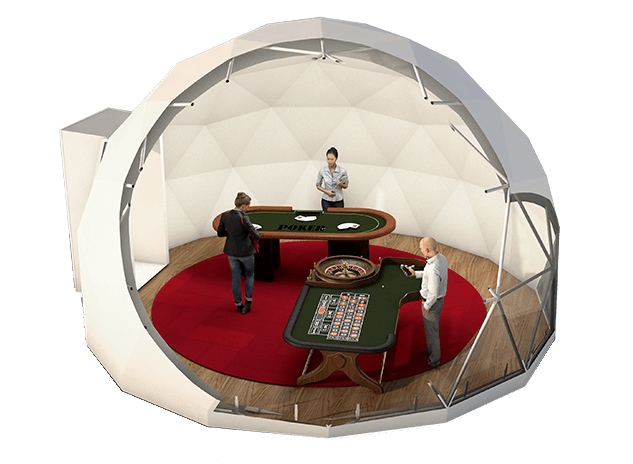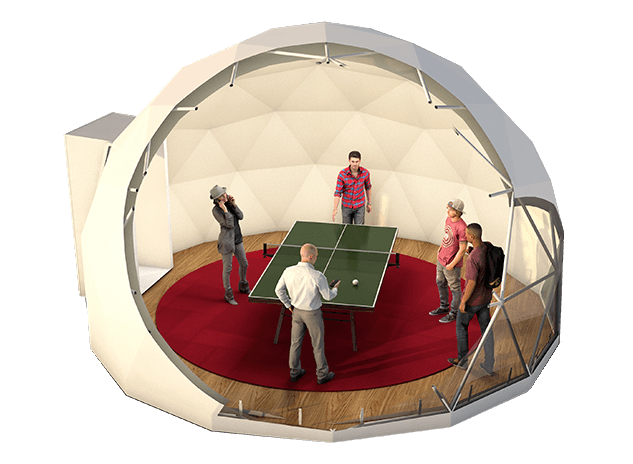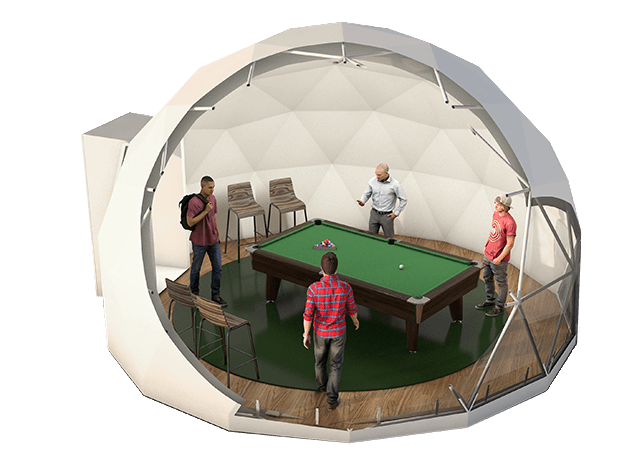 Teqball
Halls

Yoga
Domes

Tennis
courts
Football
Pitches

Ice
Rinks

Pools
& Aqua Parks

Horse
Stables

Playgrounds

Casinos

Basketball
Courts

Advantages
over traditional
construction
Polidomes fabric structures offer many advantages over traditional
construction solutions for indoor sports facilities.
Cost
Savings
Polidomes fabric indoor
sports and training
facilities cost as much as
70% less than traditional
facilities
Quick
installation
Lower material costs and
short construction time
without major site
preparation needed.
Minimal
foundation
requirements
Installed on most any level
surface, reducing the need
for costly site preparations.
Energy
-efficient
Our tension fabric structures
deliver lower energy costs for
lighting, heating and cooling.
Low
Maintenance
Designed for durability,
versatility, and long life -
virtually maintenance free
Easily
Relocated
- Our sports facilities can
be left in place
permanently or easily
taken down and
transported to a new
location as needs
change.
Acoustics
Polidomes tension fabric
structures are designed to
absorb sound which make
them ideal for indoor ball
sports.
No
Columns
No internal pillars or
supports allow maximum
use of available space.
Year-round
Use
Our fabric sports facilities
are made to withstand
extreme environmental
conditions. Custom
engineered and designed for
your local climate conditions.
Energy
-efficient
Designed for durability,
versatility, and long life -
virtually maintenance free.

Custom
equipment
Standard
& Optional
Equipment
All of our bubble tents and
snow globes are equipped
with the following standard
equipment:
1
Entry and Doorways
From zip lock doors to heavy duty
aluminum and glass doorways we offer
the largest selection available
2
HVAC & Ventilation
Choose active or natural ventilation
solutions. Our HVAC experts specialize
in cost efficient heating and cooling
systems designed for the size, shape
and climate of your sports facility.
3
Insulation
In colder climates, the sports facility
can be fully insulated to any R-value,
and heated in an energy-efficient HVAC
system assuring low running costs.
4
Structural Strength
Our galvanized steel frameworks easily
support the installation of HVAC,
sprinklers, lighting and sound systems
as well as handle heavy snow loads
5
Lighting
We install skylights and panoramic
windows of any size as well as budget
friendly LED lighting systems for
optimal indoor lighting.
6
Cover Membranes
We use highest quality cover materials
produced by leading manufacturers,
such as Sioen, Mehler Texnologies and
Serge Ferrari. All covers are UV, mold,
tear and fire resistant (B1, M2) and will
not rot
7
Branding
• The heavy duty cover can be
custom printed with your logo or any
artistic design in your choice of RAL
colors.
Next step
Get an instant quote
You can use our online
price domes calculator
Dome Calculator
Next step
Get a quote for your project
Tell us about Your project and ask
the expert questions.
Free consultation
Next step
Order your Polidomes dome now!
Contact the team you can trust
and let's build something tremendous!
Additional possibilities
Basic


Equipment

Explore the
HQ standard
features of
our Geodomes