A Unique Investment with Cost Savings
Invest in unique parametric sport facility cover for cost savings on running expenses and a cutting-edge, customized solution

Column-Free Space
Unobstructed space for flexibility and customization, meeting specific needs and requirements without support columns

Beyond Waterproof and Weatherproof
Versatile Domed Solutions: Waterproof, Weatherproof, and Climate-Controlled for Optimal Sports Performance in Any Weather Conditions

Global Reach, Local Presence
Polidomes: A Worldwide Company, Executing Global Projects with Local Knowledge, Ensuring Exceptional Reach and Expertise

Project Production & Execution
We focus on the seamless integration of project production and execution, ensuring remarkable results for our clients

Experience and Expertise
Dedicated to domes, we excel in strategic planning and foresight, ensuring a smooth, successful dome experience for our clients

Football All Seasons
Create an enjoyable experience for kids with our weather-proofed football fields, allowing year-round sport classes, rain or shine

Community Sports Hub
Our sport domes serve as valuable assets, benefiting local society, offering kids and the community a space for entertainment, education, training, and endless fun

FX & XR Upgrades
Explore the possibilities of VFX and XR to elevate the immersive potential of fulldome 360 experiences and share captivating virtual worlds
HQ Tension Fabric Sport Facilities, Beyond the Ordinary
As boutique dreamers, we take pride in designing and manufacturing geodesic and parametric structures, creating long-lasting, customizable, and innovative indoor sports facilities. With a commitment to excellence, we go beyond the ordinary, offering tailored solutions that elevate your sports and recreational experiences. Discover a world of possibilities with Polidomes, where imagination meets precision engineering for an exceptional sports facility.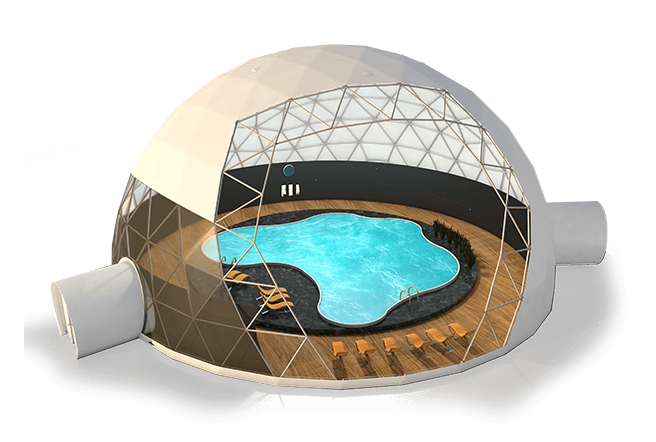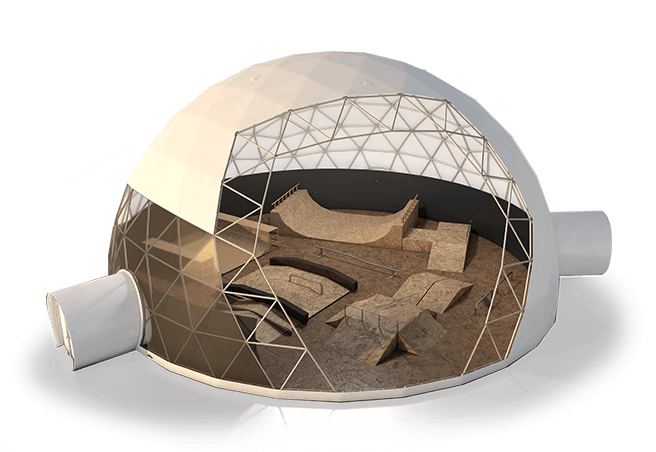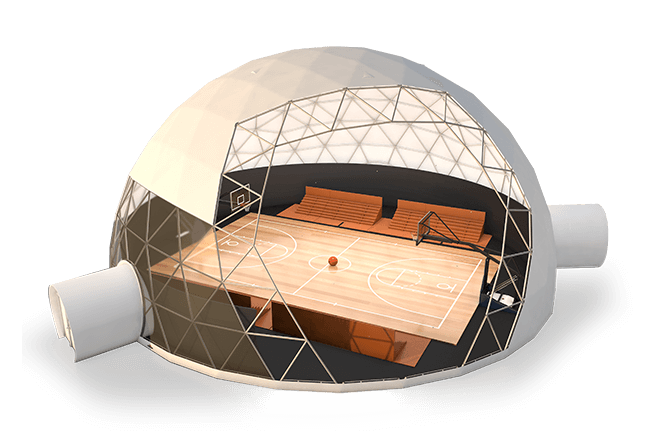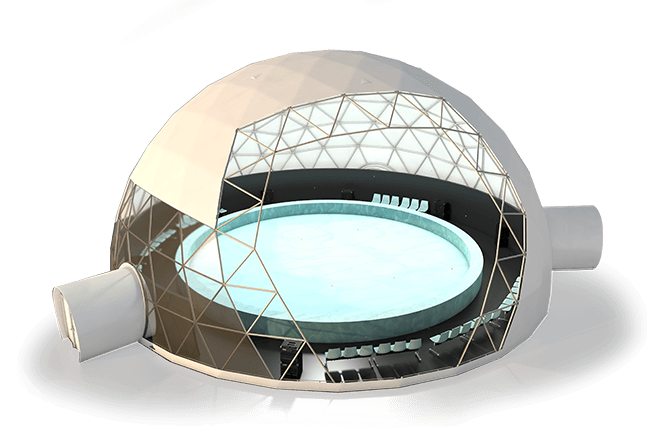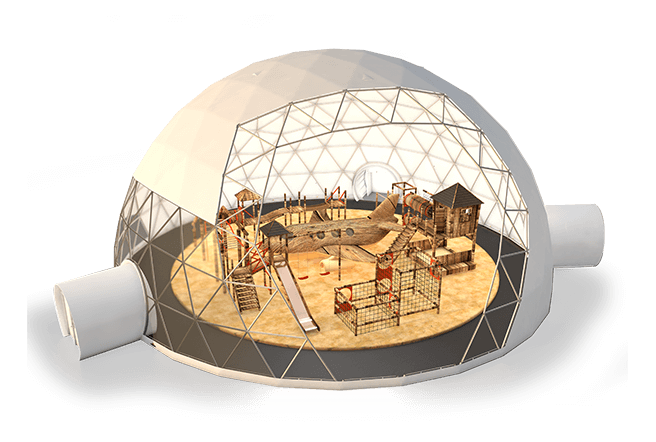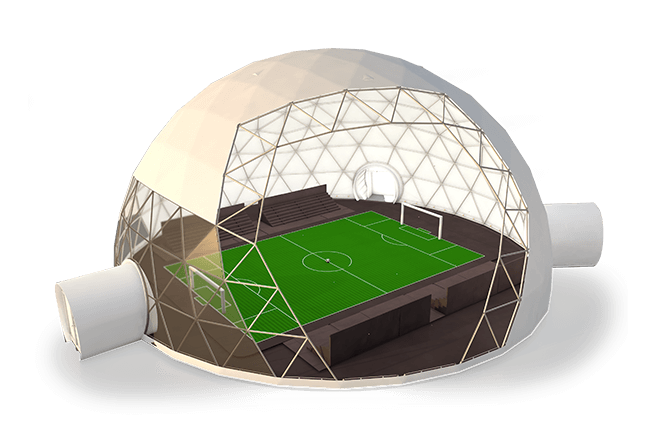 Our tensile structures cater to a wide range of indoor sports and training facilities, including gymnasiums, pitches, courts, pool and ice rinks, and more. Schools, clubs, businesses, and organizations can rely on our long-lasting, budget-friendly fabric roofing solutions to create an ideal space for their athletes to practice and play year-round. Whether it's a soccer match, basketball game, swimming lesson, or fitness training session, our versatile and durable structures ensure athletes have a comfortable and conducive environment to excel in their respective sports. With Polidomes, you can elevate the sports experience and provide your athletes with the best facilities, fostering a culture of growth and success in the realm of sports and athletics.

Tailored Roofs for Sports Excellence
Custom
Sport Facilities

: From Design to Reality

At Polidomes, we collaborate closely with our clients from initial concept to completed project, providing tailored roofing solutions for indoor sports facilities. Our state-of-the-art factory manufactures fabric structures that are transported and assembled on-site, making your vision a reality at a fraction of the cost. Experience the world's first Teqball Halls – specially designed geodesic domes, equipped with advanced features for year-round play, day or night.
Revolutionizing Year-Round Sports Facilities
At Polidomes, we continuously strive to push the boundaries of our structure implementations, seeking innovative solutions to real-world challenges. In recognizing the issue of underutilized football fields during harsh winters and school holidays, we took on the challenge to transform these spaces into versatile, year-round sports facilities.
Our solution lies in the ingenious use of small struts framework, which enables us to efficiently insulate the domes, making them suitable for winter sports despite cold temperatures. Additionally, our design maximizes natural daylight ingress throughout the football field, eliminating the need for excessive artificial lighting during summer.
Our sports facility design focuses on ventilation, air circulation, and energy-efficient insulation, ensuring low-cost energy consumption. Strategically placed gates guarantee a constant flow of fresh air, creating a comfortable environment for players and spectators alike.
Unbeatable Sports Facilities: Affordable, Sustainable, and Innovative
The hallmark of our innovation lies in the cost-effectiveness and efficiency of our sports facilities. With construction costs three times cheaper than traditional facilities and faster build times, we offer affordability without compromising performance. Additionally, the outside cover is replaceable after seven years of warranty, allowing for full printing and providing a visual connection to governmental or private sponsors, making it a powerful branding tool
Our first design requiring a parametric dimensional 2-layer framework, this unique tunnel shape posed challenges distinct from the Buckminster Fuller idea. Complex to design, fabricate, and set up, this structure serves best for permanent use rather than temporary applications.
Pools & Aqua Parks: Endless Possibilities with Polidomes Geodesic Covers
Polidomes geodesic fabric covers offer incredible versatility for enclosing outdoor pools or expanding existing aquatic facilities. With solid ventilation and humidity control, our structures ensure a comfortable environment. Extend your pool season by covering and heating the pool area during winter. For a panoramic glass look, consider our fully double transparent covers, creating a stunning sphere pool venue.
Basketball Dome: A Grand Arena for Tournaments and Tryouts
Transform your basketball court into a dynamic and weather-resistant arena with a basketball dome by Polidomes. With an expansive size of more than 30 or 40 meters in diameter and full height, our geodesic structures offer an ideal setup for tournaments and tryouts. The audience can enjoy an unobstructed view from the sides while players benefit from the ample space, perfect for those impressive ball shots. EOur dome coverings offer the perfect solution for creating a temporary or semi-permanent basketball season that knows no bounds.
SPA & Wellness, Relax Centers - Connecting with Nature
Our spherical domes create an inviting space for health and beauty activities like yoga, massage, dance, and aerobics, aligning perfectly with nature. Imagine hosting a tranquil training workshop or yoga retreat in a dome tent with panoramic windows amidst your favorite natural spot. Easily relocatable and quick to set up, our dome tents offer a versatile solution for indoor or outdoor wellness experiences.

Elevating
Sports Facilities

with Modernization, Versatility, and Expansion
Upgrade or Expand an Existing Sport Facility
Polidomes offers modernization and expansion solutions for sports facilities. We use tension fabric covers to revamp existing structures, ensuring both functionality and aesthetics for tennis courts, basketball arenas, and more.
Versatile Geodesic Span Structures and Rigid-Frame Fabric Buildings
Experience innovation with Polidomes' geodesic span structures and rigid-frame fabric buildings. Combining traditional architecture with a flexible exterior, these designs accommodate various sports and recreational activities.
Seamless Facility Expansion with Modular Solutions
Expand your sports facility effortlessly with our modular, structural solutions. From additional rooms for specialized training to covering multiple courts, our adaptable options suit any need – whether it's ping pong or pool tables, martial arts studios, or fitness gyms.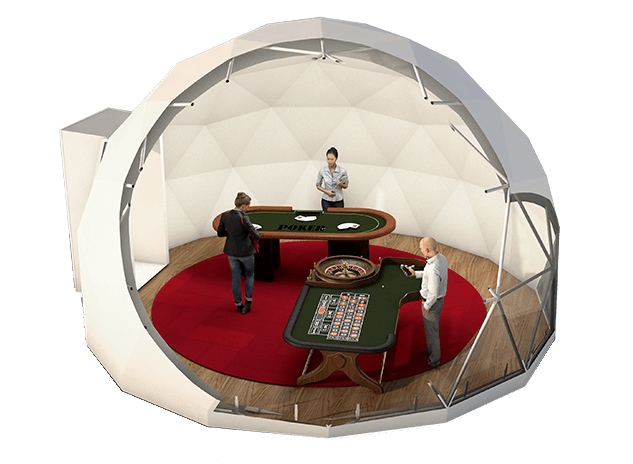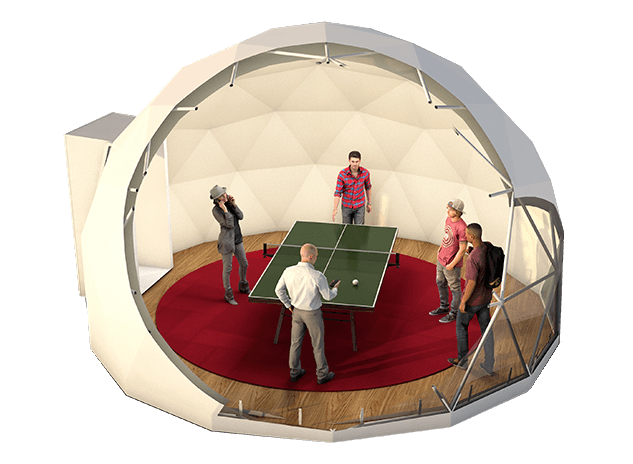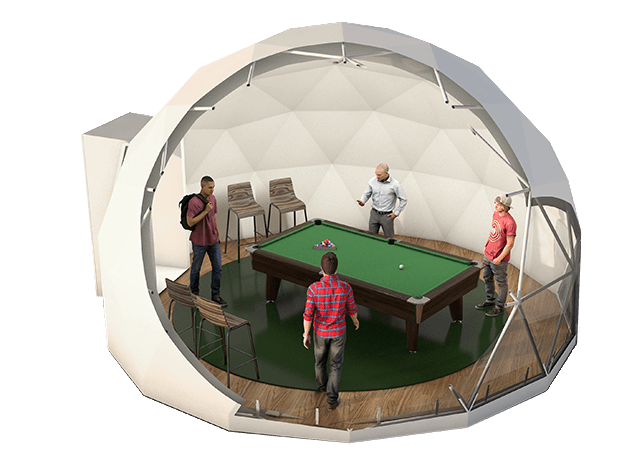 Teqball
Halls

Yoga
Domes

Tennis
courts
Football
Pitches

Ice
Rinks

Pools
& Aqua Parks

Horse
Stables

Playgrounds

Casinos

Basketball
Courts

Redefining Functionality and Appeal
The parametric fully insulated amazing tunnel dome structure outshines inflatable overpressure domes and shoddy-looking slouchy arch tents in multiple ways. With its precise engineering and innovative design, the tunnel dome offers exceptional insulation, ensuring a comfortable environment regardless of the external temperature, while inflatable structures require fake light all the time due to their lack of proper insulation. Additionally, the tunnel dome's sturdy build and eye-catching aesthetics present an appealing and functional option, while slouchy arch tents often lack temperature control and may not be visually appealing or efficient for long-term use. When it comes to creating versatile and attractive spaces, the tunnel dome stands as a superior choice compared to inflatable and arch tent alternatives.
Embracing Versatility: Polidomes Fabric
Sports Facilities

as Dynamic Marketing Tools
Cost Savings
Polidomes indoor sports and training facilities cost up to 70% less than traditional building, thanks to lower material costs and quick installation without major site preparation needed. Minimal foundation requirements translate to reduced expenses, making our solutions highly economical.
Energy-Efficient
Fully insulated for consistent 21°C indoor climate, our tension fabric structures offer cost-effective energy efficiency. Regardless of weather or seasons, athletes and visitors enjoy a comfortable environment for year-round sports and training, reducing excessive heating or cooling needs while promoting sustainability.
Natural Light
Polidomes fabric sports facilities boast abundant natural light during the daytime, reducing the need for artificial lighting and enhancing the well-being of athletes and visitors. Bask in the sun's rays while enjoying sports and training activities, creating a bright and uplifting atmosphere.
Dynamic Marketing Tool
The outside cover of our fabric sports facilities presents an excellent opportunity for branding and marketing. It can be fully customized and changed every seven years, giving a fresh new touch to the venue and effectively promoting sponsors or your organization's identity.
Low Maintenance
Polidomes fabric facilities are engineered for durability, versatility, and long life. This translates to virtually maintenance-free operation, allowing you to focus on your sports activities without worrying about constant upkeep.
Easily Relocated
Whether you prefer a permanent installation or need the flexibility to move, our sports facilities can be easily relocated to a new location as your needs change. This adaptability ensures you can make the most of your investment over time.
Acoustics
Polidomes' tension fabric structures are meticulously designed and researched to absorb sound, creating an ideal environment for indoor ball sports. Experience noise-reduced spaces that enhance focus during games and training, showcasing our expertise in sound management within large domes.
No Columns
With no internal pillars or supports, our structures allow maximum use of available space. Enjoy unobstructed views and enhanced maneuverability within the facility, providing an optimized setting for sporting events.
Year-Round Use
Our fabric sports facilities are custom-engineered and designed to withstand extreme environmental conditions. From scorching summers to harsh winters, they provide a comfortable and functional space for year-round sporting activities.
Energy Efficient
Designed for durability, versatility, and long life-virtually maintenance free.

Unique Dome Tent Masters
Base Models: Proven Working Solutions
However, just like a house can look completely different based on design choices, our geodesic domes can be fully customized to suit your unique vision. Whether it's for events, glamping, or immersive experiences, we offer a wide range of designs, sizes, and features to create a dome that perfectly aligns with your needs and stands out as an architectural masterpiece.
1
Versatile Entry and Doorways
At Polidomes, we cater to diverse needs with our extensive range of entry and doorway options. Choose from zip lock doors for convenient access or opt for heavy-duty aluminum and glass doorways for a touch of sophistication.
2
HVAC & Ventilation Solutions
Choose from active or natural ventilation tailored to your sports facility's unique attributes. With our HVAC experts' extensive experience, we deliver effective solutions for maximizing dome usage, ensuring an ideal environment all year round.
3
Efficient Insulation
Experience hush efficient insulation for desired R-value in colder climates. Our sports facilities incorporate an energy-efficient HVAC system, ensuring minimal running costs.
4
Inner Projection Liner
Immerse your audience in unparalleled experiences with our inner projection liner. Transform your sports facility into a cutting-edge venue, offering immersive visuals like never before, elevating your events to new heights.
5
High-End Multi-Dimensional Sound System
Upgrade your venue with our advanced sound system featuring echo absorption and L-Acoustics technology, coupled with the premium L-ISA processor for an exceptional multi-dimensional audio experience.
6
Lighting Solutions
Our multidisciplinary concert halls offer adjustable lighting to accommodate various sports activities. With our domes' full scope of lighting options, there's no need to compromise – you can freely use the dome for any occasion.
7
Versatile Outside Covers
The outside cover of our structures offers various options, including regular PVC, opaque (standard basis), fully transparent, or filled with a glass facade.
8
Elevate your brand: stunning artwork on heavy duty covers.
Discover our specialty in custom printing, creating precise and captivating logos or artistic designs on heavy-duty covers. Our meticulous craftsmanship ensures the final effect is a stunning work of art.
Next step
Ambitious Solutions
We deliver ambitious projects: get a tailored quote based on your needs.
At Polidomes, our focus is on advanced and ambitious projects. To provide the best solution, we'll explore your requirements and how you intend to use your Polidome before offering a custom quote.
Dome Calculator
Next step
Dome Insights
Explore our latest case studies: stay updated on our newest projects and house news for dome geeks!
We're excited to share our passion for domes with you. Check out our case studies to see the latest projects and stay informed about all the exciting happenings in the world of Polidomes!
Case Study
Next step
Dome Connect
Join us, fellow dome fans! Let's connect and share our passion.
Behind every dome lies a community of great people, and we're thrilled to meet you too! Let's come together, share our stories, and learn from each other. We can't wait to meet and discuss our common love for domes!
Additional possibilities
Basic

Equipment

Delve into the extraordinary standard features of our geodomes and unlock their full potential. Embark on an extraordinary journey of enhanced possibilities