Basic equipment
Tunnels
Integrate all the domes with interconnected pathways to enhance accessibility and improve the flow of movement
Basic equipment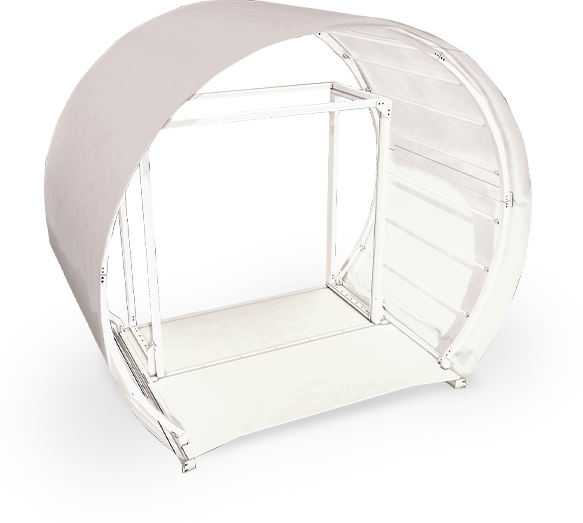 Tunnel construction description
The tunnel is constructed using a durable steel framework, enveloped by a cover material identical to the Geodomes. This design ensures a seamless and sturdy connection, tailored specifically to match the entry arch of its corresponding dome. The tunnel serves as a corridor, allowing individuals to transition from one dome to another without stepping outside, offering a waterproof solution for uninterrupted movement.
Tunnels system
Connecting Tunnels System:

Expand Your Space
Need more space?
No problem!
Polidomes Geodomes can be seamlessly joined using our robust arched tunnel system, allowing for the interconnection of multiple domes. This system facilitates the creation of additional space, letting you build an intricate cluster of Geodomes. The tunnels are constructed with a steel framework and a cover material that mirrors the Geodomes, guaranteeing a flawless integration. These tunnels are adaptable in size and length to meet specific needs, making them ideal as covered halls or entryways. However, it's important to understand that not all domes can be paired with a tunnel simultaneously. Due to the differences in dome sizes, entry dimensions, and angles arising from varying heights, each tunnel connection is specifically tailored to match the entry arch of its designated dome.
Tunnels system
Versatile Uses of the Geodomes
When multiple Geodomes are interconnected, they can serve diverse purposes.
Whether you require backstage rooms, a base for technicians, spaces for catering, storage areas, or simply extra halls for your main event, these connected Geodomes have got you covered. If you're feeling ambitious, you can even craft a mini-village of domes linked by the tunnel system. The tunnels not only offer convenient access between Geodomes but also double as hallways.
In instances where extra rooms or spaces are necessary, the tunnel system can be employed to join the Geodomes to a permanent structure, offering a straightforward solution. It's essential to note that each tunnel connection is custom-designed to correspond with the entry arch of its specific dome, and its length remains unchangeable, neither stretchable nor shrinkable.
Dome Tunnels
Essential Tunnel Insights for Dome Enthusiasts
Enhancing Projection Experiences
Using tunnels as entrances for domes maximizes the impact of projection shows. They maintain the desired ambiance by keeping the internal atmosphere dark and the visual effects uninterrupted. This setup ensures attendees get an immersive experience once inside.
Seamless Dome Connectivity
For adjacent domes touching at the floor, simple roof-like tunnels provide an economical and straightforward solution. This design ensures smooth movement between domes, enhancing accessibility for attendees.
Customized Connection Passages
We craft specialized tunnels to seamlessly link any two domes, no matter their size disparity. Given their tailored nature, it's crucial to place orders in advance. This ensures an impeccable fit, catering specifically to the desired dome combinations and precise lengths.
Long Tunnels Need Premium Flooring
For extended tunnels, we recommend using our top-tier, heavy-duty floors. Long passages without this robust foundation might lack stability and proper alignment. To ensure a sturdy and seamless connection, always opt for our premium flooring solution.