Basic equipment
Floor
systems
Steel structures
Polidomes
complete
Floor systems
A characteristic feature of Polidomes high-quality structural steel floor system is its adjustable height floor levelling system to assure a level Geodome even on the most rugged terrain.
Level ground
Water Ballast
Floor systems
Pollywood
Premium
Floor
Polidomes flooring reflects
the spherical shape of the
Geodome, combining design
and framework into one
uniform element.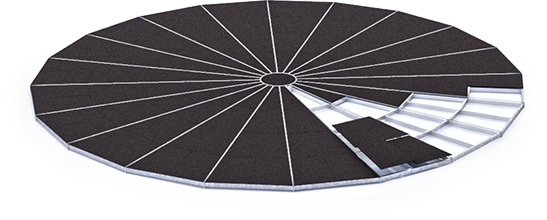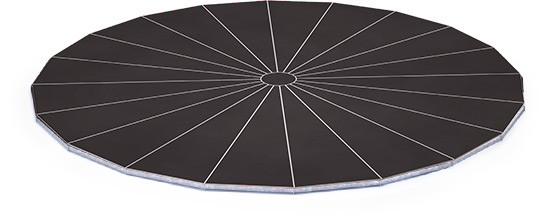 Solid galvanized steel framework
Rugged anti-slip hardwood floor
The floor is connected to the tent in an integral whole and weighs on average 2,5-3 times more than the structure
of the tent, therefore our system allows the assembly not only on uneven grounds, but also gives the possibility
to add weight, so there is no need for additional protection of the dome against the weather.
Floor weighs
on average 2,5-3 times
more than
the structure
of the dome

Water ballast system
We are the only company in the
world to offer an integrated water
ballast system as an alternative
to conventional concrete or
sand ballast.
Water ballast system
Our water ballast systems are
inexpensive and easy to transport
and install.
This ensures maximum safety in
all weather conditions. Any number
of these weights can be easily and
elegantly combined either internally
or externally.
Extra Weight
Attractive, flexible and
easy to assemble.
The special ballast weights
(gray iron coating, with a black
rubber underlay) are invisible
and integrated into the
Polidomes steel flooring
system.
Your dome
I like it!
I'm going to order

Geodome Uses
Unlimited Applications
Festivals, performances

&

cultural events

Whether You plan to host a large music festival, a play
or unique performance we have more than thirteen years'
experience helping customers host successful events.
Combine Your event with our 360 ° projections and other
high tech solutions to create something Your guests will
never forget!
Museum, education,
art
&

culture exhibits

Our team of theme creators and art designers can show
You ways to bring your own content to life in ways You
never thought possible. We offer both simple and complex
solutions including full surround projections inside the dome
and other AV possibilities to make Your event a completely
unique experience.
Galas, private parties

&

VIP lounges

Want to host an event for special guests and provide them
with an experience they will never forget. We create spectacular
spaces for celebrities, social icons and VIPs of all levels of
society (like You!). Our event specialists can arrange any sort
of entertainment, special effects or personal touches that will
delight Your important guests.
Corporate events, trade fairs,

&

product launches

Our marketing experts have helped both major brands
and smaller companies promote their company, products
and services with astounding success. Impress your clients
and employees alike with Polidomes unique Event Domes.