Basic equipment
Floor
Systems
Steel structures
Integrated Geodesic Flooring


The Fusion of Stability and Design

Our unique premium floor integrates with the dome, enhancing stability. Unlike others, it complements the geodesic design, offers heavy-duty leveling on uneven terrains, and ensures long-lasting, precise solidity.
Level ground
Water Ballast
Floor systems
Geometric Flooring

: Enhancing Dome Stability & Leveling

Our premium floor resembles cake or pizza slices. Crafted from galvanized framework and anti-slip plywood, it has a gap for additional weight, ensuring stability and hidden enhancements.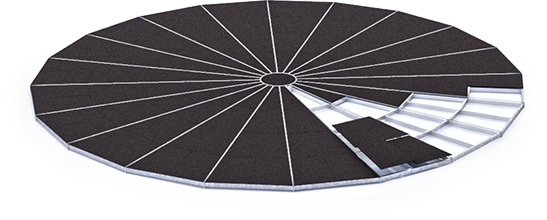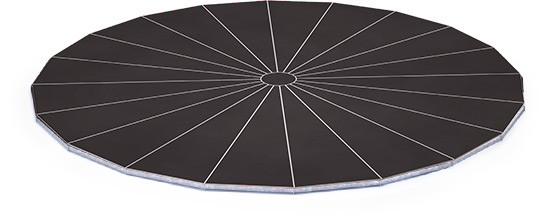 That sentence is well-structured and clearly communicates the key features and benefits of the floor in relation to the tent. It emphasizes the floor's weight advantage and its functionality on uneven terrains while also highlighting the eliminated need for external anchoring or concrete blocks. If this captures everything you want to convey, then it's good to go!
Comparison drawing: Dome vs. Premium Floor Weight
Dome
The floor's weight is typically 2.5-3 times greater than the dome's structure
What are the available methods for setting up
the dome?
Premium Floor Integration: This involves using a heavy-duty floor that seamlessly integrates with the dome. It acts as an anchor, providing stability, especially in areas with heavy winds.
Water Ballast System
Spaces between the plywood and steel framework can be equipped with a water ballast system. This provides added weight to the premium floor, further enhancing the stability of the dome.
Anchoring Steel Feet
In conditions demanding maximum security, each steel foot that connects the dome and flooring should be anchored to the ground. This ensures optimal stability even in the most challenging scenarios.
Before setting up, it's recommended to consult with engineering specialists to determine the best approach for your specific location and conditions.
Your dome
Dang, this team's on fire!
Time to snag that dome & floor combo!

Geodome Uses
Pros and Cons of

the Premium Floor
Anchoring Advantages
No need for intrusive ground alterations like drilling holes in concrete for steel pegs. Our flooring solution removes the need for such security measures, simplifying installation.
Level & Luxurious
Our flooring ensures an even base, negating additional groundwork on-site. Some opt for carpet overlays, but our floor's design is both aesthetically pleasing and easy to maintain, making additional coverings optional.
Strength & Specifics
While our flooring can bear the weight of vehicles, special care and calculations are necessary if the intention is car support rather than pedestrian traffic. This ensures safety and longevity.
Considerations in Size
Though the dome is compact, our floor's packed size is notably large. This can influence shipping costs and extend setup and dismantle times, impacting overall expenses and timelines.