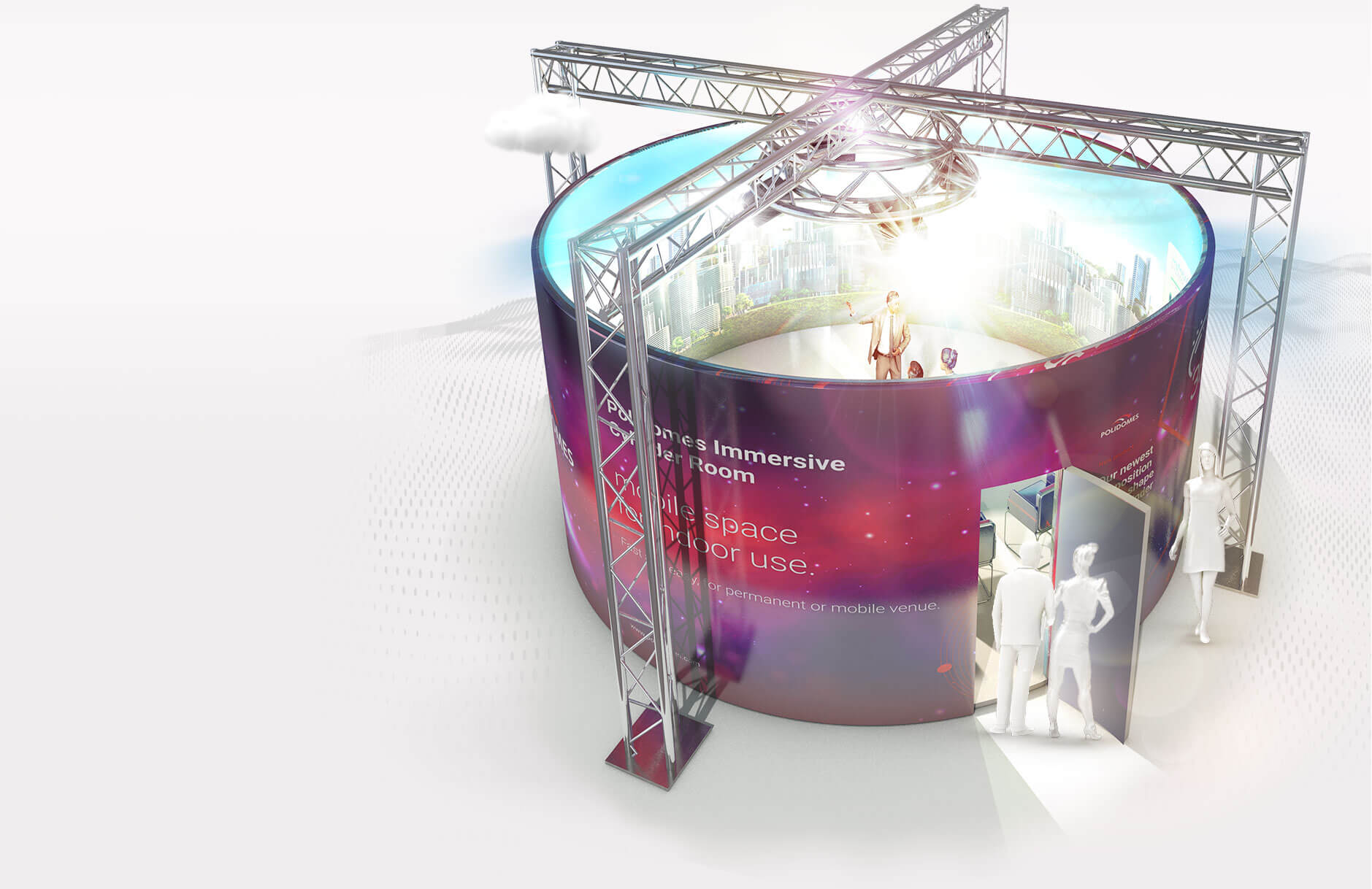 Immersive
circular
room
Sales and rental
of 360° cylinder
rooms with full
surround sound
and projectors
Light-weight, portable
and ideal for roadshows
or in-house immersive
presentations of all types.

Sales and rental
of event domes
We offer worldwide sales
and short-term rentals
for any event

Festivals,
trade fairs
Make Your event
spectacular with
an event dome

360o Projectors

(cinema 5D)
Full spherical
map projections

HQ digital
projections
Astound your audience
with full surround 360o
projections

Worldwide setup
and delivery
We guarantee
reliable setup
and delivery anywhere

Worldwide
service
All our Geodomes come
with full service
and ongoing support
We create a spectacular 360°
immersive reality experience
in a tailor-made circular room

Immersives
cylinder
room
Polidomes portable
Immersive Cylinder
Rooms create a 360°
immersive space
that can be enjoyed
by a group without
need of VR headsets
Polidomes 360° Immersive Cylinder Rooms
are an ideal way to present your brand, products,
exhibit or services anywhere. Your audience
will be stimulated by a full surround, crystal-
-clear display. Add interactive capabilities to
fully engage Your users attention.
The module can be custom designed to perfectly
fit any size room and specifications.
Our Portable Immersive Cylinder Rooms are lightweight, easily
transported and setup and create an ideal space to display Your
own chosen digital content in 360°. They are an ideal solution
for tradeshows, simulations, exhibits, workspaces, entertainment
and much more.
Immersive Cylinder Rooms with HD projectors and special
technology create an astounding 360° surround, Shared VR,
Immersive Space that without need of VR headsets.
We partner with some of the top Projection and AV companies
on the planet to bring you the latest immersive technology and
multimedia hardware and software solutions including custom
HQ content production.