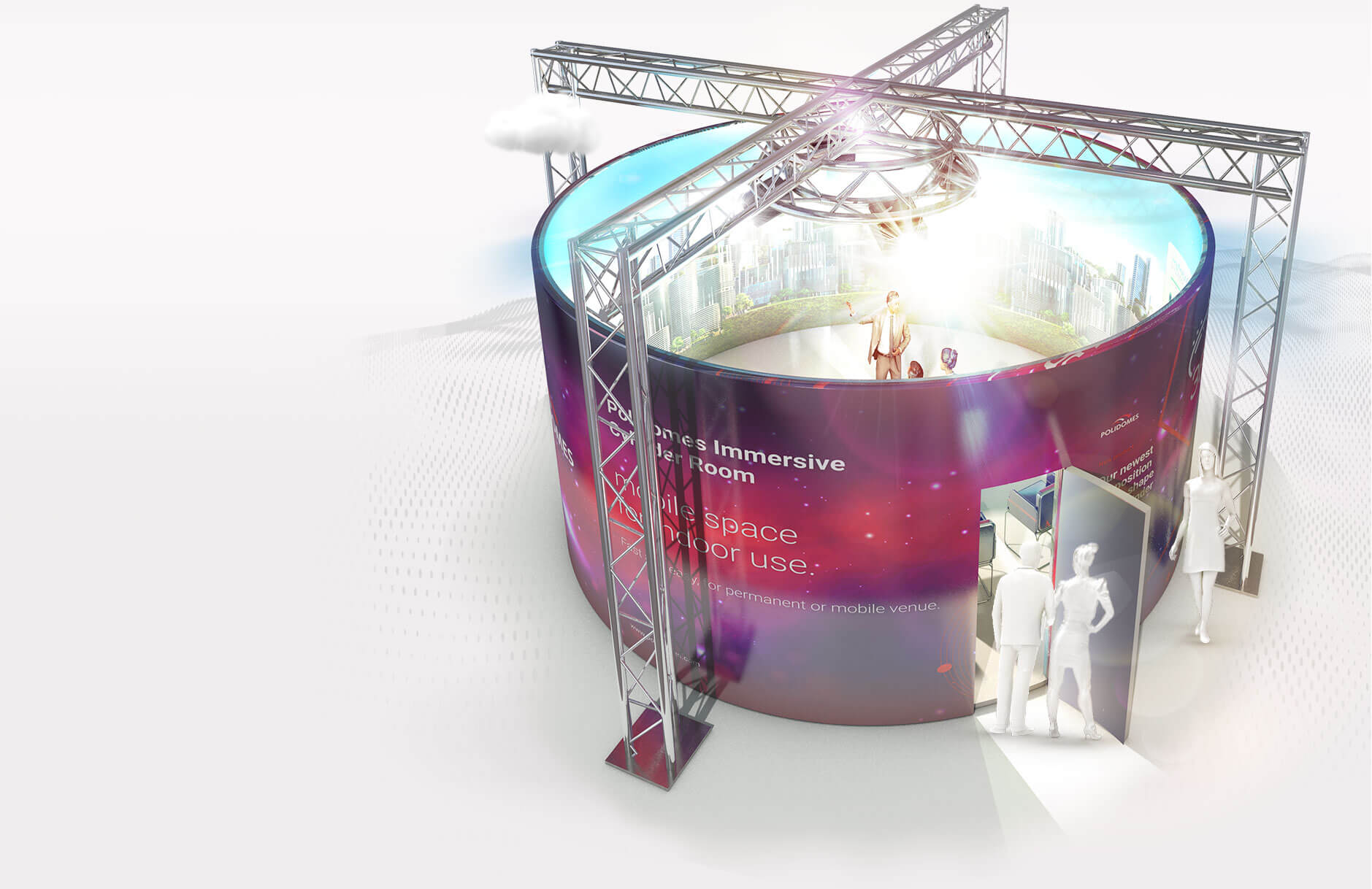 Immerpod

Immersive circular room
The ultimate cylindrical chamber for immersive panoramic video and 360 content presentation
The ideal indoor solution for limited height spaces. With ground-level mapping, branded exterior, and versatile functionality, including office space, virtual classes, and futuristic gateways

Complete Immerpod Solutions
Choose from purchasing the Immerpod alone for AV and content, or get the whole working product for sale or rent, as we offer complete solutions, not just rentals for the Immerpod

Make a bold statement!
Elevate your existing office or education center with our compact, user-friendly cylinder. Create virtual rooms for all, showcasing your company's innovation

360Xperience
Immerse your organization with panoramic content and multi-screen 360 displays, isolating from the outside world to conduct effective trainings and immersive education experiences

Light & Elegant Flexibility
Immerpod offers light and elegant flexibility with aluminum trusses, seamlessly fitting into indoor spaces as versatile furniture for offices, schools, and expos

On-Demand Immersion
Like all our products, the anywhere Immerpod delivers an immersive cylinder experience wherever you need it, even on short notice

Complete Accountability
With in-house production and core responsibility, we ensure promises are met, delivering satisfaction with every product
Immerse Yourself in the World of Immersive Cylinders
In the fast-paced digital age, technology continuously evolves, offering new and exciting ways to experience content. Among the most captivating innovations is the concept of an "Immersive Cylinder," a revolutionary device that transports individuals into immersive and engaging virtual worlds.

Immersive
Cylinder Room
Turn Your Space into a Virtual Gateway: From Standard Cylinder to Futuristic Spaceship and Beyond!
What is an Immersive Cylinder?
An immersive cylinder is a unique and cutting-edge spatial experience that surrounds participants with a 360-degree panoramic display. Unlike traditional screens or flat surfaces, the cylindrical design engulfs viewers, enveloping them in a seamless visual and auditory journey. The immersive cylinder technology incorporates projection mapping, high-quality surround sound, and advanced visual effects to create a mesmerizing and lifelike encounter.
Inside the Immersive Cylinder
Step inside an immersive cylinder, and you will find yourself transported to new realms. The technology allows for a wide range of applications, from entertainment and education to corporate events and presentations. With panoramic content projected all around, viewers can explore breathtaking landscapes, venture into historical eras, or even dive into fantastical worlds.