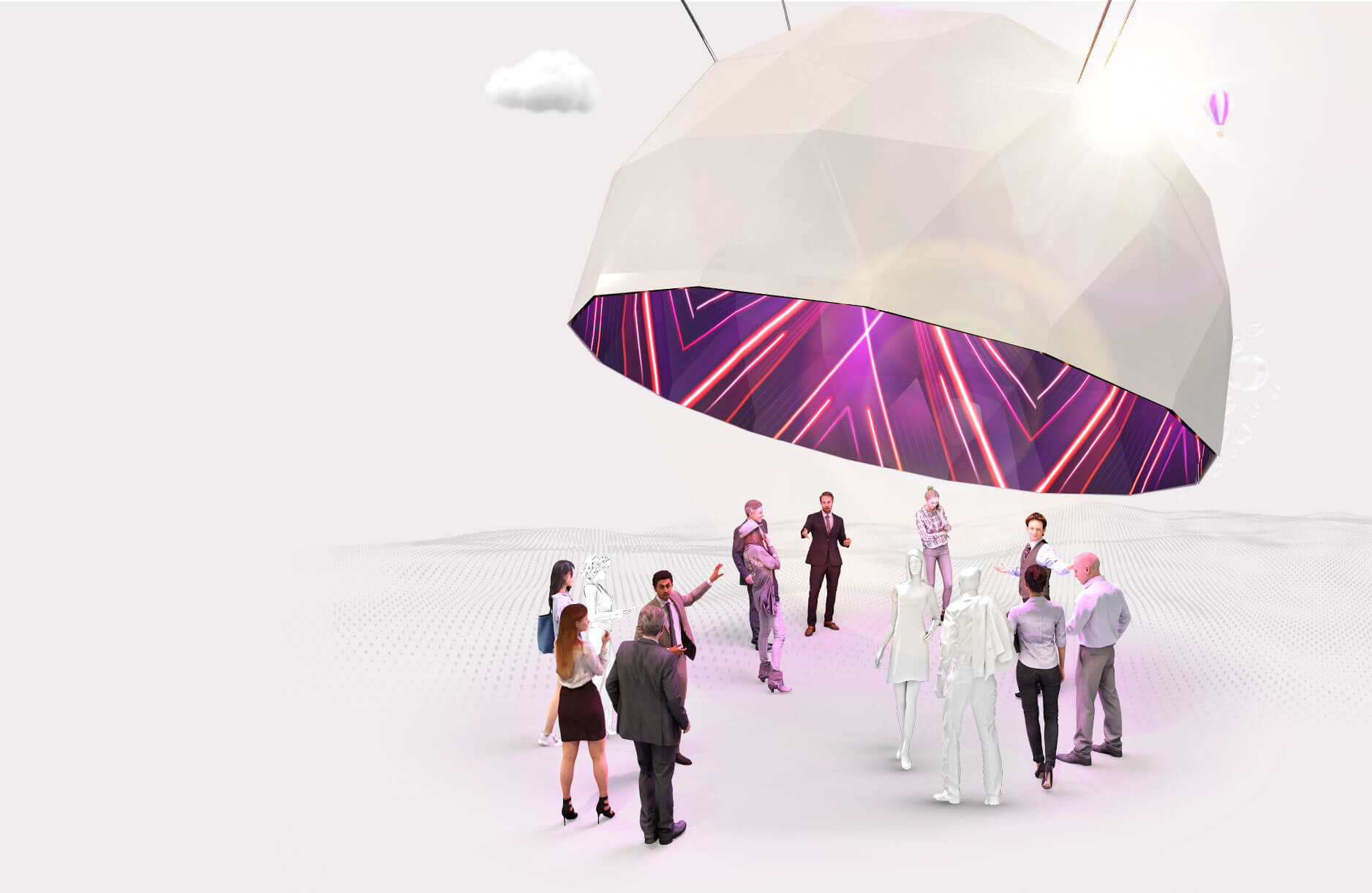 Suspended Projection Dome:

Elevate Your Indoor Fairs Experience

The impressive structure and advanced technology of the Polidomes Dome cater to the diverse needs of indoor fairs. Whether for educational exhibitions, trade shows, or entertainment expos, our Suspended Projection Dome serves as an innovative platform for interactive engagement

Your one-stop solution
For temporary, fast-call immersive events and permanent interactive immersive centers worldwide, offering sales, rentals, and all your event dome needs

Experience the extraordinary!
Our out-of-the-box projection domes redefine spectacles at festivals and trade fairs. Be mesmerized by immersive displays, creating memories that will last a lifetime

360o Cinema 5D
Immerse in Full Spherical Map Projections. Our enveloping dome experience transcends boundaries, delivering an immersive 5D cinema journey like no other, captivating all senses.

Flexible AV Solutions
With options for various budgets, we deliver customized projection systems tailored to meet your project's unique requirements and exceed your expectations

Global Reach
Just One Call Away. Our services span the world, meeting your needs anytime, anywhere, with seamless delivery and unwavering dedication to customer satisfaction

Trustworthy Partner
Our Geodomes come with comprehensive service, ongoing support, and full risk assumption, providing you peace of mind and a reliable solution

Polidomes' Hanging

Geodesic Dome
Transforming Spaces with Powerful Interactivity and Exceptional Visual Appeal
Polidomes' Hanging Geodesic Domes redefine your indoor fair experiences, crafting memorable, immersive journeys with their impressively striking, high-resolution projections. These suspended domes, more than a mere display tool, emerge as extraordinary platforms for promotional exhibits, leaving a profound impact on every viewer.
Embracing cutting-edge technology, our domes incorporate interactive touch tables, enabling viewers to control the content they see. This avant-garde approach shifts the paradigm from passive viewing to active participation, thereby creating a truly engaging and immersive experience.
The Polidomes Dome Screens, crafted with adaptability in mind, can be both suspended from the ceiling or floor-mounted on support legs, providing flexibility for the layout of your event. Attendees can freely navigate beneath these structures, ensuring an unrestricted and encompassing experience. Customizable to fit any room size, our screens integrate seamlessly into any space.
Beyond their arresting visual allure, our suspended screens cater to a wide array of applications. They stand as ideal solutions for brand presentations, planetariums, and diverse art and cultural exhibits. Equipped with 4K or 5K projectors, these screens promise a pristine, high-resolution display of 360-degree video content.
With Polidomes' Hanging Geodesic Dome, each event becomes a unique sensory spectacle, adding a fresh dimension to your indoor fair. Be it for educational exhibitions, trade shows, or entertainment expos, our technology propels audience experience to unprecedented heights. Welcome to the future of indoor fairs.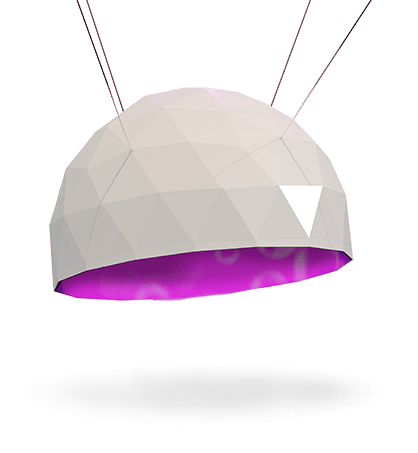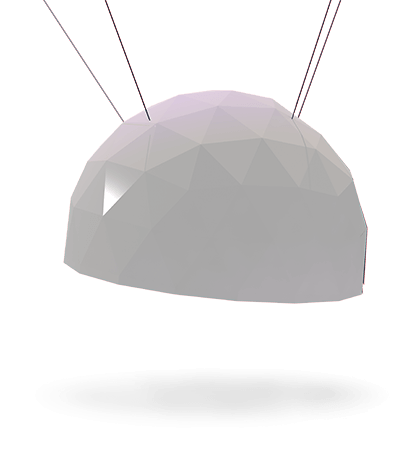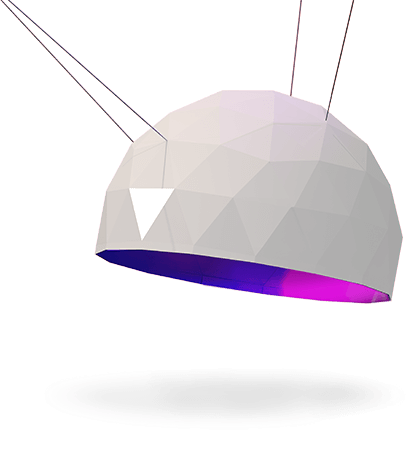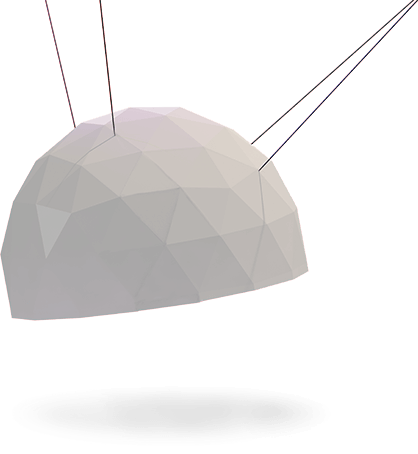 Tensile Geodesic Dome

Harnessing the Power of Engagement
These Dome Screens, acting as audience magnets, draw crowds at events with their immersive projections, turning every interaction into a memorable sensory experience

Interactive solutions
Our 3D projections offer interactive solutions, allowing presenters or viewers to control content using touch tables, keyboards, or any handheld digital device, like smartphones

Content production
Our acclaimed team skillfully produces high-quality, 360-degree and fulldome content, transforming all digital formats, including CGI, animation, and 3D, for educational and entertainment venues
Equipment

High Definition
projectors
With our truss-mounted, multi-projector setup and Dolby Surround Sound, we deliver seamless, high-definition digital content for a crystal-clear immersive experience

Sound systems
Our stereo method of sound reproduction meticulously creates a multi-directional, 3-dimensional auditory experience, immersing listeners in high-quality, spatial audio

Projection
screen
Utilizing cinema-grade materials, Polidomes' innovative projection screen liner fits seamlessly, thanks to our proprietary negative pressure system, ensuring an optimal viewing experience

Hardware & Software
Our dedicated server and user-friendly software automatically calibrate 3D projections, controlling both projectors and sound, and can operate from a laptop
Polidomes' Suspended Dome: Elevate and Engage - Transforming Ordinary Spaces into Interactive Skylines
The Suspended Dome, with its dual functionality, seamlessly amplifies the aesthetic of a standard event dome tent, or acts independently as an enthralling hanging screen. Ingeniously positioned over a trade fair booth, it morphs the ceiling into a dynamic, interactive display, catapulting brand visibility to new heights. It doesn't just create an experience, it revolutionizes the concept of spatial engagement.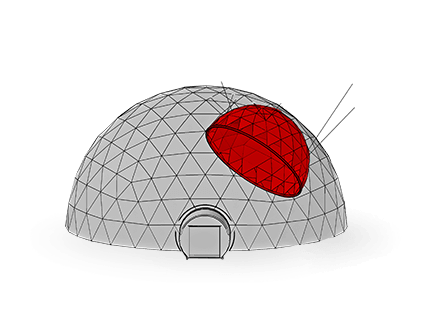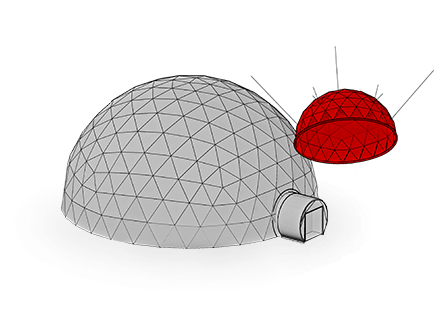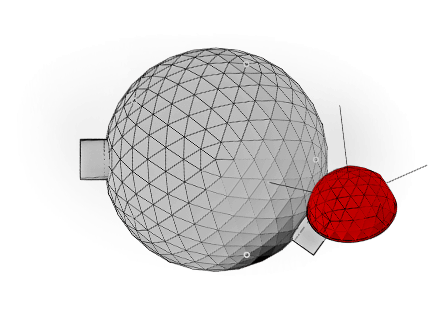 Why Opt for a Suspended Screen?
Consider our Suspended Projection Dome Screens as the more compact and lightweight counterparts to our renowned 360° Fulldome Projection Domes. These hanging domes are specifically designed for indoor use in high-ceiling spaces such as warehouses or large expo halls. They can easily be attached to the ceiling, offering a distinctive and compelling addition to any booth. Their design eliminates the need for doorways, flooring, or HVAC systems, making them a highly versatile and cost-effective choice.
Mounting solution option
Polidomes Dome Screens offer versatile mounting options, including floor mounting on truss support legs. This setup allows attendees to move freely under the dome screen, with the ability to tilt the screen to any angle, even horizontally.
In addition, our projection dome screen can be set on steel pillars, facilitating unrestricted movement in and out of the 360-degree projection showroom.
As standard, we manufacture the screen with a rope keeper for ceiling attachment. Once provided with the AutoCAD file of your booth and expo hall, we can recommend optimal placement strategies. With Polidomes, rest assured that you'll get a tailored solution to maximize your display's impact.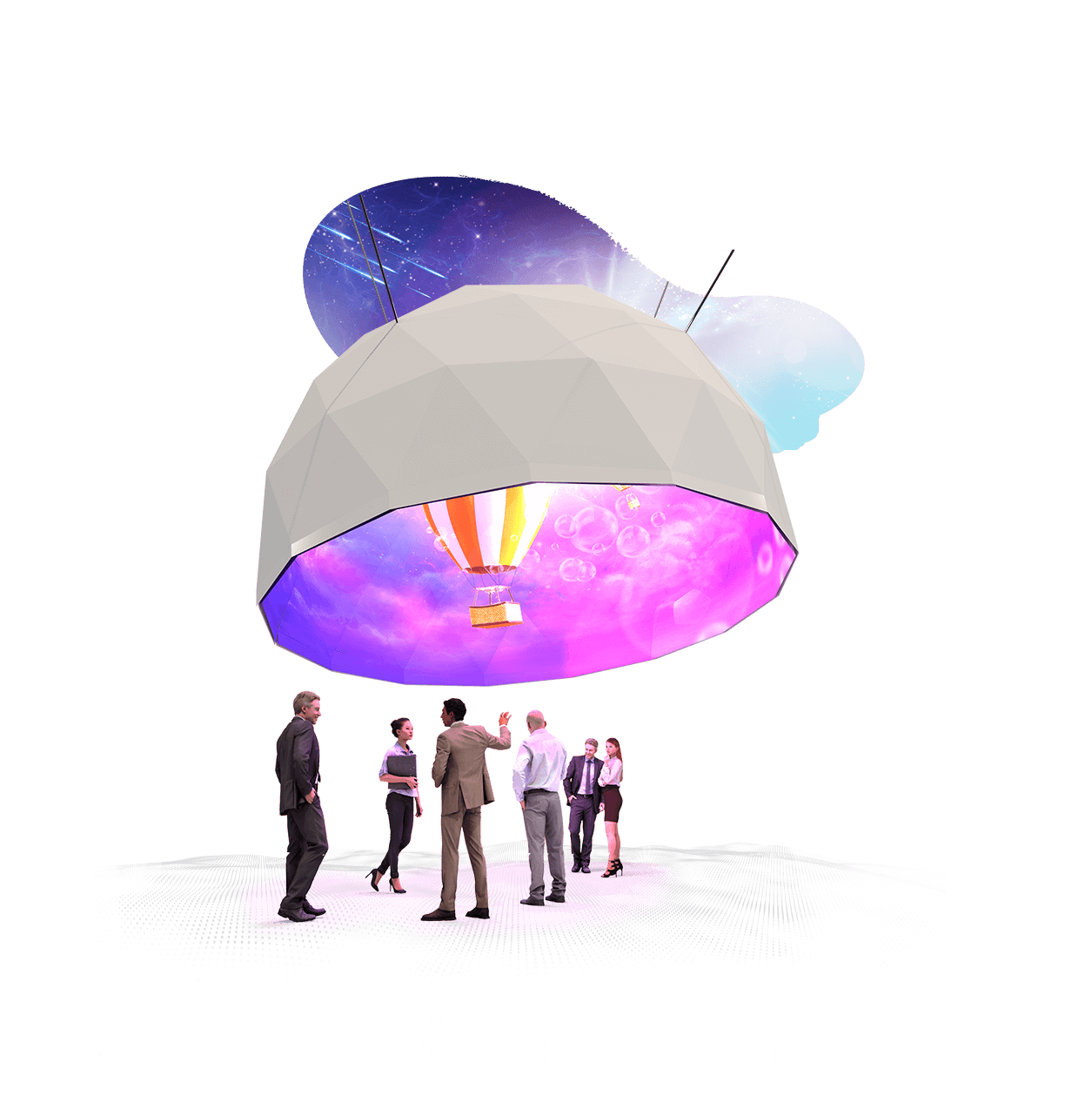 End-to-End Customized Solutions
Polidomes is not just a provider, but a partner, excelling in designing unique experiential booths for a wide range of fairs including technology, mobile, startup, and more. We specialize in creating Immersive Projection Environments that resonate with your theme and context. From meticulous design and construction of the physical space to the integration of professional equipment and curated digital content, we ensure a seamless experience. Our versatile hanging displays enhance the relevance and impact of your event.
Creating Memorable Shared Experiences
Polidomes transcends traditional solutions by curating dynamic spatial environments that amplify your unique content. Utilizing our innovative Shared VR technology, we elevate your existing VR content into a shared immersive experience. This facilitates active audience engagement, fostering discussions and deeper connections with your brand or product. With Polidomes, you don't just create an event - you craft memorable experiences that leave lasting impressions.
Crafting Happiness
Venture beyond conventional with Polidomes. We create immersive experiences that captivate audiences, fostering deep connections through sight, sound, and feeling. This innovative approach not only enhances joy but also boosts referrals, setting you apart from the masses. With Polidomes, explore new depths of engagement, create unforgettable impressions, and redefine event experiences. Stand out and inspire with us.

Custom
Services
Creating Transformative Experiences and Empowering Fair Booth Creators or retails display stands architects.
In a world where everything is within reach and purchasable, we at Polidomes believe that what truly matters is the emotional journey and experience. We are deeply committed to creating more inspiring and enriching experiences through our cutting-edge technology, specifically designed to be accessible to everyone - from those who may not be tech-savvy, to those who wish to deeply connect with their senses.
Our primary role is to leverage our expertise and technology to awaken and stimulate these human faculties, aiming for a transformation that leaves individuals profoundly enriched after interacting with our immersive offerings. Beyond this, we have made it our mission to provide a comprehensive service, catering to those who shape the industry's landscape - event organizers, vendor space designers, and visionary architects of demonstration area.
Our commitment to you is to simplify the complex process of creating a captivating booth. Our advanced solutions, such as our fulldome immersive 360 displays, are meticulously designed to be plug-and-play. With this, you can focus on the grand vision and the bigger picture, leaving the intricate details and technicalities to us.
As your reliable partner, we promise to translate your unique vision into a tangible reality, creating a product that deeply resonates with audiences on an emotional level. With Polidomes, you're not just constructing an Presentation Stand or a Display Unit - you're crafting transformative experiences that leave a lasting impact.
This is our pledge to you, the architects of memorable fair experiences. Let's join forces and together create something truly extraordinary and unforgettable.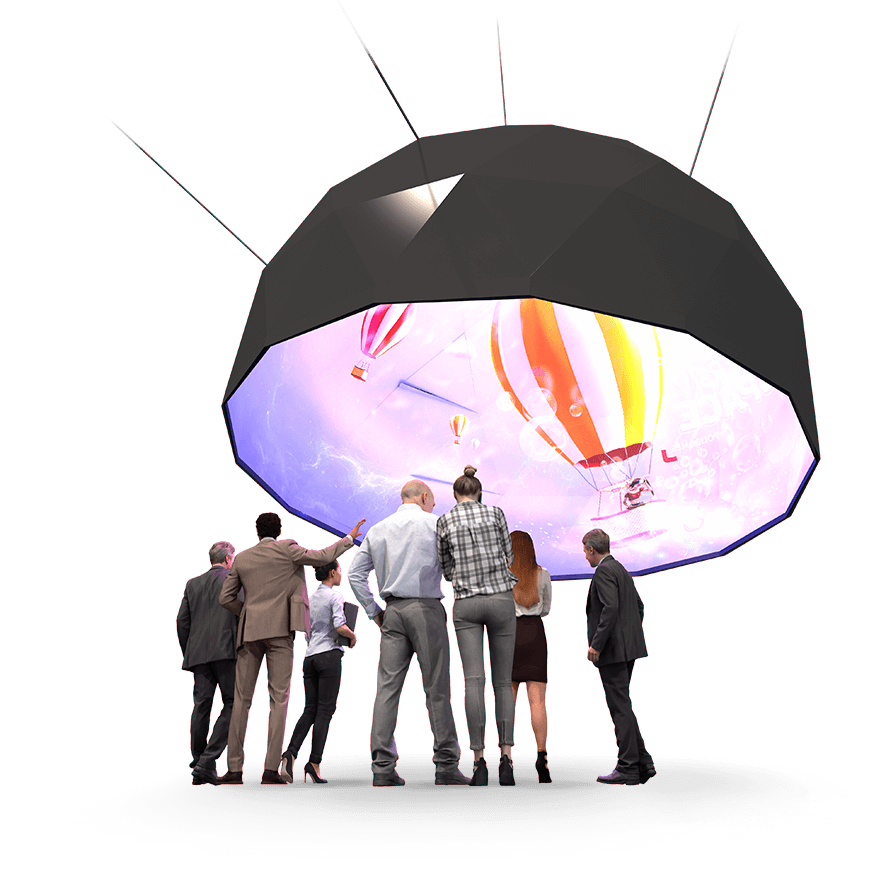 Additional possibilities
Basic

Equipment

Delve into the extraordinary standard features of our geodomes and unlock their full potential. Embark on an extraordinary journey of enhanced possibilities