Additional equipment
Lighting
&

sound
equipment

We are experienced event
professionals and specialists
at audio / visual solutions.

We offer a complete range of lighting,
sound and immersive multimedia
equipment to make the atmosphere
of your event unique and spectacular.

The incredible strength of the geodesic
shaped steel framework allows even the
heaviest lighting, sound and projection
systems to be safely suspended from
the Geodome's ceiling.

HQ digital
projections
Astound your audience
with full surround 360o
projections

Dolby
Surround 5.1
Discrete channels
for powerful audio
experience

360o Projectors
(cinema 5D)
Full spherical
map projections

Live
Streaming
Two-way live
streaming available

VR and AR
solutions
Latest VR and AR
hardware & software

Calibration
and projection
management
Seamless synchronized
projections
Lighting & sound equipment
Full
service
options
We offer both sales and rental
of our Geodomes with an unlimited
variety of audio/visual and
immersive multimedia solutions.
We can provide lighting, HD Dolby
sound systems as well as our 360°
Fulldome-projection systems with
technicians if needed.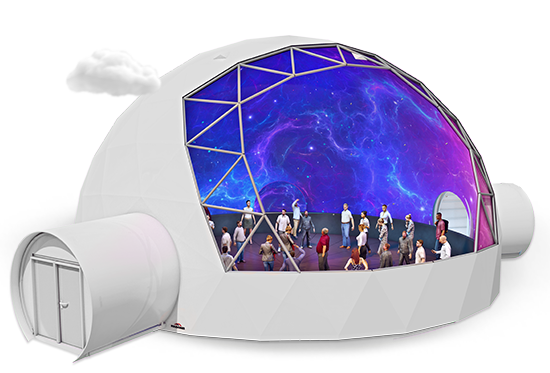 360o
Projection
Dome
Our event specialists can help make Your
event an outstanding success. Whether You
are planning a social affair, corporate event,
cultural or music festival, product launch,
sporting event, or trade show – we assure
the atmosphere of your Geodome will have
the right tone, glow and ambiance.
Fulldome projection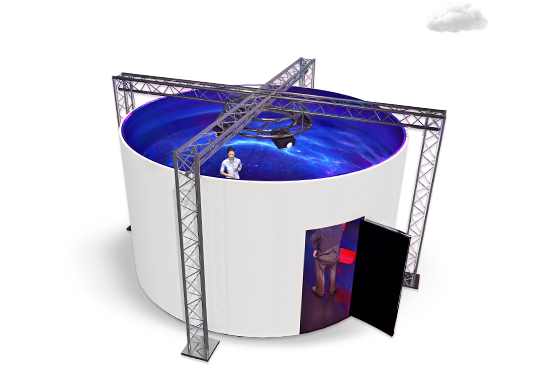 360o
Projection
Cylinder
Polidomes portable Cylinder Rooms are
a spectacular way to present your brand,
products, exhibit or services. Your audience's
senses will be stimulated from every direction.
Add interactive capabilities to fully engage
your audience and users.
Immersive Cylinder Room
Additional equipment
Event services
Event planning
and preparation
Our team has had many years'
experience planning events with
both individuals and top name
brands worldwide and know
the keys and secrets to making
special events a success.

Our team is ready and able to meet the needs and
strictest planning designs for even the largest and most
complicated and diverse events! We understand how
important it is to project the right image. You never
get a second chance to make a good first impression
and we will help you achieve your best.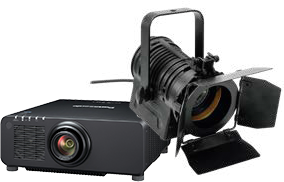 Adapted to
Your needs
If you feel like you are spinning your wheels, give
us a call or send an email. We are here to offer
help from A-Z and make sure your event reaches
its highest expectations.
Personalized Branding
Personalized
Custom made
geodesic structures
Have your own concept for a perfect Geodome? Do you need
a structure custom-built to suit your personal needs and
exacting specifications?
Polidomes offers total customization. Our expert teams excel
at bringing creative, themed projects to life. Everything from
the size, shape cover and immersive multimedia additions
can be custom designed and made to order.
Individual
approach
At Polidomes our customers are King! If you are looking to
create a totally unique space, or event, to draw maximum
attention to your business, contact us! Polidomes lab, our
R&D department, specializes in themed and original event
and marketing solutions designed exactly as you like.
Versatility
Our Geodomes are portable, multi-purpose, easy to assemble,
eco-friendly and made to last. Polidomes Geodome structures
can be constructed on even the most difficult terrain (such as
mountainsides and beaches) and rare
All of Polidomes Geodomes can be custom designed to bring
any themed concept spectacularly to life. Have a discussion with
one of our experts. The possibilities are limitless! The spherical
shape or our Geodomes reflects perfection and harmony and
creates an ideal space for accommodating any amount of
persons in any weather conditions.
Elegant architectural
design
Our team of expert designers, architects and structural
engineers can help manage your project from concept
development to final installation. Our services include creating
CAD drawings and 3D renderings as well as needed technical
consultations, structural analysis, manufacturing, delivery and
ongoing service once your project is complete. All of our
designed structures are covered by at least a two-year warranty!