Additional equipment
Lighting
&

Sound


Equipment

Understanding the intricacies of acoustics within dome structures is not merely a technical endeavor—it's an art. Given the unique shape and environment of domes, sound control demands an unparalleled expertise.

Having catered to numerous dome installations, we're deeply acquainted with the acoustic challenges. But what truly differentiates us is our robust network of seasoned specialists and experts. They've stood by our side throughout our Polidomes journey, ensuring every auditory experience resonates perfectly.

Lights, conversely, meld seamlessly with our domes. The framework is designed with versatility in mind, offering multiple attachment points for various lighting setups. Whether it's a mesmerizing light show mapped onto the ceiling, or interactive displays that dance across the walls and floor, our domes become a canvas for your most vivid illuminations.

Exploring Our Innovations
in Sound Solutions & R&D

Quality AV Flexibility
We tailor our audiovisual based on your specific requirements

Sound Spectrum Mastery
From basic surround systems to advanced L-isa acoustics processors, we offer unparalleled audio expertise

Dome Mapping Mastery
Whether it's mapping on a dome's ceiling or encompassing every surface including the floor, we deliver with precision

Remote Support Ready
With our remote supervisor system, we ensure consistent maintenance and assistance for your sound & AV setup, regardless of location

Dimensional Tech Magic
Leveraging cutting-edge technology, we transport your guests to other dimensions without the need for headsets or glasses

Themed Content Excellence
Beyond our top-tier hardware and software solutions, we provide tailored content to perfectly match your desired theme
Lighting & sound equipment
Tailored Lighting

& Sound Solutions

From the elegance of simple LED bar lights to the unparalleled fidelity of the L-acoustics L-isa sound processor, our offerings are curated based on your specific needs and budget. We don't just provide equipment; we customize solutions.

Whether you require light trusses tailored to perfectly fit our domes or acoustic panels designed to optimize sound clarity, we ensure your event's ambiance is both breathtaking and functional.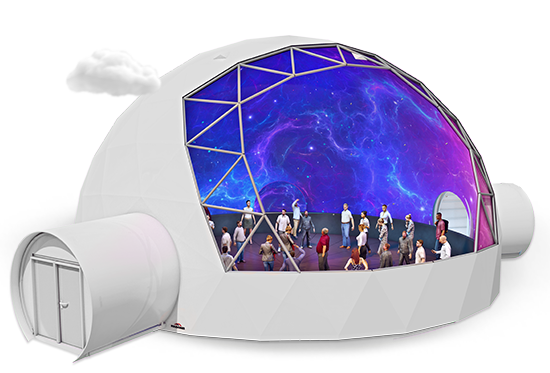 360o Projection Dome
The dome's unique shape isn't merely an aesthetic delight; it's a beacon of lighting excellence. We transcend typical lighting adjustments — with advanced mapping technology, we take command of the entire climate inside the dome. It's not just about illuminating the space; it's about dictating the very mood and emotions of its inhabitants. Dive into a transcendent experience that feels truly otherworldly.
Crafted for enthusiasts, it's a journey into light's true potential.
Fulldome Projection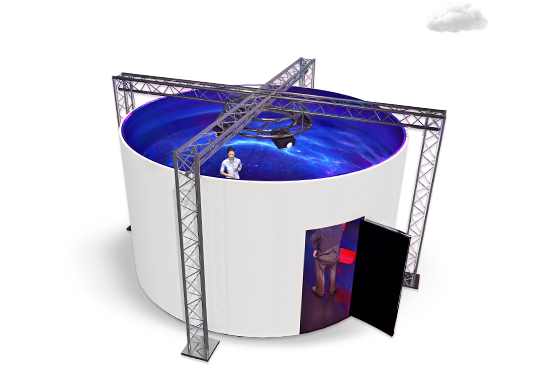 360o Projection Cylinder
Our projection dome's design positions projectors at human height and above, focusing on the ceiling for a superior visual journey. Conversely, the immersive immerpod cylinder extends projections from the floor, reaching heights of up to 2-3 meters. The true artistry is in their integration. Within one dome, these systems can operate in tandem. This dual-projection setup offers vibrant wall displays and distinct ceiling visuals. Experience a 2-in-1 solution, expertly designed for maximum immersion.
Immersive Cylinder Room
Additional equipment
Event services
Holistic
Event Planning

& Execution

With years of hands-on expertise, our team has partnered with individuals and globally renowned brands alike. We don't just plan events; we craft memorable experiences. Leveraging our deep insights and industry secrets, we turn your special occasions into celebrated successes.

Innovative Dome Solutions
In the nexus of dome design and avant-garde technology, we distinguish ourselves not merely as dome providers. We are holistic integrators, seamlessly melding hardware and software. Our forte is in devising unified, all-encompassing solutions tailored meticulously to the nuances of each dome project.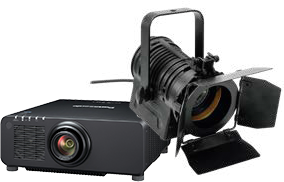 Tailored Technical Excellence
Drawing parallels to piecing together a puzzle, we engineer solutions to tackle distinct challenges, such as the nuances of acoustic echo. Beyond the visible, we exercise strategic foresight, ensuring every hidden cog works flawlessly. Through our intuitive plug-and-play systems and hands-on, on-site training, we pledge a smooth experience for your team.
Dome Branding Essentials
Mastering Sound and Light in Domes
Projection Perfection:
Minimize Light Interference
When opting for a projection dome, the dome's upper part becomes a cinematic canvas, requiring minimal disruption. To maintain the visual integrity of projections, we advise against hanging lights from the dome's upper side. Instead, rely on projector illumination or place additional lights beneath the liner or on the floor for optimal viewing.
Acoustic Transparency:
Sound Limitations
Standard membrane and framework domes aren't soundproof. The design doesn't suppress external noises, meaning sound from inside can easily leak out, and vice versa. This aspect should be considered when planning events requiring sound isolation.
Sound Reverberation:
Addressing Echoes
An empty dome can produce sound reverberations, causing echoes which might disrupt your event. However, once the dome fills with people or furniture, these sound reflections significantly reduce. If echoes remain a concern, we offer specialized acoustic solutions that can effectively manage and control internal sound dynamics.
Advanced Acoustics:
Crafting Concert Halls
Dreaming of a concert hall experience inside a dome? We can make it a reality, even emulating renowned acoustic setups like the Boiler Room or tools like the L-acoustics processor L-isa. However, achieving such audio perfection requires investment and time. It's essential to align expectations with the budget to ensure a harmonious outcome for everyone involved.