Basic equipment
Geodome

Covers
Dome covers
Why Choose Polidomes?

Precision & Expertise in Every Dome!
Dome Cover
own production
At Polidomes, our expertise in construction, design, printing, and HF welding of PVC covers sets us apart. We don't just build domes; we craft perfectly fitted masterpieces.
Using only the pinnacle of materials and cutting-edge manufacturing machinery, our commitment ensures each exclusive portable and permanent dome isn't just durable, but is also water and weather-resistant, merging functionality with unmatched aesthetic appeal. Experience the Polidomes difference: where perfection meets design.
Geodome covers
Where Quality Meets Durability
Experience years of resilience with our Geodome covers! Crafted from industry leaders like Sioen, Mehler Technologies, and Serge Ferrari, we ensure only the finest materials shield your
Geodome Covers by Polidomes: Strength, Safety, and Exactitude
Designed with resilience in mind, our materials stand up to tears, mold, and are fire-resistant (B1, M2). Harnessing years of expertise and state-of-the-art machinery, we deliver unparalleled precision and durability in every Geodome cover. From windows to skylights or any custom modifications, every design is tailored to your needs. Standardly, our opaque cover ensures UV protection, maintaining a comfortable internal temperature. Depending on your requirements and local fire regulations, we recommend materials that best suit your circumstances.
1 PVC Climate Adaptation
Customized PVC, tailored for varying hot or cold conditions

2 Unmatched Tear Resistance
Utilizing the industry's strongest materials

3 Seamless Dome Cover
One-piece design ensures strength, smoothness, and wrinkle-free finish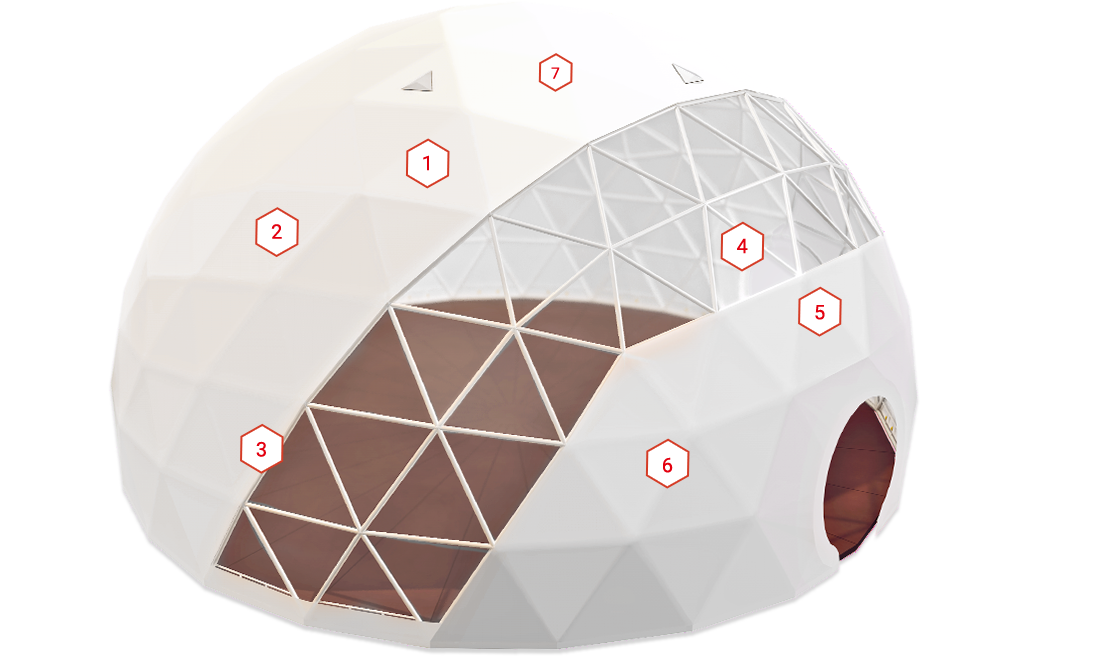 4 Customized Transparency Options
Select transparent sections, with PVC triangles fused to opaque fabric, ensuring durability and preventing damage

5 Reliable Waterproof Protection
Covers designed to endure diverse weather conditions seamlessly

6 Versatile Year-Round Use
Crafted for consistent performance in all climates and weathers
Geodomes covers
Material Selection for Dome Covers
At our manufacturing unit, the standard material we employ for dome covers is an opaque layer designed to block harmful UV rays. This ensures longevity and a consistent appearance over time.
We do offer a transparent front, but it's vital to handle this feature with care. Its primary function is to provide a windowed view; however, the top part shouldn't be fully transparent. The crystal foil used for this purpose is mainly for aesthetics. It lacks the robustness of the white material. Additionally, its unique properties mean it's sensitive to temperature fluctuations – becoming stiff in winter and unusually flexible in the summer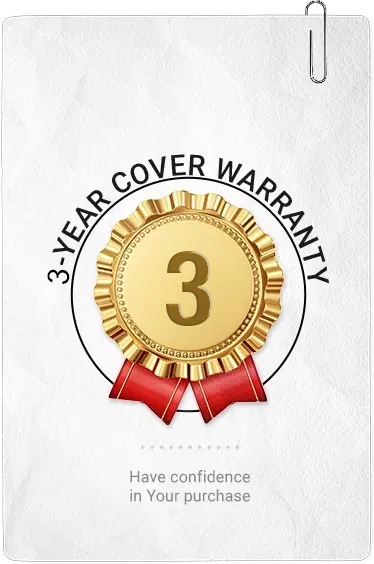 Transparent vs Opaque Material Considerations
Understanding the end-use of the dome is crucial for us to advise on the right material. While some foils are summer-friendly, others are tailored for winter conditions.
It's worth noting that the transparent foil doesn't hold up as well as the opaque white one in terms of durability. For those seeking a permanent dome solution with complete transparency all year round, we suggest opting for glass over foil. The resilience and lasting nature of glass make it an excellent choice. However, keep in mind that glass isn't suitable for temporary events due to its fixed nature and installation demands.
Material-Dependent Warranty
The warranty for our dome covers varies with the selected material. Some materials, due to their durability, are backed by up to a 7-year warranty. However, not all covers will qualify for this extended period.
Explore our two main standard dome cover styles, along with a special fully transparent option, which is not part of the standard offerings.
Our standard covers
1

Standard


covers
A

Full white - optimal event dome cover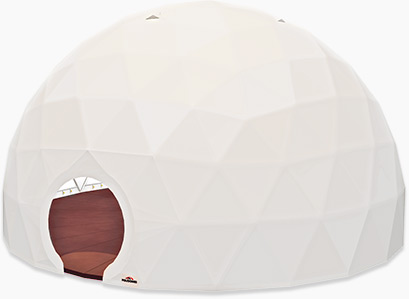 For event domes, our top recommendation is the full white/opaque cover without any transparent sections. This fully opaque design ensures complete darkness inside, presenting both advantages and challenges.
Particularly suited for high-temperature regions, it's indispensable for projection domes. Manufactured from a robust three-layer material, this white cover comes with a warranty of up to 7 years and boasts 60% more UV radiation absorption than covers of other colors.

B

One-Piece Transparent front Event Domes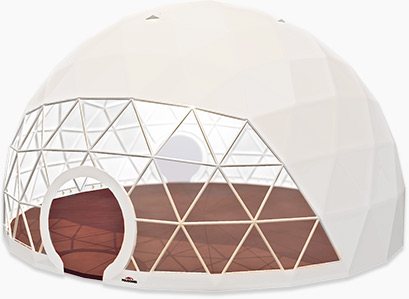 Seeking a dome that merges natural lighting with the allure of interior visibility? Opt for our event dome tents with a transparent front. This design ensures ample natural light, reducing the need for artificial illumination, and captivates outside viewers by offering a peek inside. Typically, the transparent portion spans 1/3 of the total cover. Standard for Polidomes up to 700 sqm, our one-piece fabrication ensures swift setups, a wrinkle-free appearance, and no extra attachments, unlike multi-piece alternatives.

C

Transparent Domes: Specialized, Not Standard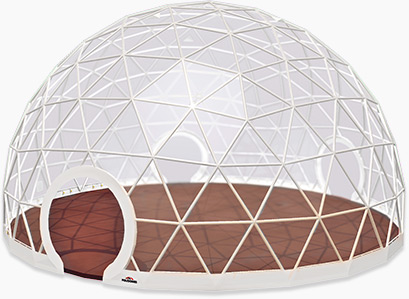 Full transparent domes, while unique, present challenges. Their longevity is compromised by the foil's climate fragility and lack of sewing layers, making them delicate and harder to maintain. Especially with larger domes, structural integrity requires opaque cover supports at triangle edges; otherwise, the weight overloads the cover's tip. Consequently, their cost surpasses other options. Ideal for specific events, frequent setups and takedowns can harm their structure. These aren't readily available; we craft them upon special request.

Our standard covers
2

Additional


covers options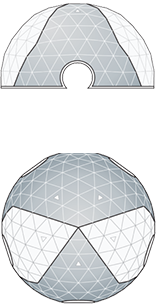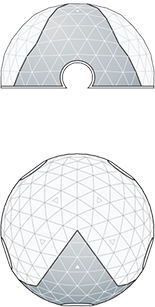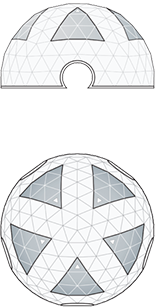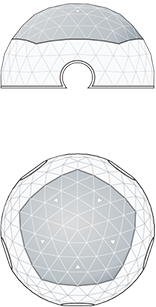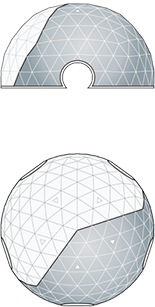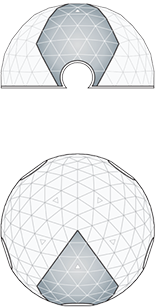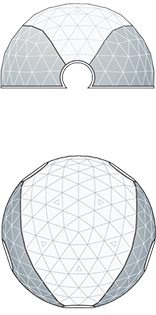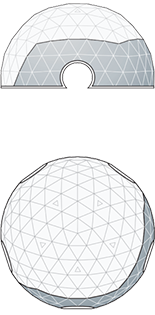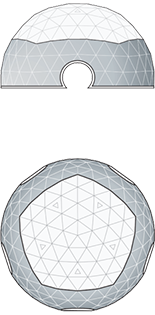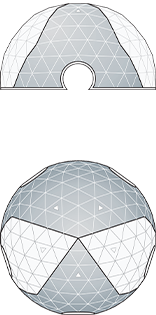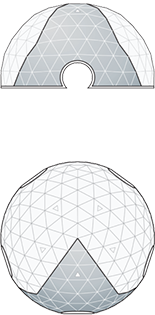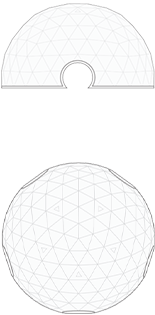 Next step
Discover the Dome Cover Setup Journey!
Ever wondered how we prepare and transport our expansive dome covers? Experience the mastery behind each fold. Dive into our website for a detailed, in-house walkthrough of our cover preparation, from precise folding for transport to expert crane-assisted setups. Witness the fusion of precision and efficiency up close.
Geodome Uses
Dome Material Varieties

:
Tailoring to Needs & Environments
Opaque UV-Block Covers
Constructed from non-translucent materials combined with a UV-blocking layer and coated with PVC on both sides. Color choices are restrictive, with white acclaimed for its unparalleled light and heat deterrence. These covers are customizable through printing. They are especially suited for projection domes in the Middle East and warmer climates. Warranty extends up to 7 years.
Crystal Transparent Covers
Composed of clear PVC, absent of a sewing layer, they're popularly termed as window foils. Due to their sheer nature, their usage is recommended as sections or windows. Direct printing isn't possible, but vinyl stickers offer a branding solution. The warranty for these covers spans 1-2 years.
Translucent PVC Membranes
Echoing attributes of opaque covers but with added translucency, these PVC sheets mirror the fabric used for truck covers. They permit sunlight, which can warm the dome's interior. Perfect for patrons wanting specific colors, they're less advised for hot regions. A warranty of up to 5 years is provided.
B-roof & Advanced Covers
For specialized endeavors with distinct demands, we introduce materials beyond the standard range, such as B-roof, glass, or stadium covers. The choice depends on the project's nature or associated legal requirements. Every solution undergoes meticulous consideration before recommendation.
Polidomes

Labeling

At Polidomes, each of our structures proudly displays our logo, skillfully welded to the material. Positioned consistently on the right side at the entrance's base, the logo measures 10 cm by 25 cm, offering a balance of visibility and subtlety to our design.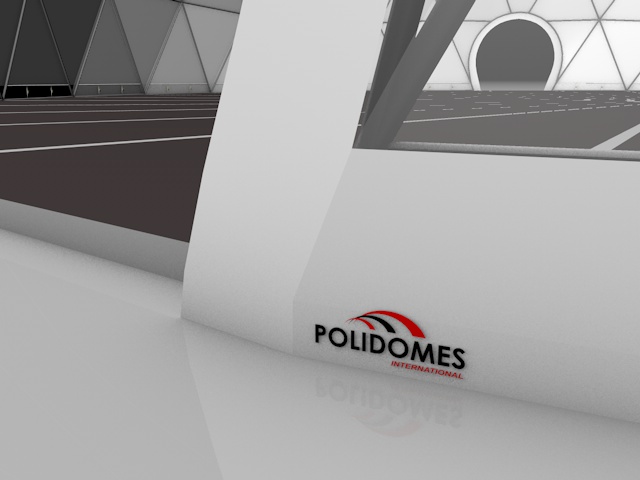 Comparing Light Penetration:
Blackout Covers vs. Translucent PVC
The play of light has a significant impact on how we perceive spaces. Whether for aesthetic or functional reasons, choosing the right type of material to control light can shape the mood and utility of an environment. Our recent illustration delves into this aspect, comparing two popular choices: blackout covers and translucent PVC.