Purchase or lease options available
We provide global sales and flexible short-term rentals of event domes tailored for any occasion.

Capture the deserved attention
Elevate your festivals and trade fairs to an extraordinary level with the immersive experience of an event dome.

VIP lounges & private parties
As seasoned event professionals, we deliver unparalleled experiences for your guests.

Domes from 6 - 50m+
We manufacture the world's largest portable Geodomes.

Worldwide setup and delivery
We assure dependable setup and delivery of our products anywhere across the globe.

Worldwide service
We offer comprehensive service and continuous support with all our Geodomes, wherever you are in the world.
Event

domes

Looking to host an event that demands attention? Look no further than Polidomes portable geodesic event dome tents!

Our geodesic event dome tents are the epitome of excellence, providing a perfect solution whether you're planning an intimate gathering or a grand-scale extravaganza for thousands. With our customized, high-quality dome tents, we guarantee to elevate your event to spectacular heights.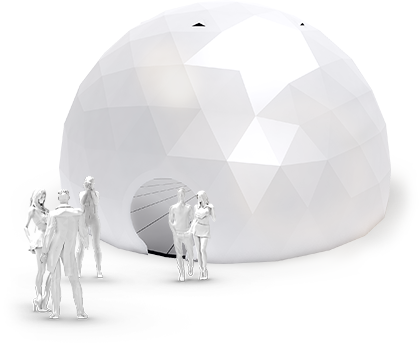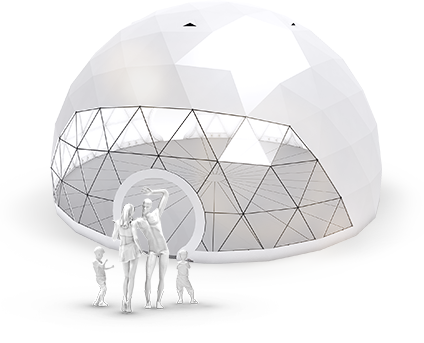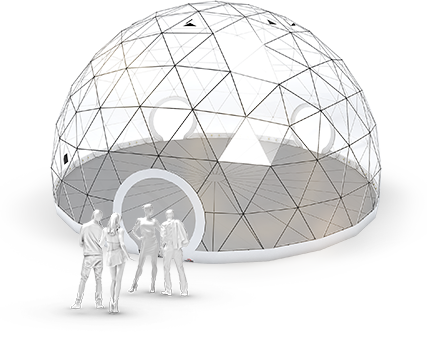 Multiple sizes for rental and limitless options for purchase...
We provide high-end event domes equipped with everything you need to organize upscale events. These dome tents are ideal for corporate, promotional, and marketing events, as well as music festivals, fairs, and city promotional and cultural projects. Our standard tent covers are completely white/ opaque, but we also offer options with a transparent front. For an added fee, we customize covers with partial or full transparency, personal branding, or temporary vinyl stickers. Tunnels can be also added to connect domes into a mini-village. We provide everything practical for our domes and educate you on any limitations. No matter your requirements, we've got you covered.
Your select
P 30
Polidomes standard
Each of our geodesic dome tents comes with a galvanized, powder-painted framework and a standard non-translucent dome cover. Additionally, we offer an optional transparent front. Please note that full transparent domes are not included in our standard pricing.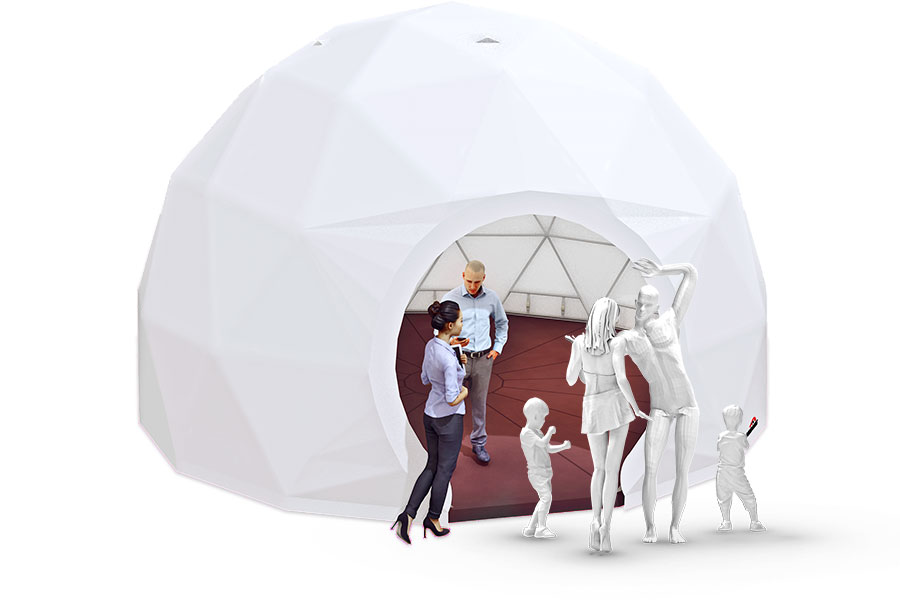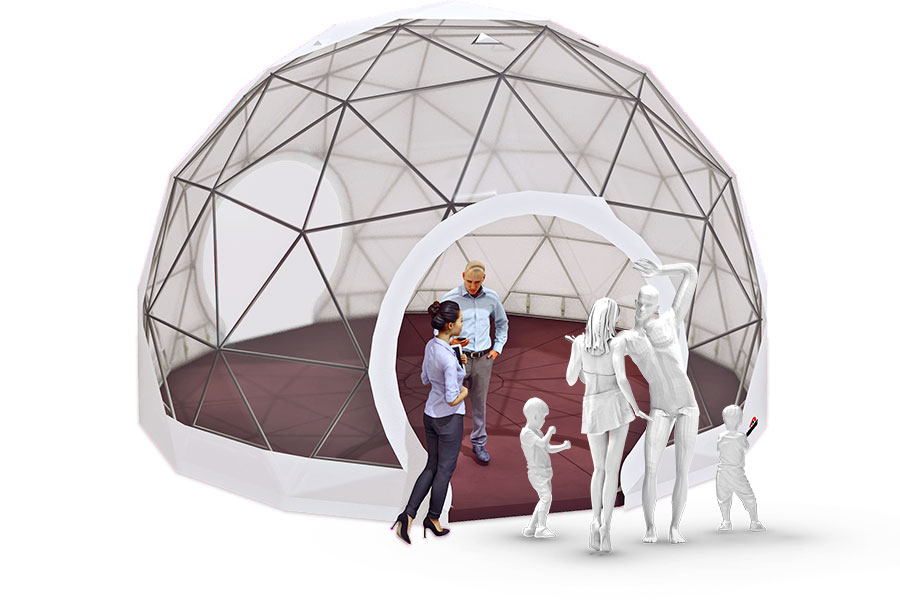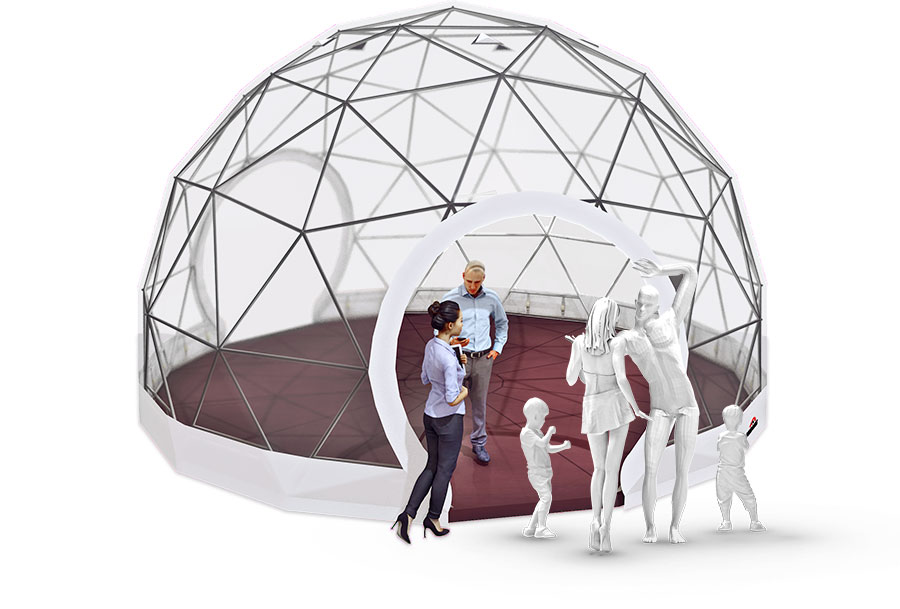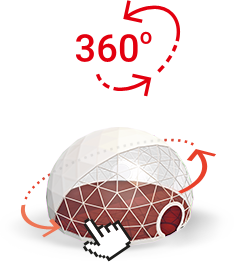 Watch dome in 3D
Directly in browser,
without extra plugins.
3D model
P 30
Polidome Event Domes
Distinctively designed for convenience, Polidomes event structures stand out due to their easy portability and swift setup process. Adhering to the EN 13782 norm, each structure meets the safety regulations for temporary tents. Engineered to cater to a myriad of occasions such as music festivals, product launches, VIP venues, and pop-up shops or restaurants, our structures embody elegance. The impeccably fitted, wrinkle-free covers set Polidomes apart from generic, lower-quality alternatives. With attention to minute details, each Polidome is a handcrafted masterpiece.
Typically, we utilize non-translucent, also known as opaque covers, to mitigate heat build-up within the dome. While this fabric offers limited color choices, we usually recommend white due to its proven UV blocking ability - over 60% more effective compared to other colors.
Our geodesic tents feature a modular design for simple assembly. From the galvanized steel framework to the special flooring system, each Event Dome is crafted with pride using superior quality materials, designed to last for many years. With the largest selection of additional equipment for geodesic dome tents, your dome will be fully customized to suit your needs, environment, and purpose. For more details on the add-ons, please visit our equipment section.
While our event tents are designed for quick and easy setup, we also maintain a large inventory of standard domes, readily available for immediate rental, even at short notice.
Next step
Get a quote for your project
Tell us about Your project and ask the expert questions.
Free consultation
Next step
Request a quote for your project today.
Share the details of your project and feel free to ask our experts any questions you may have.
Place your order for a Polidomes dome today! Contact our reliable team and let's create something extraordinary together!
Geodome Uses
Dome Material Varieties

:
Tailoring to Needs & Environments
Opaque UV-Block Covers
Constructed from non-translucent materials combined with a UV-blocking layer and coated with PVC on both sides. Color choices are restrictive, with white acclaimed for its unparalleled light and heat deterrence. These covers are customizable through printing. They are especially suited for projection domes in the Middle East and warmer climates. Warranty extends up to 7 years.
Crystal Transparent Covers
Composed of clear PVC, absent of a sewing layer, they're popularly termed as window foils. Due to their sheer nature, their usage is recommended as sections or windows. Direct printing isn't possible, but vinyl stickers offer a branding solution. The warranty for these covers spans 1-2 years.
Translucent PVC Membranes
Echoing attributes of opaque covers but with added translucency, these PVC sheets mirror the fabric used for truck covers. They permit sunlight, which can warm the dome's interior. Perfect for patrons wanting specific colors, they're less advised for hot regions. A warranty of up to 5 years is provided.
B-roof & Advanced Covers
For specialized endeavors with distinct demands, we introduce materials beyond the standard range, such as B-roof, glass, or stadium covers. The choice depends on the project's nature or associated legal requirements. Every solution undergoes meticulous consideration before recommendation.
Compose Your own tent
Full Option:
Choose Polidomes for your event, and we'll take care of all your needs regarding event domes. Our full-service offering ensures that we provide everything you require, from Event Dome Tents to a comprehensive range of customization options. With Polidomes, you can rest assured that you'll have access to the widest selection of customization options available in the market.
Door system
Outer sheathing
Construction
Lighting - aluminium traverse and LED strips
Air-conditioning and heating system
Sound system
Premium floor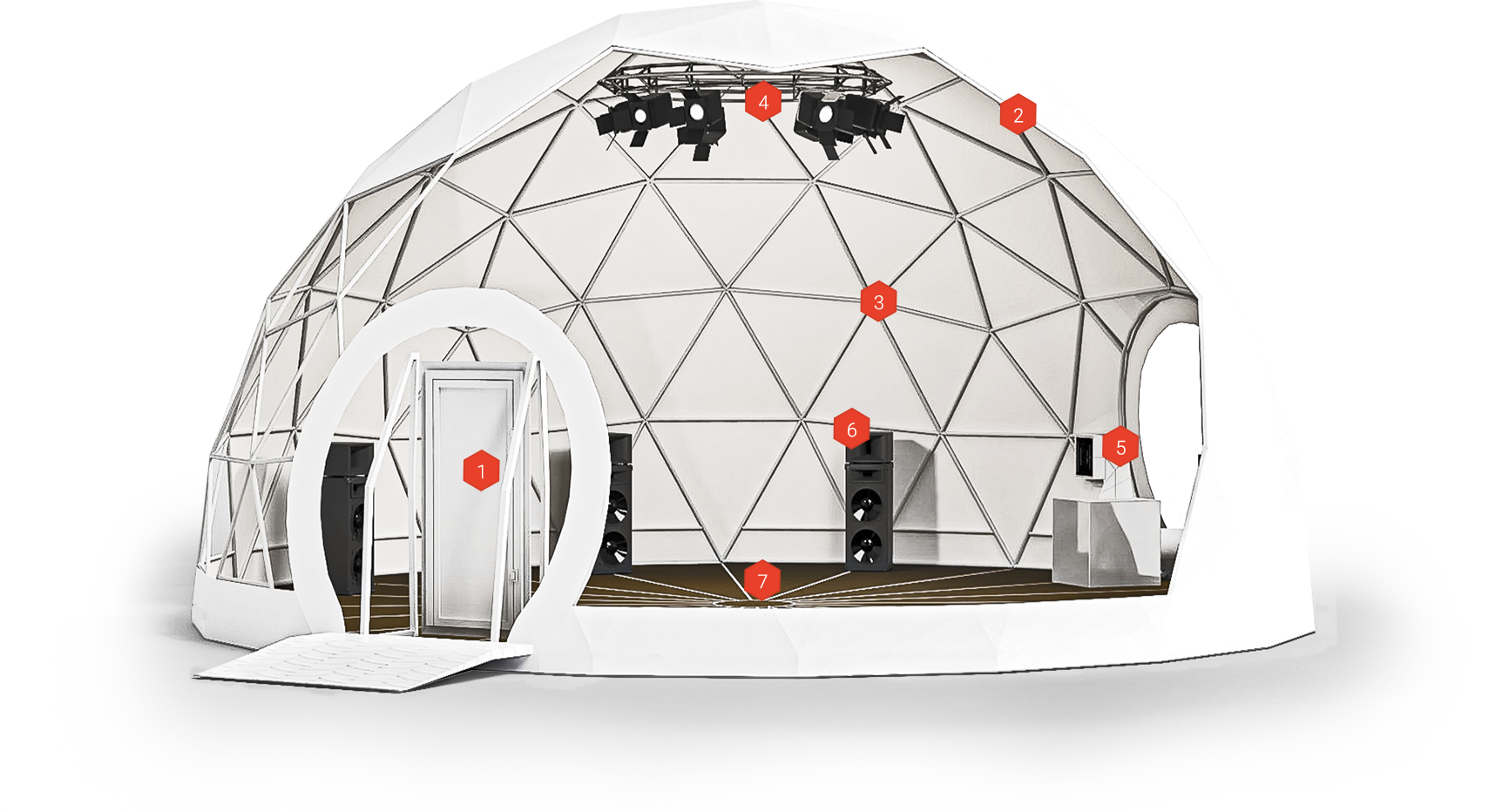 Dive into Inspiration
Venture into our Photo Gallery to discover a trove of captivating geodesic dome images. See the power of Polidomes' structures come to life and ignite your imagination for your next event. Let the visual journey begin!
Go to Photo Gallery
Unlock Potential
Explore our case studies for valuable insights into realizing project success and transforming dreams into reality. Discover our concepts and capabilities, serving as inspiration to embark on your dream journey with us. Let our comprehensive collection of case studies ignite your next endeavor.
Go to Case Study
Expand Your Horizons
Experience more than just photos. Visit our YouTube Channel for a captivating collection of exciting content that showcases the full potential of our geodesic domes. Take your exploration to new heights!
Go to YouTube
Additional possibilities
Basic

Equipment

Delve into the extraordinary standard features of our geodomes and unlock their full potential. Embark on an extraordinary journey of enhanced possibilities