What do you know about Teqball?
Teqball is a football-based sport, played on a specially-curved table (the Teq table), which is attracting a new generation of athletes and amateur enthusiasts (teqers), whose ambition is to develop their technical skills, concentration and stamina. The sport, which was created in Hungary in 2012 is a truly gender-equitable game, as the rules define that teqball shall be played between two (singles) or four players (doubles), irrespective of gender. The sport follows a points-based scoring format and can be played on various surfaces such as sand, acrylic or indoors. Teqball allows players a maximum of three touches before returning the ball to the opponent, so if you can juggle a football three times, you will excel at teqball as well.
The game is represented at an international level by the International Teqball Federation (FITEQ). A number of world-class footballers have been attracted by the game, and after being included at the African Beach Games, the sport is now aiming for Olympic inclusion.
As the country where Teqball was invented, Hungary still saves the leading role in this ambitious sport. A lot of Teqball international competitions are held in Budapest. The same as the President Office of the International Federation of Teqball is also located in Budapest.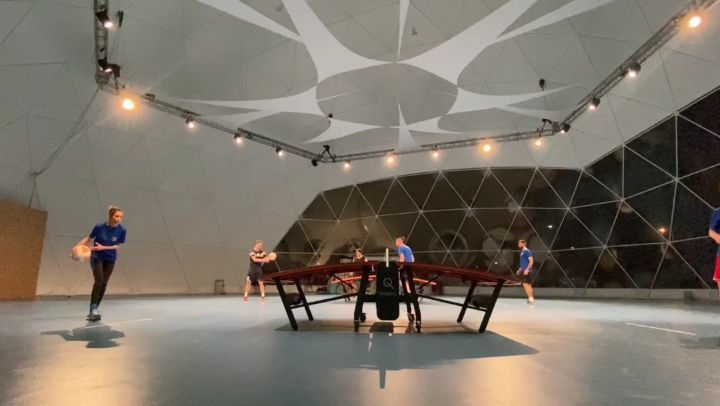 That is why, for the purpose of the Teqball sport development, Polidomes' dome tent was built in Budapest close to the HUNGEXPO Budapest Congress and Exhibition Center. It's an unusual huge outdoor sport dome tent. On the order of Docler Holding Polidomes designed the customized geodesic structure with 27 meters in diameter. This kind of sports dome is the perfect solution for Teqball trainings and even for holding a Teqball Cup.
Teqball is run by Docler Holding, the media and technology firm headquartered in Kirchberg. On the sport's official website, its founders stated that:
"we created a sport which can be played anytime & anywhere, indoor & outdoor, regardless of age and gender. Creators are often dreamers and we dream a future, in which Teqball will be an Olympic Sport."
Big part of the credit belongs to Gattyán György – Vice President & Co-founder of teqball. Gyuri is an international businessman, who is responsible for teqball's business strategy. He is the founder and owner of Docler Holding, but also known as a dedicated supporter of sports, culture, and science. György recognised the value that a new sport could give to the world.
The game of Teqball, a Hungarian invention that tests footballers' concentration, skills and stamina, was showcased by the Brazilian great Ronaldinho, David Beckham.
The geodesic dome structure that was designed specially for Teqball trainings is the Polidome 600 – custom dome tent that is somewhere between Polidome 500 and Polidome 700. An outdoor sports dome was designed with the nonstandard long panoramic window which creates a delightful atmosphere full of daylight. Polidomes' sports tent was also accomplished with 4 pairs of cross suited doors and a special floor insulated with wool from inside.
An outdoor large sports dome designed and assembled in Budapest by Polidomes is now a great home for Phoenix Teqball Academy. We really hope that in the closest future this sport will take its rightful place at the Olympic games!