Polidomes team is proud to be a part of such an ambitious project. Still bouncing back from the tempo, but challenges that's what Polidomes is all about!
It took just three months to turn an enormous patch of sand 40 minutes outside of Riyadh into MDL Beast's version of that. The ambition and scale of it boggled the mind: 5 stages, countless installations, lounge zones, pop-up stores, performance spaces and restaurants. Polidomes mobile geodesic dome is a solution you can count on even having the tightest project deadlines.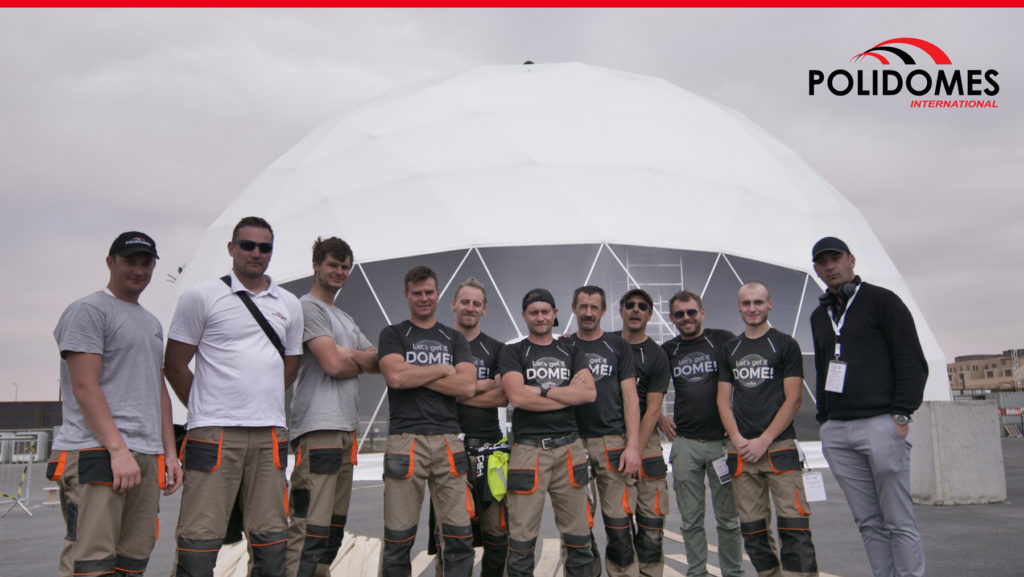 MDL Beast, the largest music, arts and culture festival Saudi Arabia had open its gates and on day one welcomed more than 130,000 eager fans from across the region and further afield. Crowds gathered at Saudi Arabia's first ever multi stage music festival to watch global music superstars including Tiësto, Martin Garrix, Black Coffee, Swizz Beatz and Rick Ross plus local talent Cosmicat, DJ Baloo, Dish Dash and Simi Haze.
MDL Beast Festival had launched Saudi Arabia onto the international festival scene in spectacular style, with over 400,000 flocking to the site entertained across five unique stages and five districts including Art Beast (performances) MDL Town (food & beverages) and Retail Therapy (style).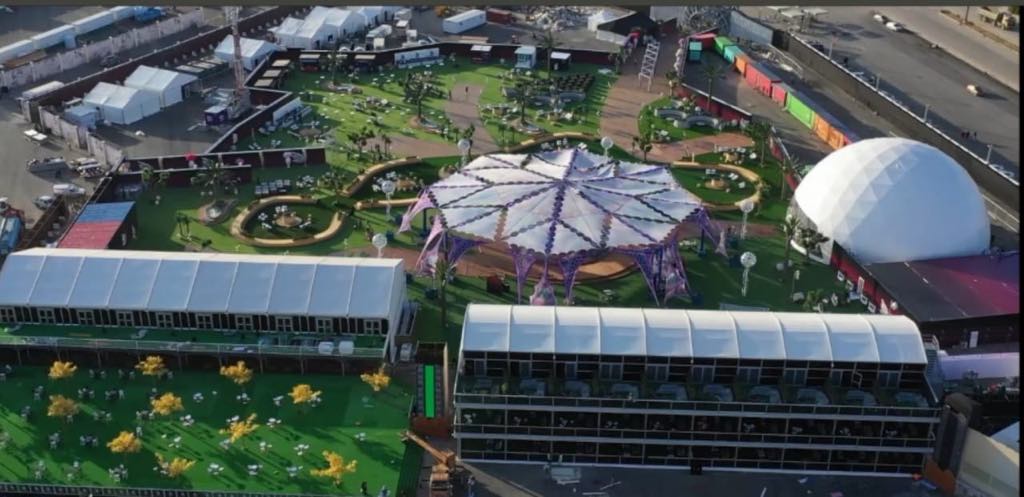 One of the essential parts of the MDL Town was the Polidome 700. Extra-large party dome tent, that has more than 700 square meters of flooring. It is able to accommodate more than 1000 people! Large capacity of P700 dome tent makes it perfect for large-scale events like festivals, exhibitions, gala events, product launch, concerts and a lot more!
That current model of Polidomes geodesic tent had a large transparent front. Guests of the festival could escape from the bustle into the comforting shelter while still keeping an eye on what is going on outside.
In Polidome 700 mobile tent, located in dynamic center of the festival MDL Town, attendees could also have a relaxing time. There you could take your pick from a variety of restaurants, shopping stores, and picturesque decorations to make for an unforgettable experience with family and friends.
MDL Beast was a landmark moment and truly unique experience for Saudis and international visitors to the Kingdom alike, as it is the first time they have been able to enjoy so many different areas of Saudi Arabia's culture, arts and music industries showcased in one purpose-built venue.
Over the course of the festival, 22 performance troupes from across the globe put on totally mind-blowing spectacles, while 40ft unicorn camels were seen parading through the crowds, representing the incredible blend of tradition and modern culture that the arts programming at MDL Beast has represented.
As night fell, The Arts Beast district visitors were treated to scenes of stunning light parades and illuminated drumming troupes weaving their way through the festival.
More and more festival organizers are deciding to purchase our spherical dome tents. Due to the multiple essential advantages, Polidomes event domes are a high-functional solution. One of them is an exclusive plywood floor system, with anti-slippery layer, placed on an upraised steel frame with the leveling system. It allows assembling the dome tent at the most difficult terrain inaccessible to other solutions.
Another advantage is a wide range of cover customization. One of the best examples of Polidomes spherical tent cover customization was the project called Faena Dome in Miami in 2016. The outer shell of that large party tent was like a work of art printed directly on the cover. With our large event tents, you have the ability and room to cater for thousands in any location.
We invite organizers of festivals, art exhibitions, fashion shows, etc., to cooperate with us!