Polidome 300 projection dome – the largest spherical projection in Poland demonstrated on the "Kinetic Art Festival of Light"!
Light . Move. Festival. – it is the largest festival of light in Poland. Every autumn, LMF illuminates dozens of historic townhouses in the city center with colorful 2D/3D mappings adapted to the architectural details of the buildings. The 2019th spectacle was complemented by large-format projections and light installations in city parks, and concerts, that gathered a huge number of spectators.
Famous foreign artists exhibited their light works, and among the visitors, you could meet tourists from all over the world. No wonder, that international company Polidomes assembled here its top-notch projection dome tent P300 to demonstrate the biggest spherical projection in Poland! Specially created video artwork was called Multiverse.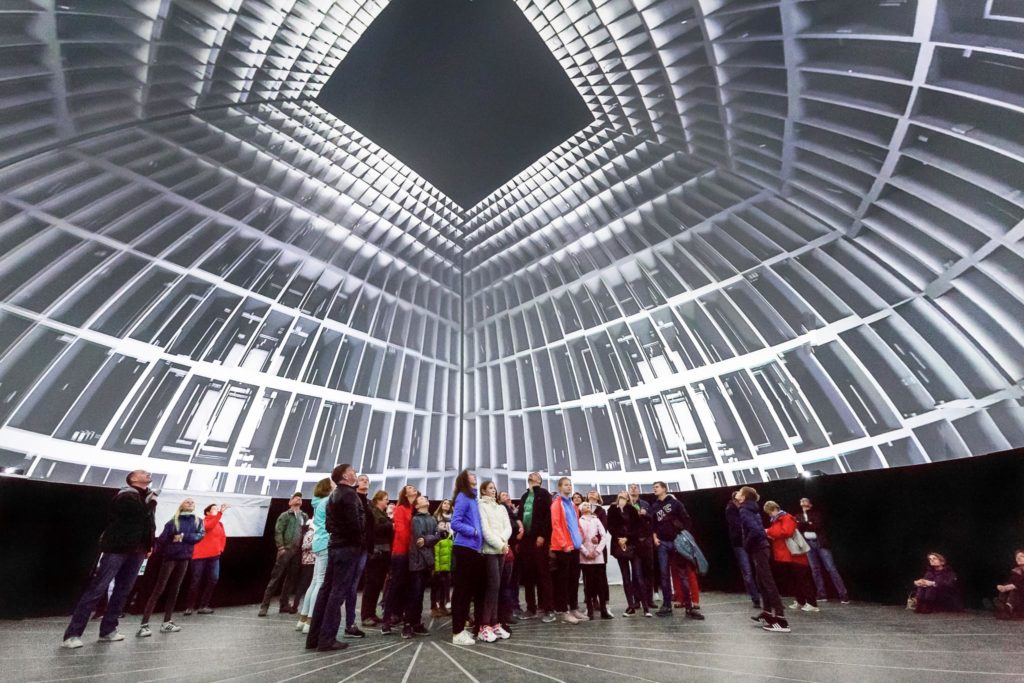 By using a special technology that combines the image from several projectors into one full display, the viewer is immersed in a space surrounding them from all sides. With added multi-channel surround sound, the spherical projection feels like much more than a multimedia show.
Multiverse is a fascinating journey between different dimensions of space and time. Amazing animations combined with spatial sound took the viewers into the world of virtual reality. A huge spherical screen with a total area of more than 500m2 in a Polidomes tent with 19 meters diameter made it the largest installation of this kind in Poland. Professional projection equipment along with the sound system provided an unforgettable experience to everyone who visited the Polidomes projection dome theater.
"Kinetic Art Festival of Light" is the full name of Lodz' Light Move Festival. It aims at demonstrating the city citizens, tourists, and authorities the new value of the city spaces transformed by light. The idea is to change the perception of the city and the city panorama. It is a cultural and creative event that strengthens the feeling of identity of Lodz inhabitants and brings in educational aspect by showing the value of the city architecture.
Polidomes creates a cutting-edge turn-key solution with high-quality immersive video projections covering the entire membrane surface inside the dome tent. During the last years, we accomplished numerous projects delivering the top-notch projection domes with the full service all over the world! You can find the details about all Polidomes' performed projects for festivals, marketing, for the brands like Hilti or National Geographic or in places like Romania, Detroit and Abu Dhabi.
We invite you to visit Polidomes' YouTube channel to watch amazing videos from numerous projects with projection domes.
Contact us today to take your event to a higher level!