Polidomes projection dome allowed to place the LoL fans on the battlefield through immersive projection at the LCS 2019 Fan Event.
Detroit-based Rocket Mortgage, the first end-to-end completely customizable online and on-demand mortgage experience, has stepped up to bring one of the biggest esports events in North America to Detroit. Esports fans from across the country had descended upon Little Caesars Arena in The District Detroit to experience the 2019 League of Legends Championship Series (LCS) Summer Finals presented by Rocket Mortgage.
Iconinteractive agency had a mission to come up with a stunty and attractive experiential concept that authentically would connect Rocket Mortgage with the world of eSports. Polidomes turn-key solution – 360° full-dome projections – was just exactly what they were looking for!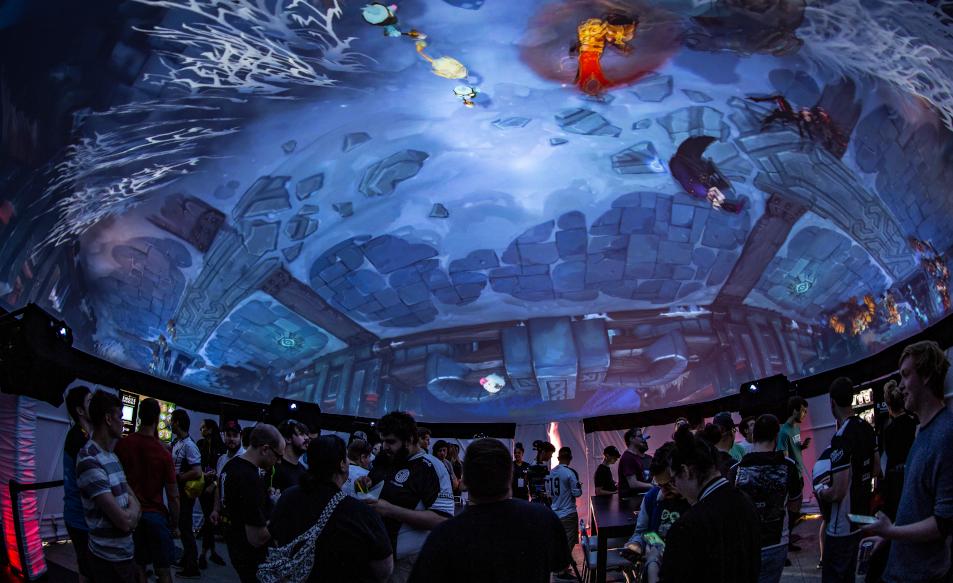 "There was an awesome dome and we had provided some Rift content for them to be able to show. We want to make sure our fans have a great experience and leave saying 'thank you for being here and thank you for creating this experience.' We got that. And they told us… this is the best fan day activation we have seen in Chevy Plaza in a long time."

Matt Archambault, Head of NA Partnerships for Riot
Polidomes 360° projection domes – a unique advertising opportunity.
Polidomes projection dome is the mobile geodesic structure furnished by the inside projection liner. It is manufactured using the special anti-wrinkle technology, that allows to get a smooth 360 degree screen.
Projections on the dome engage the audience and inspire intense emotions. They offer more than just mere entertainment. They are powerful tools waiting to be used by advertisers, since they make it possible to implement even the most complicated and complex marketing campaigns.
Polidomes 75 was equipped with the tunnel to prevent light from entering the dome. Branded outside it became a recognizable showcase for the Rocket Mortgage brand. 360 degree fan dome delivered by Polidomes company allowed to place the League of Legend fans on the battlefield bringing them an unforgettable one-of-a-kind experience.
"To see your brand associated with something that people are so excited about makes you feel good that your brand is part of it. We are doing really amazing activations outside the arena. This giant dome with projection mapping. We are getting great feedback and it makes me excited to be a part of it."

Casey Hurbis, CMO, Rocket Mortgage
A breathtaking perspective and the feeling of open space in Polidomes dome tents with projection screens will transform any multimedia show into an experience filled with intense emotions.
Give us a call if you want to take your event to a higher level.