Polidomes assembled three large and unique Glamping domes for the Aurora Basecamp, a new northern lights center.
Sleeping under the stars or watching the aurora borealis dance is one of those precious experiences that travelers are looking for.
These unique and individually-created glamping domes have been crafted by Polidomes for special nights at Aurora Basecamp glamping resort. All three heavy-duty domes, Polidome 150 and two Polidome 110, were covered with a specially made cover. The opaque part of the cover is white inside and black outside, creating an unsurpassed effect. The chosen colors guarantee at the same time the perfect fit into the environment and minimum of light pollution.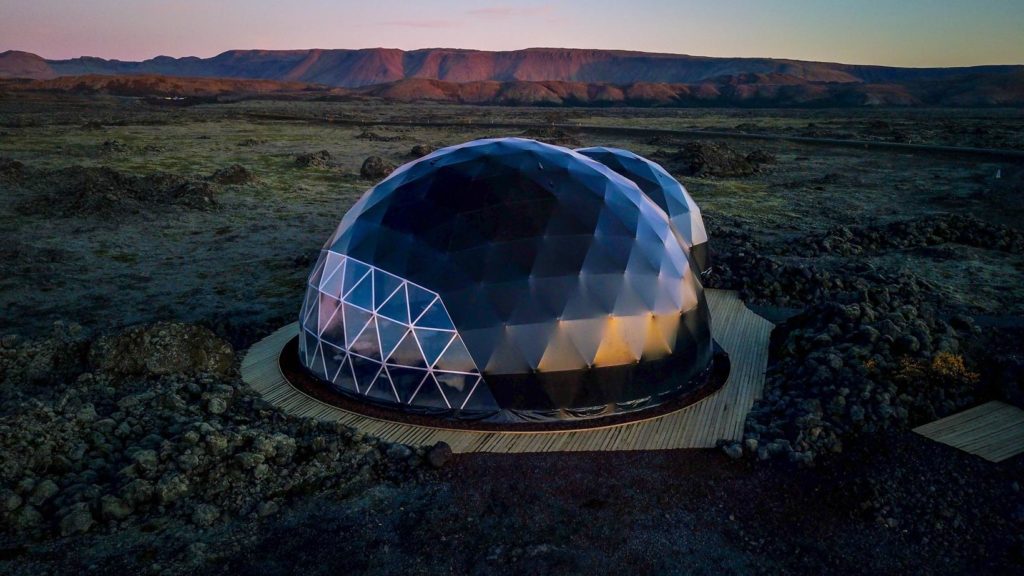 The Aurora glamping domes mean that the resort can bring its guests the chance to experience a night of unforgettable 'Aurora glamping' in the most spectacular of settings.
Aurora Basecamp, a new northern lights center, housed in three igloos produced and assembled by Polidomes in a lava field. It is located on the outskirts of the town of Hafnarfjörður, south of Reykjavík.
The South Coast of Iceland is known for its selection of natural wonders and beauty, making it a popular tourist destination. This area is also known for its vast lava field, Þjórsárhraun, which helps protect the lowlands from the encroaching sea. The area is far enough away from urban light pollution..
The Northern lights center is first and foremost designed to guide people who are chasing the northern lights, regardless of whether they are traveling on their own or in a guided group. The northern lights are mind-blowing, awe-inspiring phenomenon that is best enjoyed with a small group of friends in the middle of nowhere. The Aurora glamping resort offers travelers a shelter from the cold and a unique Arctic glamping experience.. A warm cozy heated igloo tent with 360-degree views of the Arctic sky.
Polidomes heavy-duty domes are effectively large tents or yurt-like structures which are great to provide their inhabitants with the best possible views of Nature's greatest light show. Iceland glamping domes are circular in their shape, echoing the traditional design of an igloo but taking things to a whole new level. These quaint glamping dome tents feature an incredible view of the Icelandic wild landscape thanks to the large panorama windows.
In addition, the dome-shape steel frame of Polidomes glamping dome tents ensures safety even during the strongest winds. The same as in winter, the sturdy frame can sustain even the heavy snow loads. Summing up, Polidomes geodesic structures can be deservedly called the heavy-duty domes suitable for permanent or temporary installation.
This project is another proof that Polidomes specializes in difficult terrain inaccessible to other solutions!
We are thrilled to offer you the individual geodesic dome solution tailored to Your needs, but always of the highest quality. Contacts us today!