High in Spanish mountains, we built a P50 glamping dome for a sweet family couple that decided to start a small business. The glamping dome tent that we offer is a permanent living turn-key solution filled with all the basic extras you need for comfort.
Our Polidomes glamping tent with 50 square meters of flooring is small enough to be called DIY dome. P50 dome can be easily assembled with no heavy machinery – just a ladder and a couple of friends. Just several hours will be enough to build your own dome pod. At the same time, this dwell dome tent is large enough to accommodate everything that we associate with comfortable living. For this project, it was a kitchen module, a full shower room, a queen bed, 2 single sofa beds, air conditioning, wood burner installed and a TV, of course.
The Dome is amazing! Make sure to arrive before sunset, because the view is breathtaking! The Dome is well equipped with everything you need from the kitchen to the bathroom. Including Alexa and Netflix. It is much bigger as expected and very cosy with its fireplace. We would definitely come back and recommend it. Greetings from the Germans

airbnb review by Joscha
November 2019
To bring the distinctive glamping experiences, we built a luxury outdoor pod complemented with the inside insulation. This Eco mineral wool insulation allows using the dwell dome tent all year round, enjoying the warmth and crackle of the fire in a chimney. The glamping dome offers peace and tranquility with outstanding views, an ideal place to retreat and unwind.
The large panoramic window usually takes 2/3 of the glamping dome cover. It offers a unique view from the eco-living dome situated at an altitude of 1000 mtrs on the outskirts of the Sierra Nevada National Park. This completely transparent cover provides an unforgettable experience of sleeping under the stars, the same as of watching the panoramic sight of the sunrise..
This place is absolutely magical and a one of a kind in all of the places we've traveled in Spain this far. Within minutes of stepping in the dome, we knew we wanted to stay longer and we booked an extra night stay. All the local tips, fine touches to the dome, little specialities provided and last but not least the unforgettable view of the Sierra Nevadas, we can't wait to return.

airbnb review by Cecelia
October 2019
Polidomes dwell domes are able to transform your natural location into an attractive tourist destination.
Today glamping is not only a great option for recreation but also a profitable business. The niche in the market is still not full and there are plenty of beautiful places for ecotourism. We offer a full-service solution by adding value to your natural venue with a unique eco-resort concept.
In our opinion, the appeal of glamping is that no huge investments are needed to start. You can build a few dwell domes and continue to develop over time. Also, such hotels in a dome pod are easy to locate where the regular buildings are impossible – in nature reserves, on the slopes of mountains and in other fabulous places.
We actively explore and develop effective solutions for every single glamping project.
Polidomes eco-living domes are equally good to be private investment and the fresh compliment for any resort renovation. Our glamping pods can serve as a cottage, pop-up hotel or tree house, SPA and many more. The versatility of the Polidomes glamping dome pods allows to use them even simply as garden dome igloo on the backyard. They are easy to install as a DIY dome with video instruction. The most untypical usage for the Polidomes glamping dome is the forest preschool.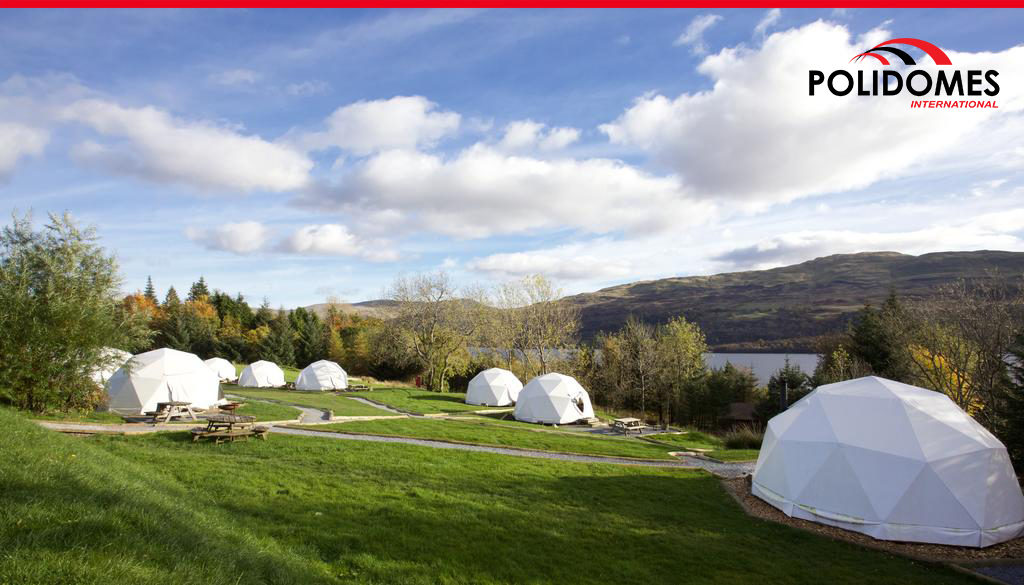 What are the advantages of glamping over traditional tourist infrastructure, and why it is a great idea for a business (for detailed data see the website):
no need for large investments – the cost of a glamping tent is incomparably lower than the construction of a cottage or hotel;
you will not need approvals for construction, and the land for glamping can be rented;
you get a ready-made solution – from communications to interior decoration and furniture;
such a project is easy to scale and you can start with a small volume;
dwell domes are suitable for year-round operation.
As the company-manufacturer with rich experience, we offer complete technical solutions and business support in the development of glamping business from start to finish. Contact our specialist today!