The smallest geo dome Polidome 30 that has 6,2 m in diameter and surface area 30 m2 is a great choice to be placed in your backyard as a garden igloo or greenhouse.
This compact geodome kit picked by our client included the steel frame, set of screws, washers and nuts, unique tensioning system, PVC cover with transparent front and zip doors.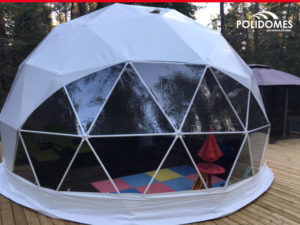 This geodesic dome kit is the famous geodesic dome due to its sphere shape, with the perfect tight cover, that creates an outstanding portable, eco-friendly space.
What materials is geo dome made of? Polidomes standard super strong steel frame protected against corrosion with a zinc coating, according to the standards and powder coated in accordance with standards. Is able to withstand strong wind conditions (Beaufort scale up to 100km/h).
What cover is used for glamping pod? High-quality Poly Opac white 3-layer PVC 800 g/m2 membrane with a clear transparent front part. The cover is fire-water-wind-UV resistant to keep your beloved safe all year-round. It provides protection against UV radiation, temperature resistance from -50 to +70 °C and high tensile and tear strength. For all sizes of Polidomes geodomes you can pick any combination of transparent and opaque PVC materials.
Can the garden dome igloo stand the wind loads, snow loads? Due to the strong steel frame galvanized on both sides along with the waterproof, wind and snow resistant cover it is designed for any weather conditions. Polidomes dome tent can stay on its place all year round without any damage. Each dome is supported by at least 10 adjustable support steel "feet" which can be anchored to the wooden or concrete floor.
Size customisation available? As we are the manufacturer, we can offer any size on your demand starting from 5m in diameter up to 10m or other.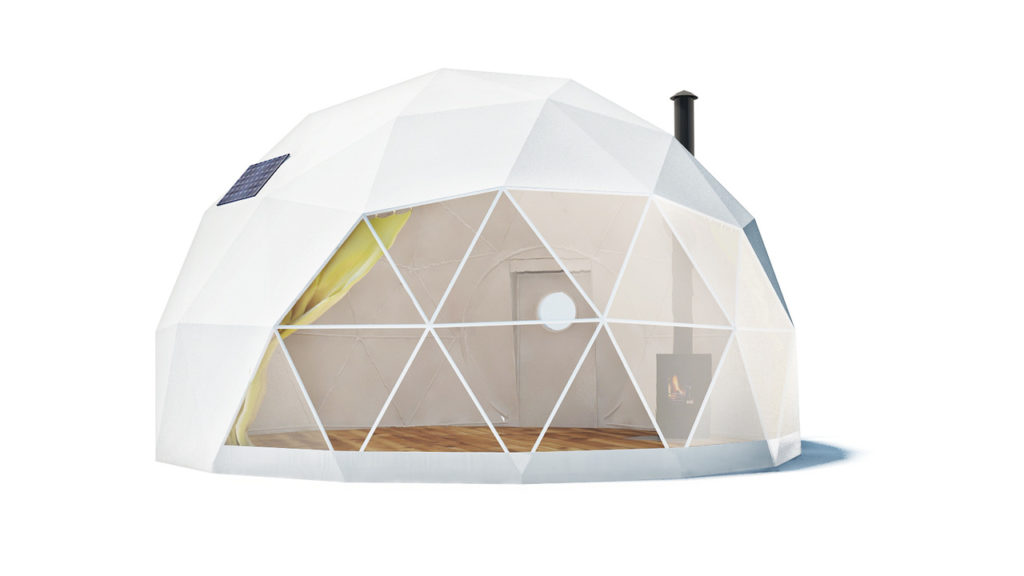 How long would it take installing greenhouse? Building a greenhouse of this type is extremely easy and fast! This geo dome Polidome 30 was assembled by 1 person during one day, using only the detailed instructions and video manuals.
Building permission is needed? In most cases there is no need for building permits.
The dome is ideally suited to become a luxurious greenhouse, great place to have a glass of wine under the stars or sheltered play area for children.
Additional Polidomes accessories can be added to create the garden dome igloo of your dreams:
-we can create a large skylight and large windows so that your guests would fall asleep every night looking at the stars and wake up to watch the sunrise
-the portable stove can be provided which will keep you warm and cozy
-roof solar power vents can be installed to ensure the fresh air circulation
-the wooden deck allows to install the glamping pod on any uneven ground in any place.
If you appreciate functional solutions, please contact one of our advisers, and we'll be happy to help you pick out the best option for your needs!