Polidome 300 as the temporary car showroom for the full range of Mercedes-Benz cars.
A few days after the fire of the Duda-Cars Wroclaw branch, the director of marketing and sales support took action. The team decided that this is a good time to show creativity and real care of the needs of their visitors and customers.
Summer was approaching, so the first, initially quite abstract thought that came to their mind was the beach. A bold idea quickly turned into a certain plan, that was, the creation of a Summer Salon consisting of three zones. Despite the short preparation time, the innovative Mercedes dealer salon started working in July. On the occasion of the opening, the Duda-Cars dealer organized an event during which guests could enjoy grilled dishes, refreshing drinks and listen to live music performed by a Cuban band. More than 200 people took part in the event.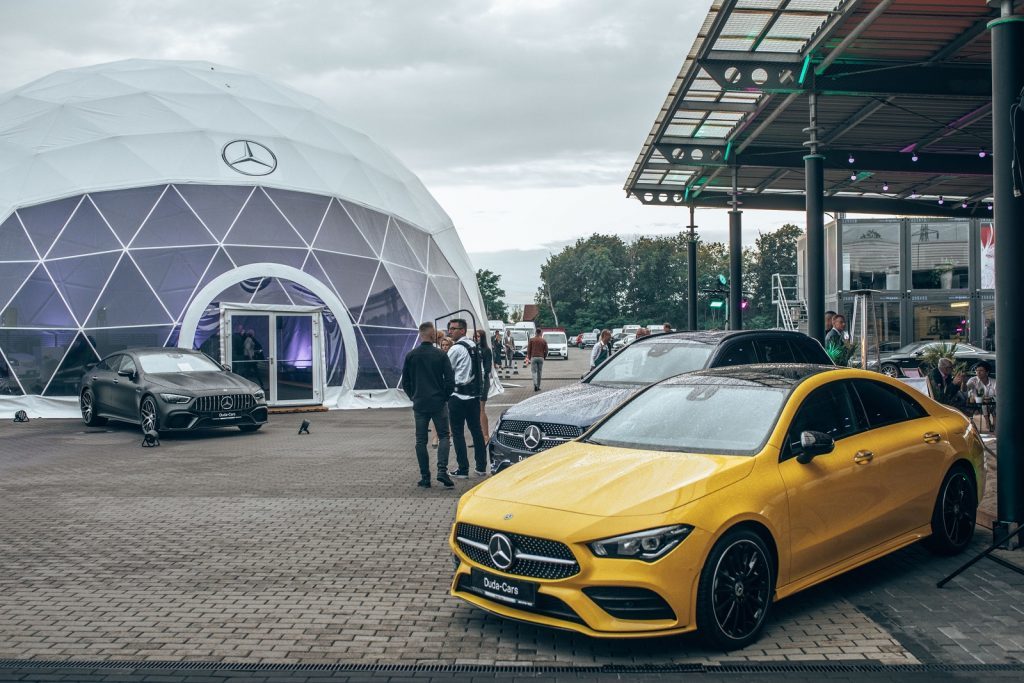 One of the main areas was the Polidomes dome tent with more than 300 m2, which served as the car showroom space. This large spherical tent named Polidome 300 has 19 meters in diameter. For the best representation, 1/3 of the cover was completely transparent.
Duda Cars used the dome tent as a temporary showroom, to present a full range of the Mercedes-Benz brand's models. For this specific project, the Polidome 300 was equipped with the glass double door and the heavy-duty portable car ramp. The ramp ensured an easy rotation of the cars to keep the appeal of the exposition.
The dome cover is an elegant way to promote any brand or service. This large Polidomes tent had an elegant Mercedes-Benz logo sticker, which made it a recognizable showcase for the brand. The showroom tent could be easily named the "Mercedes Dome".
Polidomes geodesic dome tents are always spectacular and eye-catching, standing out from the ordinary tent halls.
The main highlight of the closed Friday event was the pre-order presentation of the new all-electric SUV EQC. It was the first dealer premiere of this revolutionary model in Poland. On this unusual evening, the guests who participated in the opening of the Duda-Cars summer zone were accompanied by the sounds of Cuban live music.
No matter how urgent is the project, we assist our clients through the whole order process: from design and production through to logistics, installation, and service. Polidomes is not only about Domes, but above all, we cherish the highest customer service and becoming the project partners of our clients.