Art Basel is one of the most original events in the world.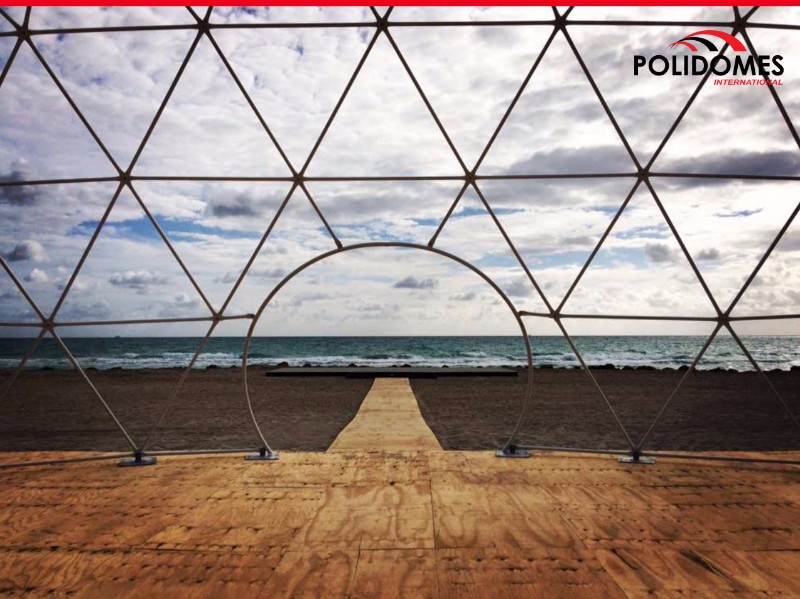 "The place for art, music and excess" takes place regularly in Miami, Florida. The event includes the biggest stars from the worlds of film, fashion and sport. During the week of the event, held thematic events related to Art Basel – fashion shows, charity concerts, art exhibitions – are held across Miami. We are very pleased that one of the main centers of the party was a Polidome 300 (21m diameter) brand printed geodesic dome. Its outer shell is like a work of art and the interior is equipped with advanced audio-visual technology. Thanks to our Polidomes-developed professional projection shell, breathtaking visuals were displayed on the sphere.
Kendrick Lamar
American Grammy Award-winner Kendrick Lamar and his band played a 75-minute concert of their biggest hits in the P300 dome – an event sponsored by American Express (tickets could be purchased only with American Express cards). The star's concert included extremely attractive visual projections – the show began with a closeup of Oprah Winfrey, and then other African-American stars, such as Mike Tyson, Michael Jordan, Muhammad Ali, James Brown and Tupac Shakur. Guests were delighted.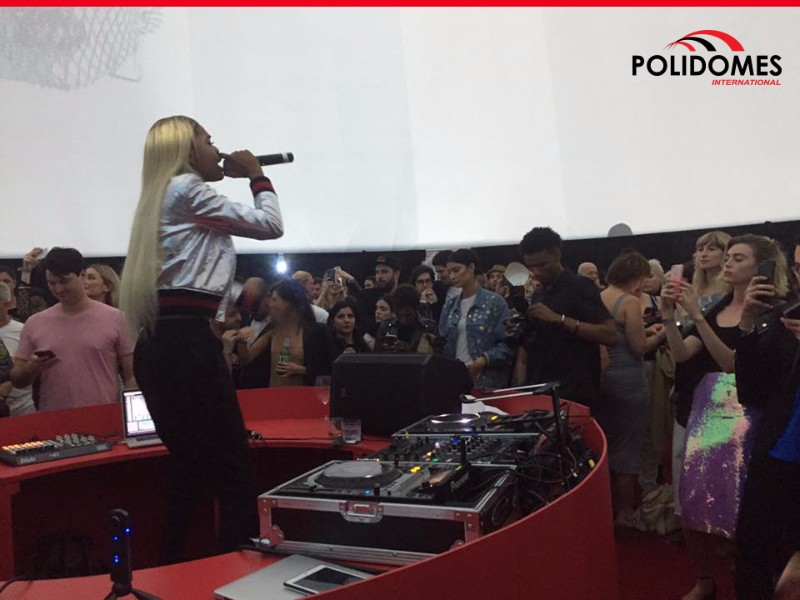 Concerts are an ideal use of the geodesic dome, as thanks to its spherical shape, DJs and musician can perform on the main stage in the center of the dome, making for incredible acoustics. In addition, the artist is in the center, closer to the audience and is available to more fans.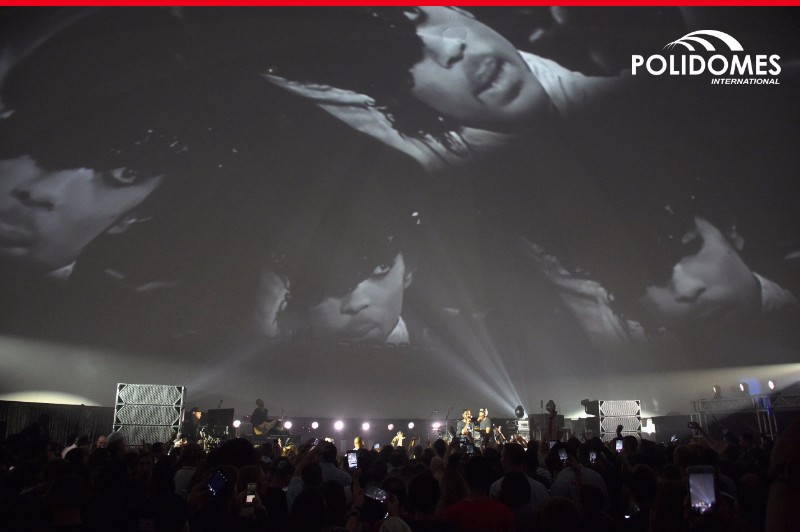 This project was made by NEW MEDIA Company which is our partner when it comes to immersive projection events inside our dome tents.
More info: New Media
The event in the Polidomes brand printed geodesic dome tent was reported on by Forbes magazine, among others.
http://www.forbes.com/sites/abinlot/2016/12/07/a-few-things-about-art-basel-in-miami-beach-2016/#cd75f242dbe0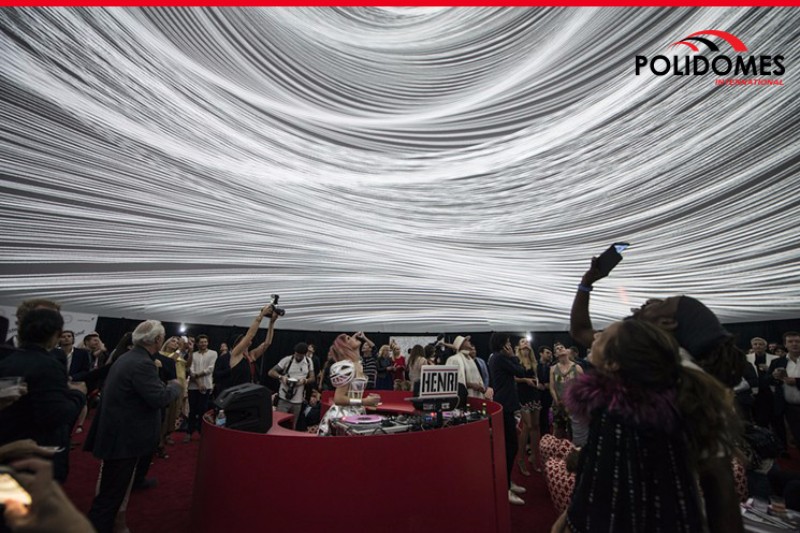 Madonna
Each year during the event, there is a Madonna charity concert sponsored by Dom Perignon and Bulgari. Proceeds from the tickets (the cheapest ticket costs $5,000) in total are donated to Raising Malawi. This year also included special guests Sean Penn, Chris Rock, Ariana Grande and others. The entire event was hosted by James Corden, a famous British actor and host of The Late Late Show.
During the concert, charity auctions were held. Depending on their budget, guests could buy, among others, published photos from the wedding of Madonna and Sean Penn, a stay on the estate of Leonardo Di Caprio, a photo session with Mert Alas and Marcus Piggot, a trip to Malawi in the spring of 2017 together with Madonna in order to open the Mercy James Institute of Pediatric Surgery and Intensive Care, or Madonna's diamond-studded Swarovski outfit from the Rebel Heart tour.
Altogether, the event raised more than $7.5 million.
The Raising Malawi Foundation, which was founded by the Queen of Pop, raises money for kids located in Malawi, one of the poorest countries in the world. Her organization also supports education by building schools, all for kids who are surrounded by poverty to have the opportunity to learn and develop their passions. Why Malawi? The country is close to Madonna's heart, as she adopted a child there – a child who had been, like many, orphaned.
It is our pleasure to host in our tent celebrities and icons of contemporary culture, fashion and the like, including Wladimir Klitschko, Hayden Panettiere, Jeremy Scott, Madonna, Natasha Polly, Chris Rock, Courtney Love, Paris Hilton and others.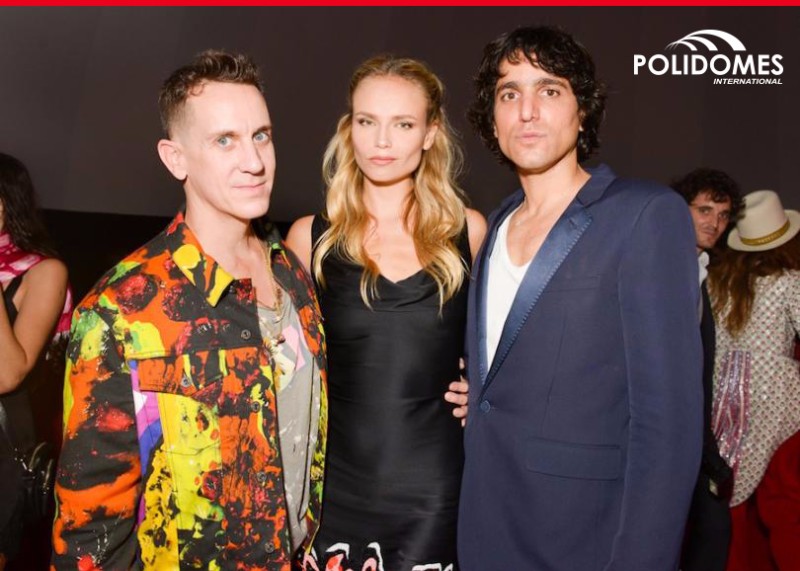 We invite organizers of festivals, art exhibitions, fashion shows, etc., to cooperate with us! Polidomes brand printed geodesic dome tent are the perfect solution!