The owner of L'angolo Italiano restaurant, located on the market square in Świebodzin was looking for a way to increase winter traffic as their restaurant centers around their summer garden and they only have two indoor tables during winter months.
The answer was one of Polidomes Igloo Restaurant dome tents which supplies the restaurant with five or six additional tables – a triple increase in the amount of customers they can now serve for an inexpensive investment.
L'angolo's igloo dome tent stayed fully booked every weekend for the entire last winter season. Needless to say, Ms Magdalena, the owner, is highly pleased with the enormous return on her investment.
During the hot summer months the igloo dome tent is easily disassembled and stored away until autumn.
L'angolo restaurant used a P-20 m2 transparent Igloo equipped with a transparent, weather proof cover, a zip lock door, infrared space heater and LED lighting.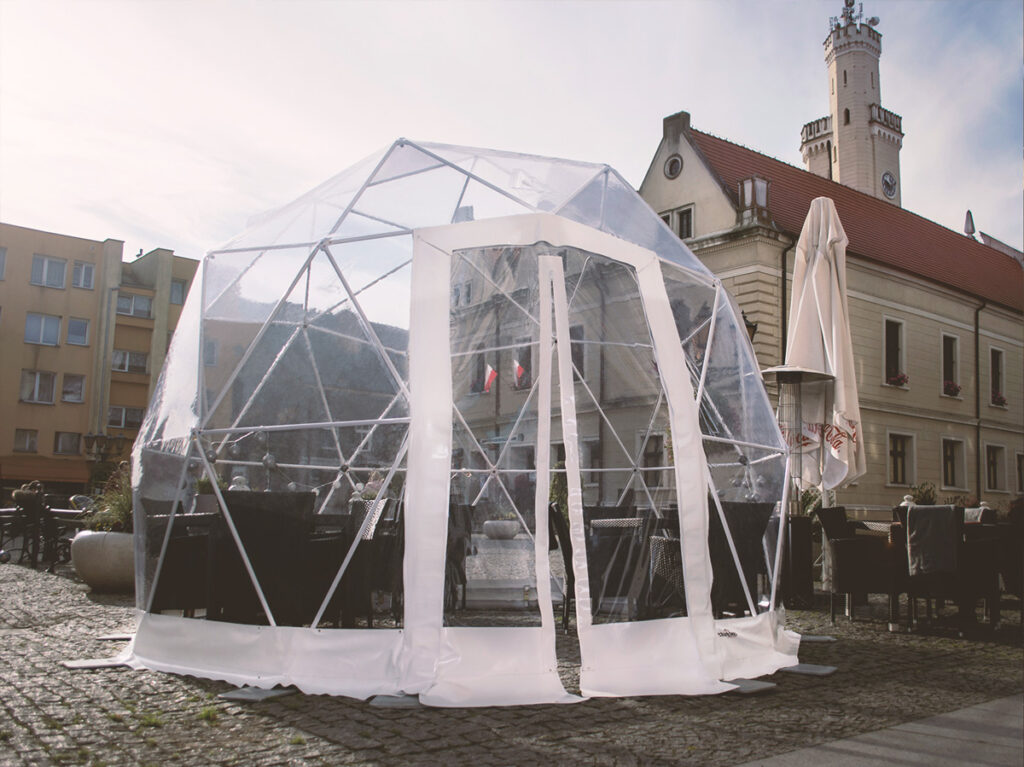 Polidomes Igloo domes are ideal for restaurants and bars looking to provide safe, private, outdoor dining conditions for their customers in a unique atmosphere.

Igloo Framework -The framework is made of high-quality, painted, galvanized steel and easily supports additions such as lighting or hanging plants.
Igloo flooring – The framework can be easily attached to any flat surface or set on our ballasted and insulated hardwood floor system.
Igloo Dome Cover – The heavy duty, transparent outer cover is 5mm thick and built to last for years. The material is fire-resistant, mildew and tear resistant. Comes with heavy duty zip-lock door.
Ventilation system – Igloo domes rely on five hidden ventilation portals to provide a continual flow of fresh air and a natural moisture removal system. The Igloo domes can also be easily equipped with a small HVAC system.
Three sizes – 3.6 m diameter (2-6 persons), 4m diameter. (6-8 persons) and 5m diameter (8-12 persons)
Contact us to find out more about how to get started