Polidomes provided a mobile event space P300 with 280 m2 of flooring for a private corporate event on the beach!
For a change, a company has decided to arrange a corporate team trip to the beachside. They were looking for an exclusive venue that could be installed in any place – in this instance, on the beach. Polidomes has the best solution for difficult terrain cases – the geodesic dome tent with the pollywood premium floor.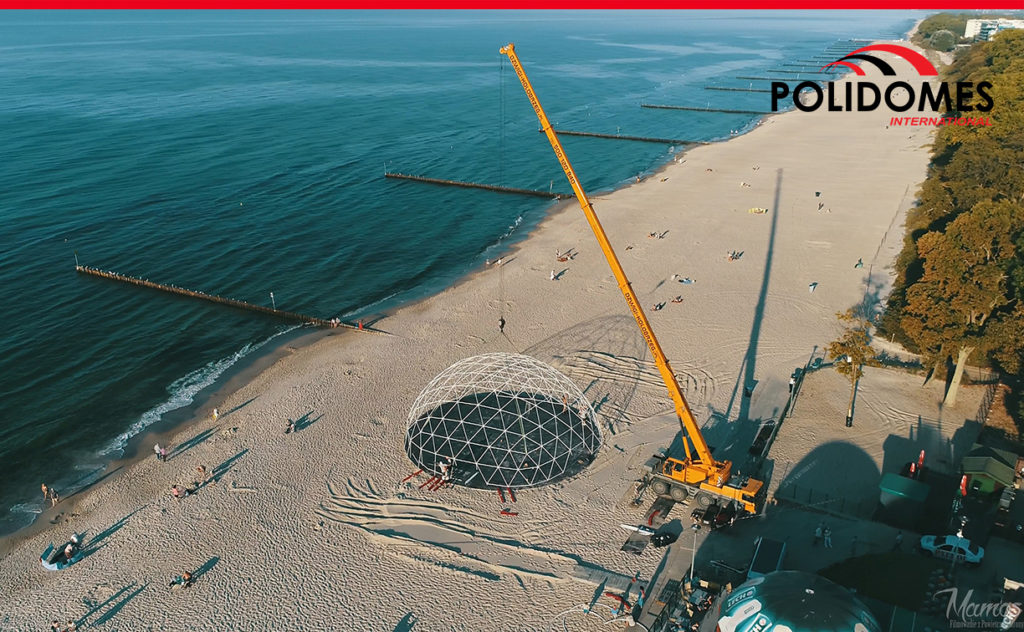 Using this flooring allows us to install the dome tent on any terrain that is inaccessible to other solutions – beaches, deserts, etc. An exclusive pollywood floor system with an anti-slippery layer is placed on an upraised steel frame with the leveling system.
Assembling this large event tent on the beach was a pure pleasure for the Polidomes crew since it was surrounded by a splendid view of the sea and the day was warm and sunny. As always, the process erecting such a sizeable structure aroused a big interest among beach tourists.
Renting the P300 event dome allowed the company's whole team to enjoy the warm evenings and the indescribable beauty of sunsets at the Baltic sea beach.
We think that adventures like this serve as perfect opportunities to build a strong company team. And, in its turn, Polidomes will always support any of your concepts by providing an exclusive mobile dome tent for purchase or rent, tailored to your specific needs.

We suggest you to watch this spectacular video about our project
If you appreciate functional solutions, please contact one of our advisers, and we'll be happy to help you pick out the best option for your needs!