Polidomes specializes in the latest in immersive and experiential event solutions. Philip Morris International was looking for a unique way to present their new line of smoke-free IQOS products and approached Polidomes for an original solution. The result was as impressive as a Hollywood movie premier and was a spectacular success.
The product launch was held between two locations – Madrid and Barcelona. Polidomes modular system of geodesic domes enabled the entire set up of five connected domes (with an entire enclosed space of 1,050 m2) to be quickly and easily moved between the two cities.
The following video shows a time lapse of the project's five domes being setup by Polidomes skilled crew of professionals who work day and night to finish projects quickly . Be sure and watch the video to the end to see the amazing final result:
The futuristic look of the domes and special outside lighting made the cluster of domes an unmissable attraction. The large cluster of domes created a magical multimedia atmosphere where clients were welcomed into a world of art and music to see PM's smoke-free IQOS products showcased in high-tech, creative ways. The largest immersive 500 m2 Projection Dome with full 360 degree 3D projections served as a combination bar with a DJ setup where guests were served drinks and a delicious variety of delicacies.
Each of the weatherproof domes were connected by spherical tunnels, including the two large projection domes (one 500 m2 and one 300 m2) which surrounded the guests in a full 360 degree immersive atmosphere. Two other 110 m2 domes were set up with artistic, suspended displays which created a surreal atmosphere. A fifth, 30 m2 dome was used as a room for technical equipment. All the four larger main domes were equipped with Polidomes unique anti-slip hardwood floor system, connecting tunnel system and aluminum doors.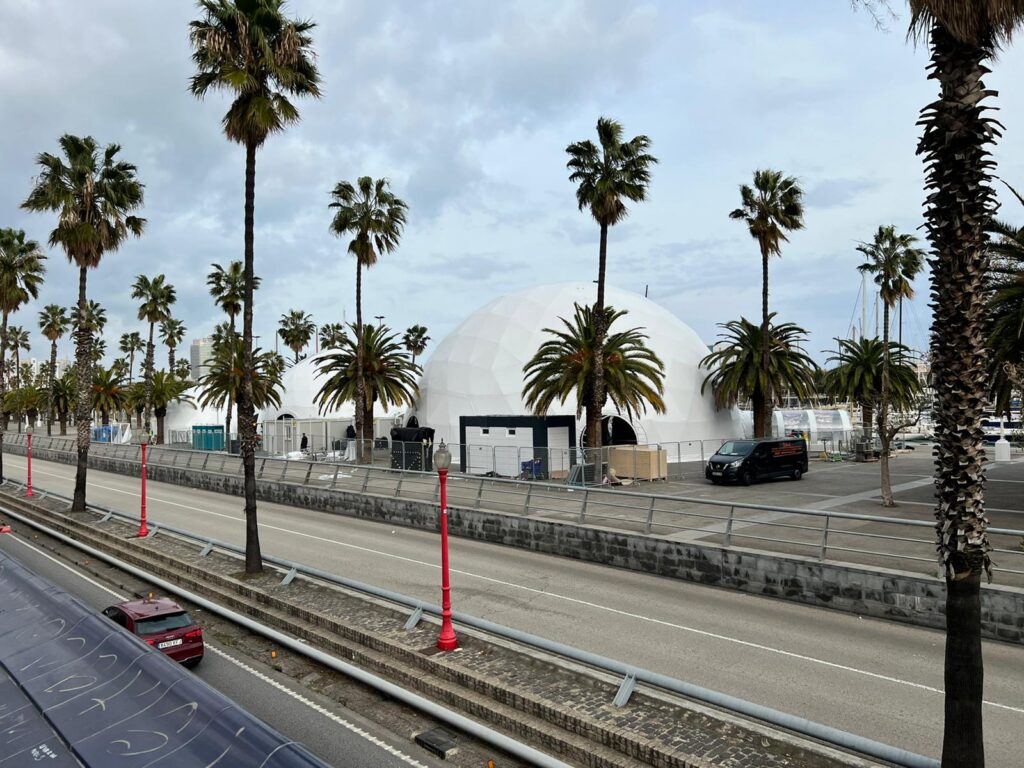 Polidomes offers sales and rental of our event and projection domes worldwide. For this project Philip Morris rented the P500 m2 projection dome and one of the P110 m2 domes and purchased the P300 m2, a P110 m2 and P30 m2 dome for future projects.
If you are planning to host a product launch, event, exhibit or need an experiential marketing solution, Polidomes large team of internationally respected and award winning professionals are technological integrators who are the number one choice for immersive multimedia and AR/VR/MR solutions. We offer purchase and rental options, free consultation and full start to finish event services worldwide.