The organizers of Integrated Systems Europe, world's largest global AV systems fair, invited Polidomes to be hosts of this amazing fair's conference area which took place inside one of one of Polidomes 300 m2 Projection Domes. The organizers also offered a large free space to present our new Immersive Cylinder Room and Suspended Dome Screen.
The following video provides a look inside the immersive world we created at ISE and limitless possibilities our products offer:
Exhibitors were able to host conferences and meetings inside the huge projection dome which provided exhibitors a unique space where they were fully surrounded by 360 degree 3D projection mapping content and a full surround audio system which created an outstanding immersive atmosphere. The spherical, seamless, 360 degree inner dome screen is held in place by Polidomes negative pressure system.
Projectors and projection mapping content were provided by partner company Vioso who provide world class hardware and software solutions.
Next to the Projection Dome was our Immersive Cylinder Room which is 4 m in diameter. Our Cylinder Rooms come with full surround 360° projectors and sound systems. They are light-weight, portable and ideal for roadshows or in-house 360° immersive presentations of any type of content.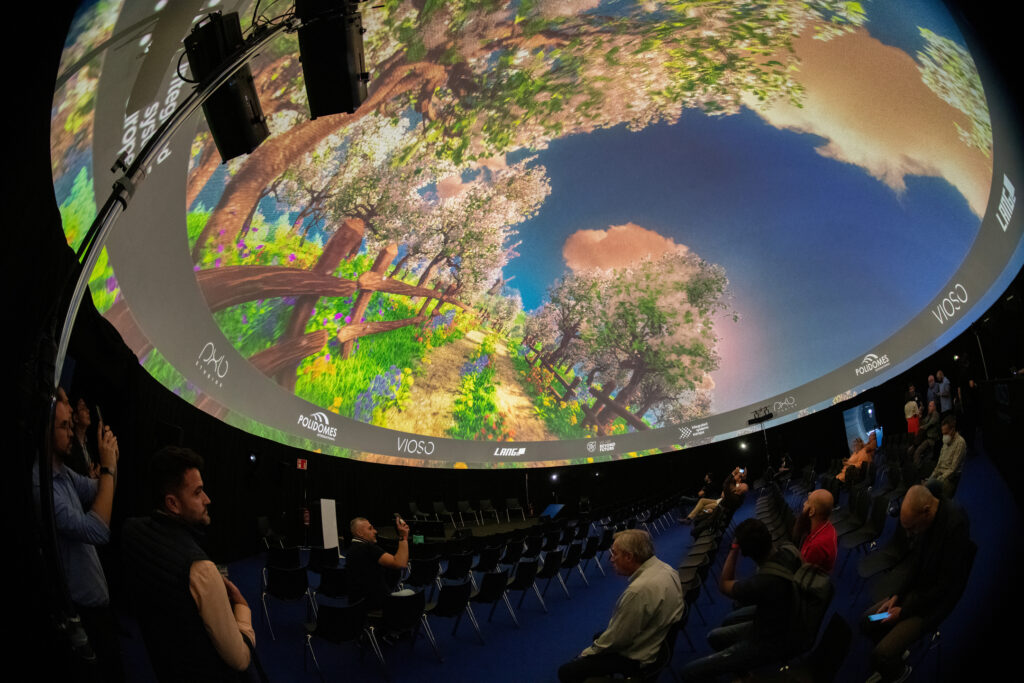 Our Cylinder Rooms have a multitude of uses and are the perfect platform to create hybrid office workspaces and can be equipped by our expert technology integrators with Share VR and other AR/VR/MR solutions for full interactive remote cooperation, presentations, simulations, teleconferencing, trainings and direct sales. Among others, they are used by real estate, hotels and travel centers or even to create an out of this world chill room.
Hanging next to our 300 m2 projection dome was our 40 m2 Suspended Projection Dome which creates the same brilliant projections as our larger model but is far less expensive as there is no need of flooring doorways or side walls. It provides an ideal marketing display and can be hung from any high ceiling such as in a mall, airport or train station.
The following video presented by Joanna Talaga, one of Polidomes project managers, gives a more in depth description of our immersive products presented at ISE 2022.
Whether you are a fair organizer, exhibitor or planning an event or exhibit of any type, Polidomes Immersive solutions are the number one choice worldwide.
Be sure and check out the following letter of recommendation we received from the organizers of ISE 2022: