Polidomes manufactures geodomes and technological integration systems for both civil and military industries and contractors worldwide. Multinational aerospace company Airbus chose a Polidomes 75 m2 Projection Dome to showcase their new Eurodrone at Pioneering Aerospace 2022, Europe's leading space exhibition fair. Eurodrone is the first unmanned aerial system designed for flight in non-segregated airspace.
The aerospace fair took place at Berlin's Schonefeld Airport in Berlin where the newest military aircraft were on display for leading international buyers. The Airbus projection dome was set up on the airport runway and was an oasis where Airbus' clients were able to escape the burning heat and enjoy an immersive presentation of the new Eurodrone's capabilities in air-conditioned comfort.
Polidomes weatherproof P75 m2 projection domes come fully equipped and sit on Polidomes water-ballasted, galvanized steel framework base which is covered with anti-slip wood. The ballast system enables the dome to withstand winds up to 120 kph.
The Airbus Projection dome included two aluminum doors with roof covers, while the dome cover was custom branded for Airbus with three large removable decals. Polidomes Projection domes come equipped with a seamless 360 degree projection screen which is held in place by a negative pressure system along with 4K projectors. Airbus' projection dome was equipped with a cubical display projection system set up in the middle of their dome.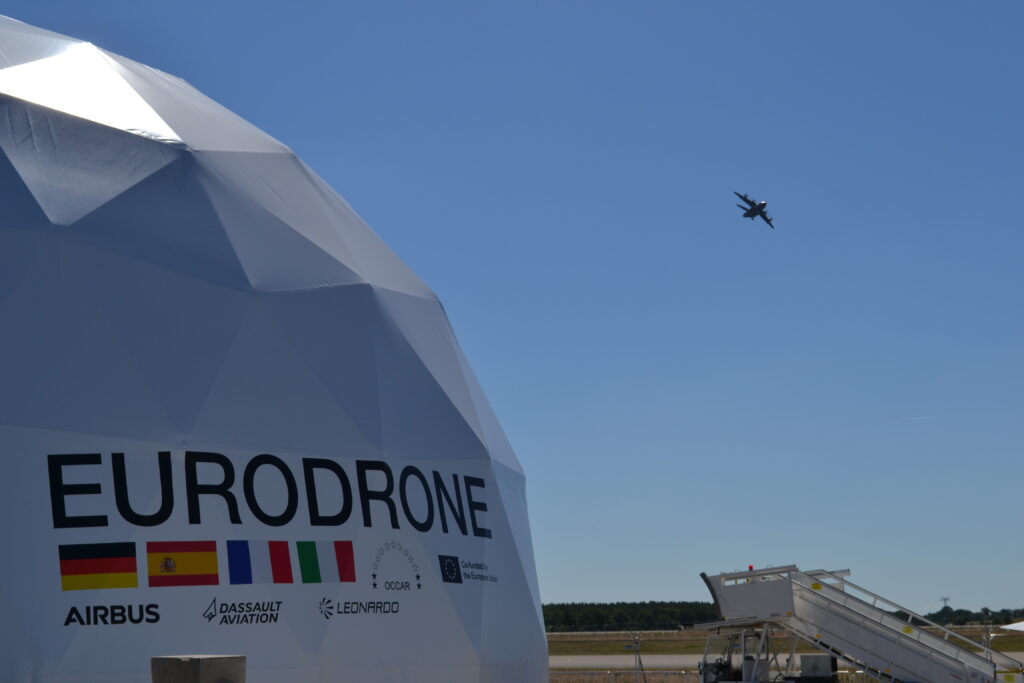 Besides our Projection Domes which come in all sizes, Polidomes offers a full range of architectural and technological geodesic for civil and military solutions. Our geodomes are set up easily on any terrain, last for years and make ideal solutions for enclosed, temporary space. Among a multitude of other uses they can be used for emergency shelters, hangars, field hospitals, storage, events and exhibitions to name a few.
Polidomes IT experts are technological integrators and offer the latest in bespoke AR/VR/MR and Shared-VR bespoke solutions. Regardless of your need we specialize in implementing the best in unique solutions.