The Arabic Artdome is a planned multimedia museum concept to present the heart and soul of traditional Arabic culture in a captivating manner using the latest in modern technology.
It will be a place where texts, paintings, works of art and music will both teach and enrich people by highlighting that which is most culturally beautiful and significant in the Kingdom of Saudi Arabia.
The main, larger dome will have circular exhibition walls with prints of texts, poems, paintings and photos of people and an Immersive Circular Room in the center. The smaller dome will have a hologram display in the center and be used as a space for visitors to chill and relax on large cushions.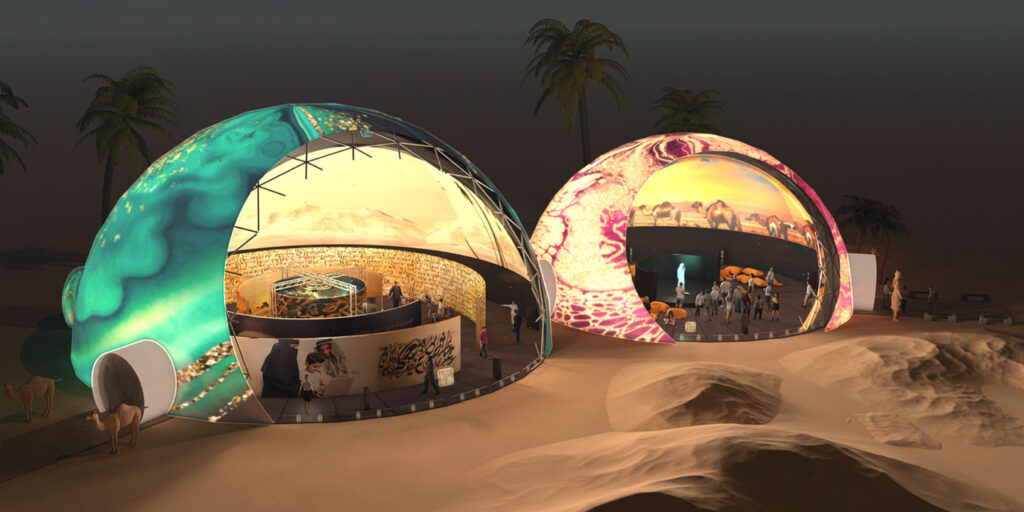 Projection Dome Technology
To create a fully immersive effect for visitors, the Arabic Artdome will be housed in two large, connected Polidomes projection dome tents. One with 500 m2 floor space the other with 300 m2 floor space.
Each of the projection domes will be equipped with a full size spherical projection screen covering the entire dome ceiling, a state-of-art 360 degree projection system and high quality integrated surround audio systems.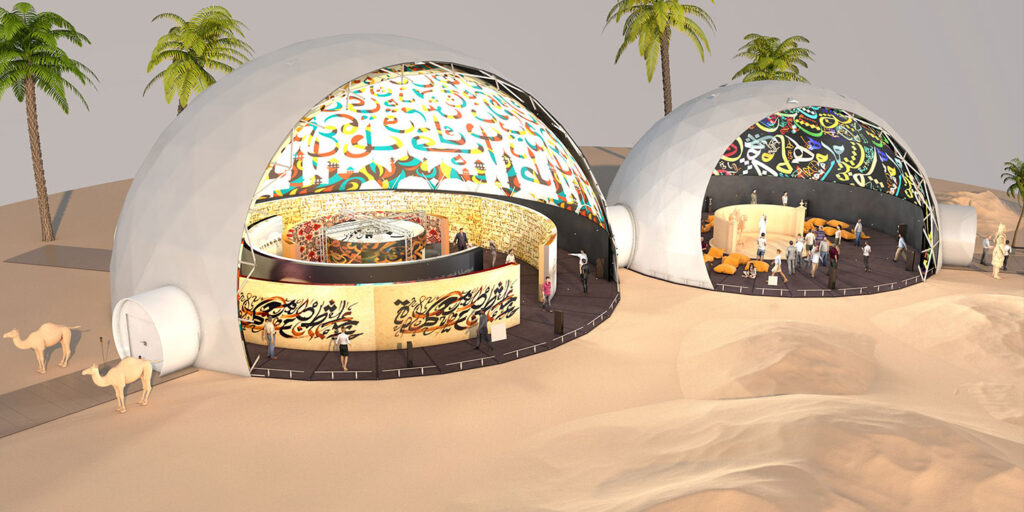 Fulldome Projections
Fulldome projections set the stage for an unforgettable experience by creating an otherworld, immersive 3D atmosphere inside the domes. The fulldome projections are an ideal opportunity to present any theme or message using digital content of your choice such as images, movies, stories, or animations.
Objects that present well with fulldome technology include buildings, panoramic landscapes, strategic points and views, traditional ceremonies (weddings, events, etc.), nature scenes (animals, plants, the seas) among others.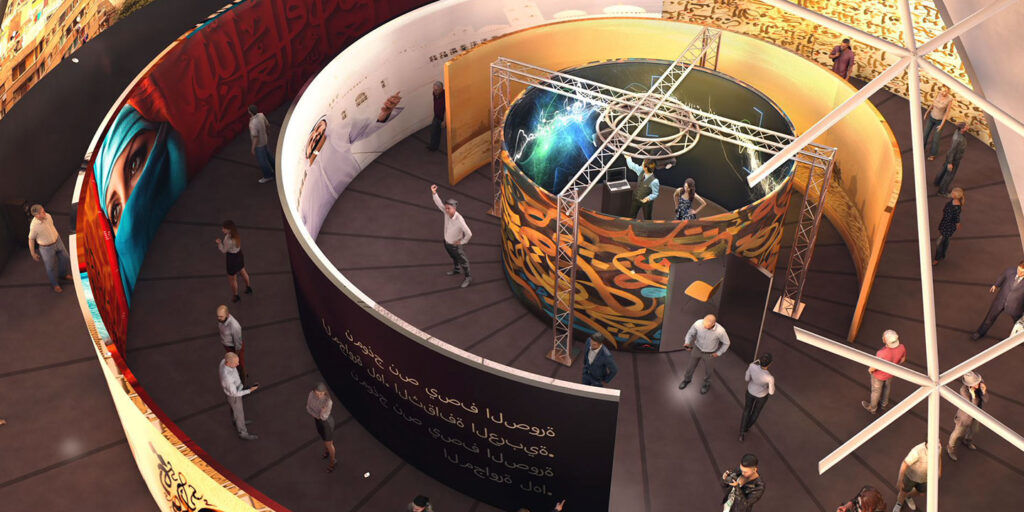 Immersive Circular Room
An Immersive Circular Room will be in the center of the main dome. It will be an isolated, closed room (with roof – not shown in image). The ICR room will have its own 360 projection system and integrated audio system and be powered by LAB28 software.
ICR LAB28 Demo
There will be a technician inside the ICR to explain and demonstrate LAB 28 software to groups of visitors. LAB28 software can project any Arabic script completely around the 360 screen which is converted into striking art and music created by the software from the inserted text. The outside of the ICR can be custom branded with LAB28 logo or any other desired theme.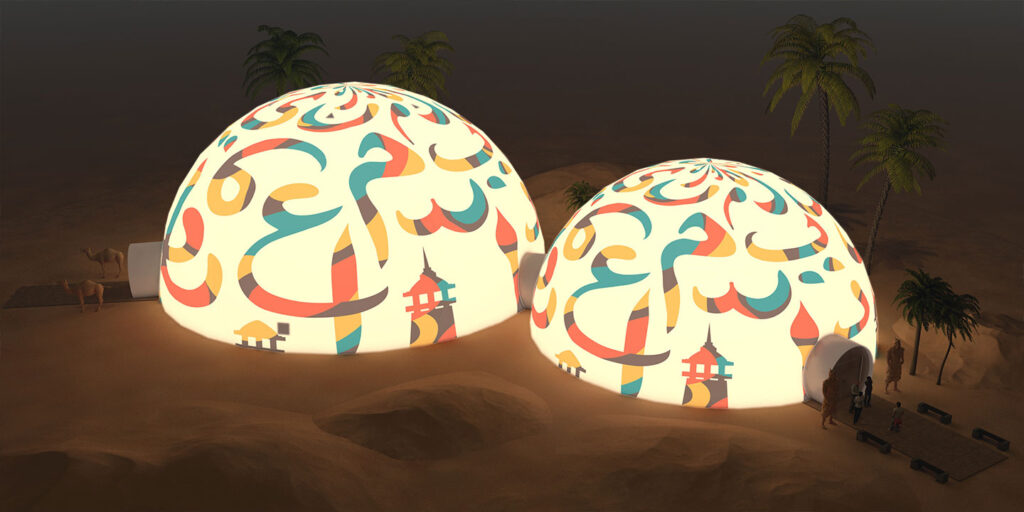 External Projection Mapping
Light up the world! Using external projection mapping equipment, the outer dome covers provide nearly 1,600 square meters of promotion and advertising space to project any message you like. This could include traditional Arabic symbols, sayings or vibrant swirling colors, logos, etc.
During night, external projection mapping will make the Arabic Artdome visible from miles away so that it stands out as an unmissable attraction that draws maximum attention.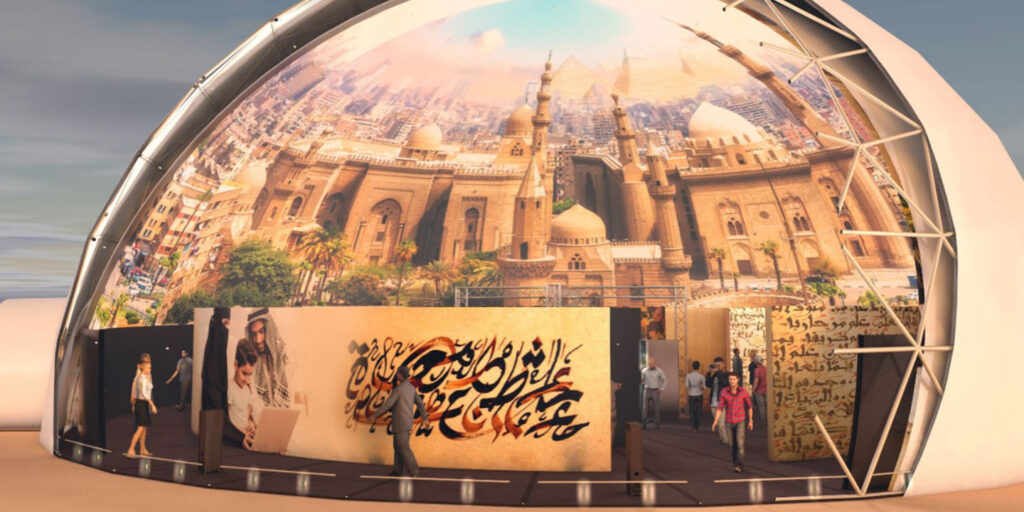 Additional Technology
There is no limit to technology solutions that can be added to customize the domes such as: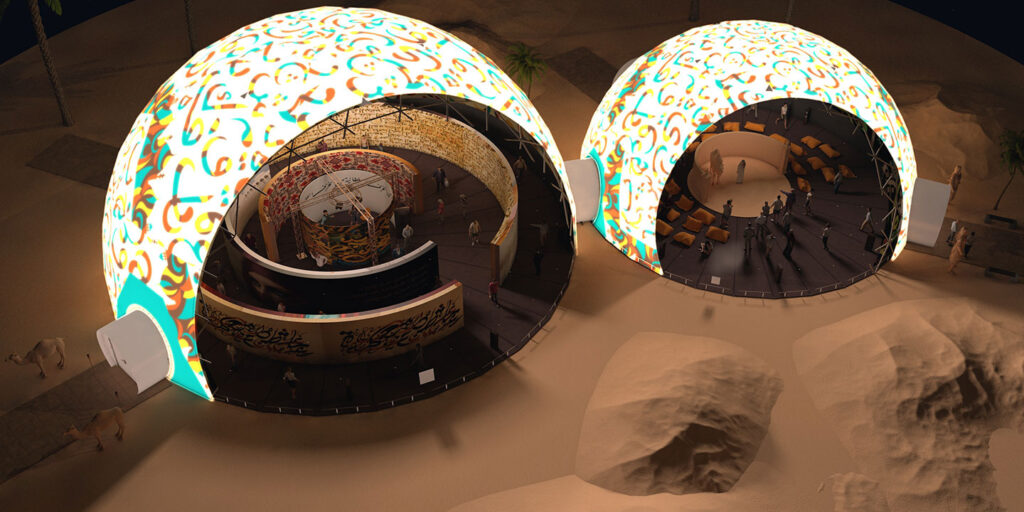 Custom Designs
The possible uses of our fulldome Projection Domes are unlimited. Our Polidomes team are full solution providers and experts at bespoke, custom dome solutions. We offer free consultation, graphic designs and can manufacture and deliver your own concept domes just the way you like. We look forward to hearing your vision. See our immersive geodesic solutions.