Energylandia is Poland's largest amusement park, located in Zator, a beautiful area in southern Poland. Only two kilometers from Energylandia is a lovely resort / marina called Scandinavia Resort . The owners of Scandinavia resort were looking for an easy, money-making way to expand their business and decided to add wedding banquet halls to their property and approached Polidomes for a solution.
With the help of Polidomes design team the owners chose three connected dome tents for their wedding banquet halls with a total enclosed floor space area of 400 m2. The dome tents are all completely weather proof, made for year-round use and will last for many years.
The main, central banquet hall is a P 300 m2 dome with a huge panoramic window. The dome hall is entered through double-leaf glass doors (with additional PVC doors on the backside). The main hall also has a stage and special suspended special effects lighting system.
The P 50 m2 geodome to the left of the main dome is used as a cloakroom (also with a panoramic window and single leaf glass doors). The P50 m2 enclosed dome on the right side also has a single leaf glass door and is used as catering facility to serve guests in the connecting main dome hall.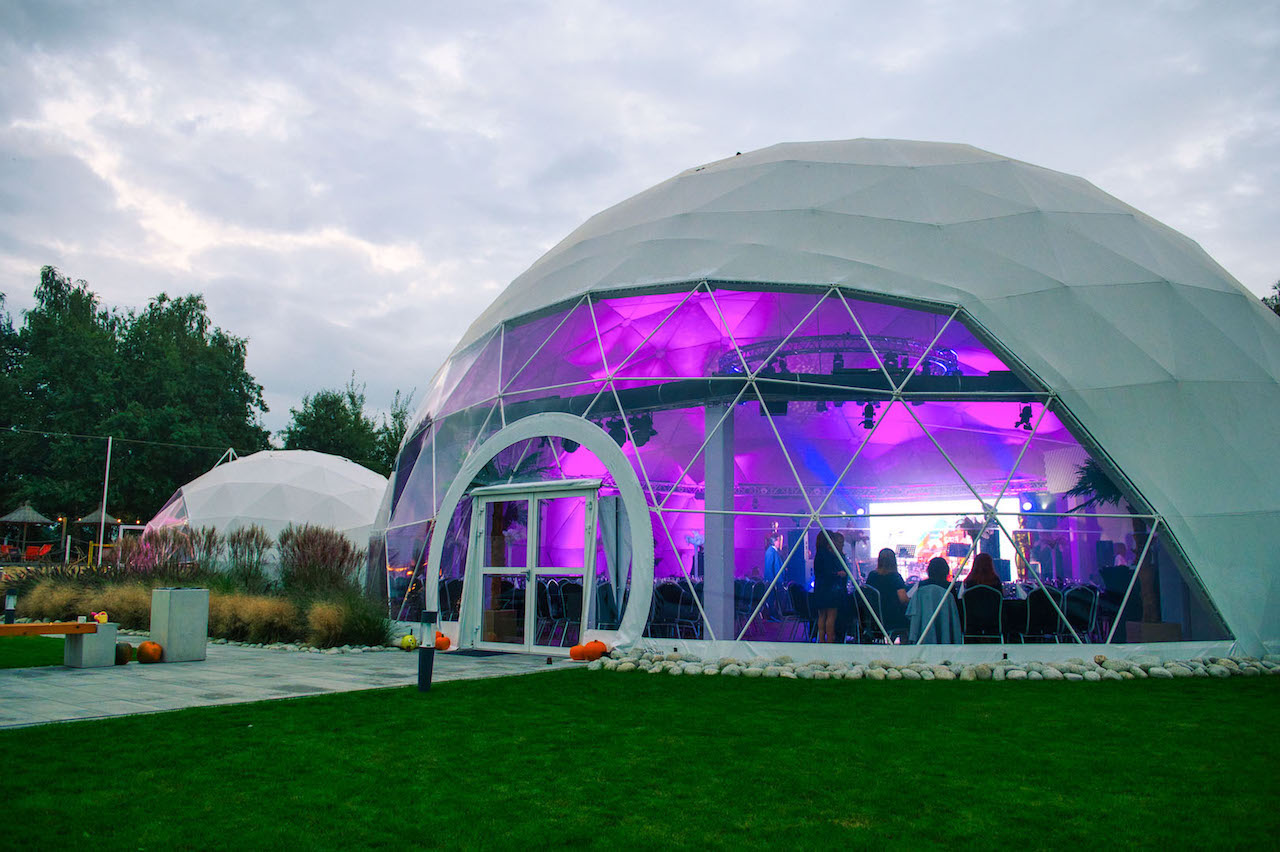 Polidomes event domes come in all sizes (from 6 m to 30 m+ in diameter). We offer both sales and rental of our dome tents worldwide. Each of our dome tents can be fully customized from top to bottom from the largest selection of additional-equipment dome tent options available, including branded full color printed covers, HVAC systems, ballasted hard wood flooring, connecting tunnel systems, entryways, 3D projection, lighting and sound systems and much, much more!
We are event specialists with many years' experience and have made projects in over forty countries. Regardless of the size and type of event you would like to host, our futuristic dome tents are the ideal, cost effective solution. We offer worldwide service, delivery and assembly. Contact one of our friendly sales representatives to find out how easy it is to bring your event dream to life.
More about Enerylandia Geodesic Dome Tents you can see on this website: https://www.scandinaviaresort.pl