High in the French mountains, specially for The North Face, the dome tent P75 was assembled!
This is the first time when the legendary Belgian music festival organized a winter edition in the French Alps. In March 2019, the entire winter sports resort 'Alpe d'Huez Grand Domaine Ski' was taken over and transformed into 'Tomorrowland Winter'.

The North Face was the main sponsor of Tomorrowland Winter – the newest member of the Tomorrowland family, taking the biggest dance music festival in the world high up into the snowy Alps!
For this kind of location, Polidomes tents are the perfect choice because of the shape and the sturdy steel structure that withstand the strongest winter storm.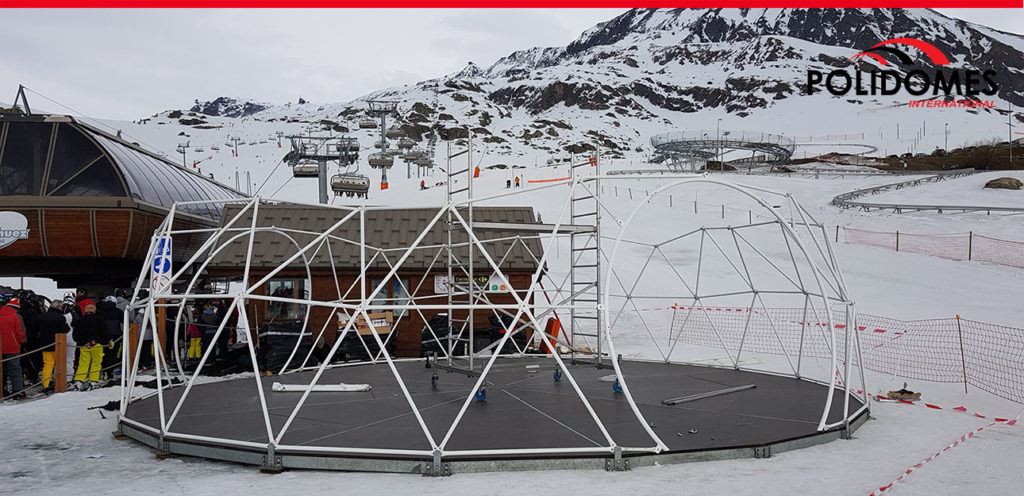 30,000 people of tomorrow from all over the world gathered in the French Mountains to experience a journey of a lifetime. A new chapter in the history of Tomorrowland was written, a story filled with snow, music and memories.
There are five stages around the main hub area with a further 10 stages spread across the whole ski area. 30,000 music and ski fans from 98 different countries could enjoy the stunning panoramic views of Alpe d'Huez. And so did Polidomes assembly crew.
Though the festival was filled with catchy music and hot emotions, the weather treated guests with loads of snow and a real winter storm.
Because of the Polidome 75 steel structure combined with the premium plywood flooring the Polidomes dome tent was the most safe and cosy place. It can easily withstand the wind up to 120 km/h.
For its part, the transparent front gives a dome structure a presentable and eye-catching appearance. Those are the necessary characteristics for the promotion tent The North Face needed.
In true Polidomes style, Polidome 75 offers an exclusive space even in hard-to-reach places.
Our dome tents with transparent front serve as greet booths for a wide variety of promotional events. Geodesic domes is stylish, practical, simple to use, and convenient to transport.
This project proves again that no matter where you need a spherical dome tent – we'll be there when you need us!