With the start of the new school year, Unimetal Recycling purchased Polidome300 as the best answer on their individual corporate needs.
Unimetal Recycling company performs purchase of the catalytic converters.
For over a dozen years they are engaged in the purchase and processing of automotive catalysts on world markets, including in Poland. The company provides safe and stable working conditions in a dynamically developing and expanding business.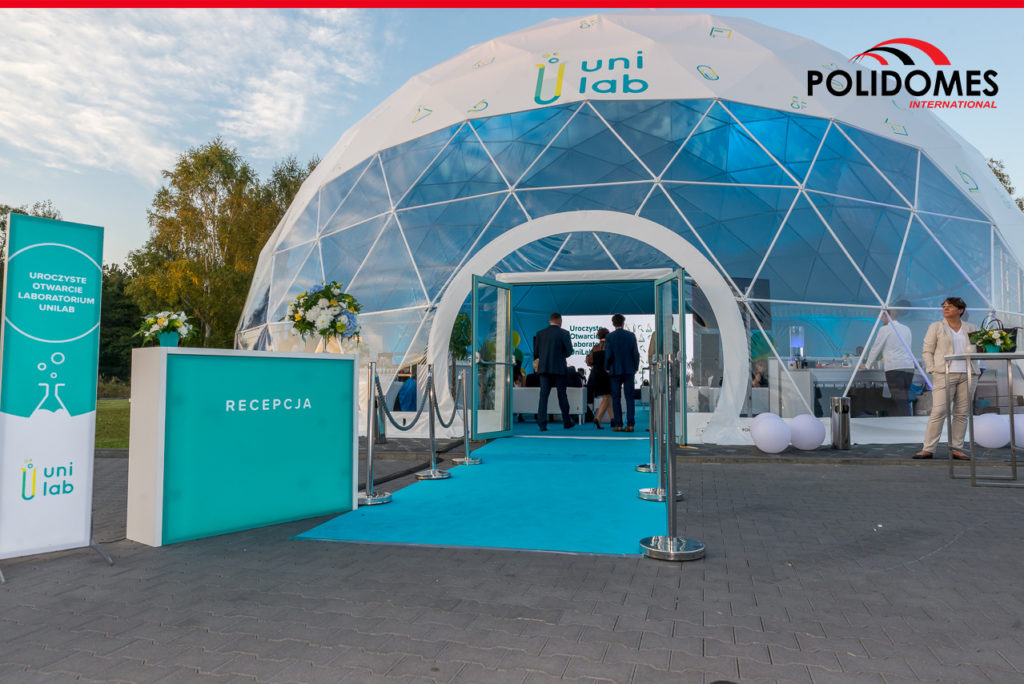 But the interesting thing about the company is that Unimetal places special emphasis on positive interpersonal relations.
"Employees are our most important capital, and a fair and open approach to them is the foundation of cooperation." – they state.
Therefore, Unimetal purchased the Polidome 300 – geodesic dome tent with 19 m in diameter and 280 m2 of flooring. We believe it will be an excellent venue for building a company's corporate culture.

Due to its size, P300 is perfect for hosting a wedding, conference, corporate event or exhibition in any dream location – on the beach, at the lake, in the desert, or in the city center! In conclusion, this large event tent is the most popular geodesic dome kit among our customers. It is often supported by smaller domes, connected with tunnels.
Furthermore, the eye-catching cover of our Polidomes geodesic domes presents a great potential for branding or self-expression.

Considering the flat horizontally aligned surface, where there was no need to level the floor, in addition, Unimetal purchased the modular flooring – a system of interlocking hexagonal plates made of hard HDPE composite.
Check out our photo gallery for more Polidomes geodesic dome images http://geodesic-tents.com/dome-pictures/
Surely, the advantage of our spherical tents is their unique combination of functionality and safety. Contact our specialist to pick a mobile dome tent tailored to your needs.