Polidomes Acoustic study of Geodesic Dome Tents
Sound quality in dome tents is extremely important especially for events where high quality sound is imperative, such as for concerts, full dome projection shows or for DJs to deliver HQ Dolby 7.1 surround sound.
We are determined to offer domes with excellent sound quality and funded our own research to study acoustic solutions. As far as we know, this is the first scientific study of acoustic properties and sound solutions specifically for geodesic dome tents.
Acoustic Properties of Domes
Because of their spherical shape, dome tents affect how sound travels and can cause specific phenomena such as echo, reverberation and empty sound zones.
To improve sound in a dome, a uniform sound field should be formed by increasing absorption through acoustic dampening in critical areas and improvement of diffusion of sound with respect to the reflection on the internal concave surfaces. This may include different methods to adjust to low-, mid- and high frequency sounds. See our audio equipment for geodesic tents.
Expert help
Polidomes LAB, our innovative R&D department, makes certain all aspects and important functions of or our domes are pre-tested and meet the highest standards. For our acoustics we enlisted the help of Dr. Ryszard Hnatków, a university professor and Poland's foremost expert for acoustic-vibration solutions to guide our study. We asked the professor to study our acoustic solutions and find any areas that could use improvement.
Professor Hnatków has carried out more than 36 design works concerning the analysis and evaluation of the reverberation time and other acoustic parameters of major concert halls, cinemas, halls and amphitheaters.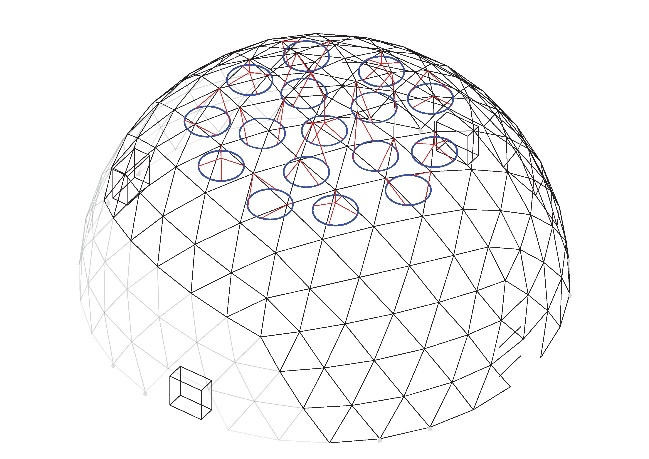 Acoustic Analysis of 3 Domes
Professor Hnatków studied the sound properties of three of our dome tents, our P150, P75 and P30, with cubic volumes of 700 m3, 250 m3 and 70m3, respectively. Each of the domes were equipped with Polidomes floor systems (18mm plywood on a galvanized steel framework) and Polidomes POLYMAR covers as an outer membrane.
Acoustic Testing
Professor Hnatków tested the reverberation time, reverberation coefficient of sound absorption, and echo sounding coefficient of the bounce sound in each part of the three domes using our different acoustic dampening applications.
A geometric relationship of acoustic treatment and dome radius was established to provide our architects guidelines on the correct selection and placement of absorption materials needed to maintain optimal acoustics and eliminate problems of these special spaces in each dome.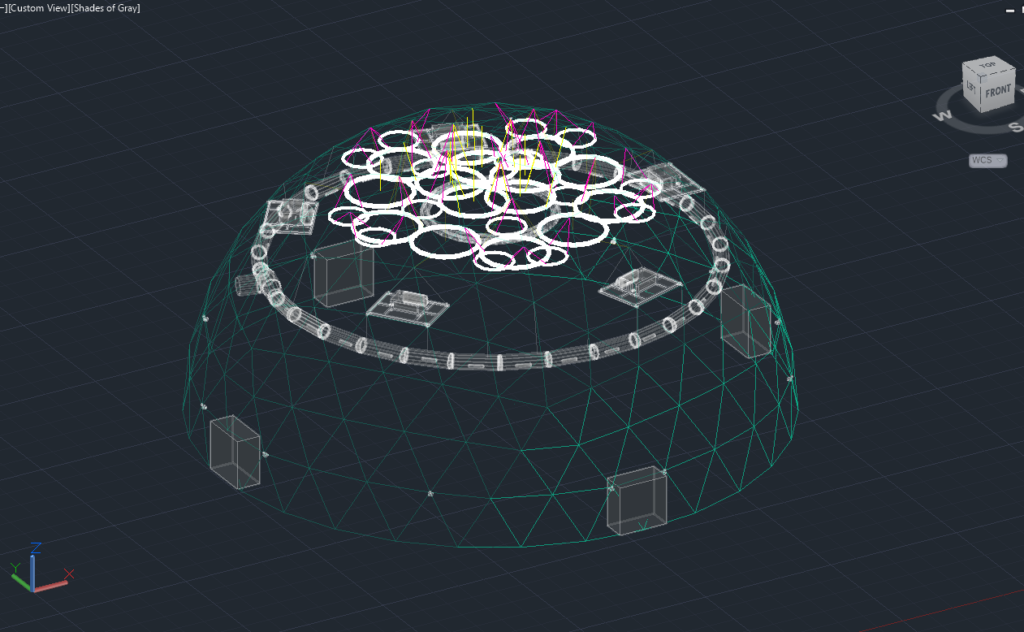 Measurement Specifications
Acoustic measurements were taken using ISO 3382 standard and a variety of scientific methods. The domes were assessed empty (with the outer POLYMAR cover) and then with the addition of two types of inner acoustic liners we use.
For each testing, measurement points were taken for all parts of each dome as well as at a height of 1.5 m above floor level (audience level) and included firing of an 8mm pistol for measurements.
First, using the above parameters, the sound absorption coefficients for the domes with only POLYMAR sheathing were obtained. Next the domes were remodeled with the addition of filled triangular panels of two variants we use; Once with Ursa VENTO 34 glass wool boards with a thickness of 100 mm – and then with POWERLINE boards filled with PIR foam with a thickness of 60 mm.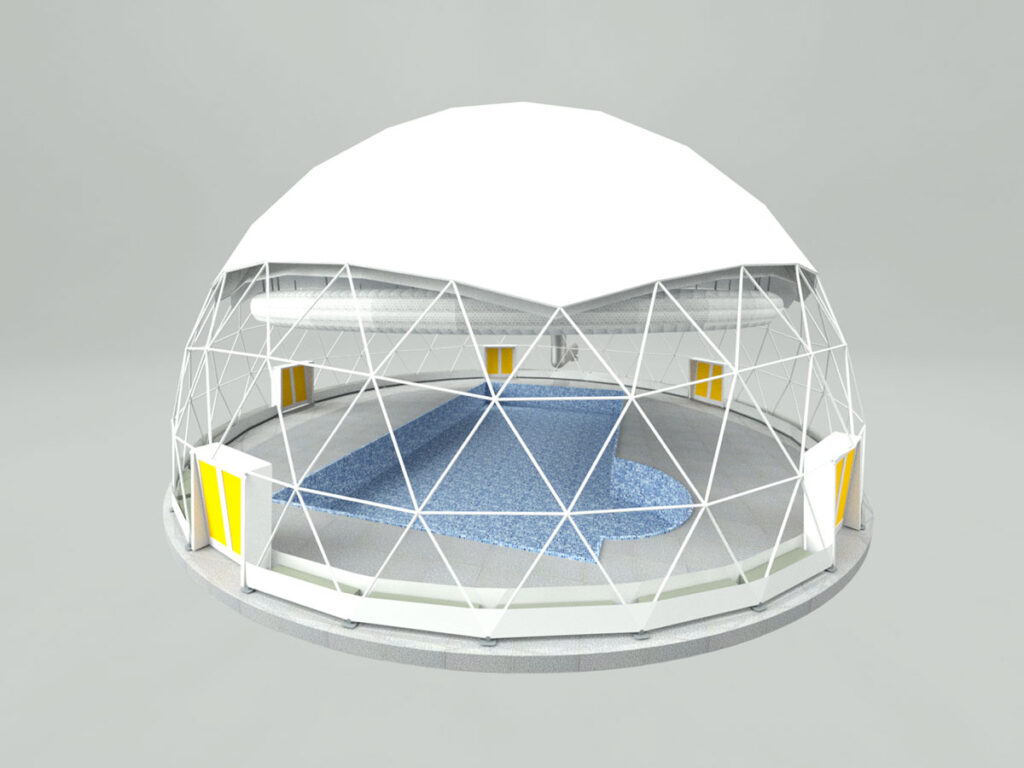 Study Findings
Professor Hnatków determined our acoustic solutions work well and uncovered additional configurations of acoustic panels to help us handle acoustic dampening for specific purposes.
Our sound engineers pay attention to the sound system as a whole, from equipment and acoustics to sound experience. For example, if you would like to have a full live orchestra concert or DJ set up in the middle of the dome we will offer a solution backed by pre-testing to be certain you deliver your guests a superb sound experience.
One factor the study strongly confirmed was that domes carry and deliver sound differently according to their size and each dome must be custom designed and equipped with acoustics according to the dome's purpose.
The study showed the addition of our double fabric panels dramatically reduces sound problems along with correct placement of speakers helps deliver high quality sound at an excellent level.
Our circular, lightweight, suspended ceiling panels (ceiling islands) strongly reduce echo and sound bounce caused by the concave dome top. Side panels set around the inner dome wall are also an inexpensive method to reduce echo and reverberation at audience level.
Just to mention, although it does not totally eliminate the problem, it is known there is a sound dampening effect that reduces echo and sound bounce when the dome tent is equipped with furnishings and has people inside the tent.
If you are looking for top quality, custom dome tents, all aspects of our dome tents undergo thorough testing to be certain we continually deliver the best dome products and experiences on the market.
We love unique challenges and making the impossible a reality. Contact us today to find out how we can bring your dream concept to life.