Polidomes education domes for the exhibition that took visitors of the mall to the surface of the Red Planet.
Two Polidomes tents P30 and P50 were launched together by the tunnel to create an unearthly atmosphere for the exhibition code name Mars. Polidomes geodesic tents are always the ideal solution for any event needs.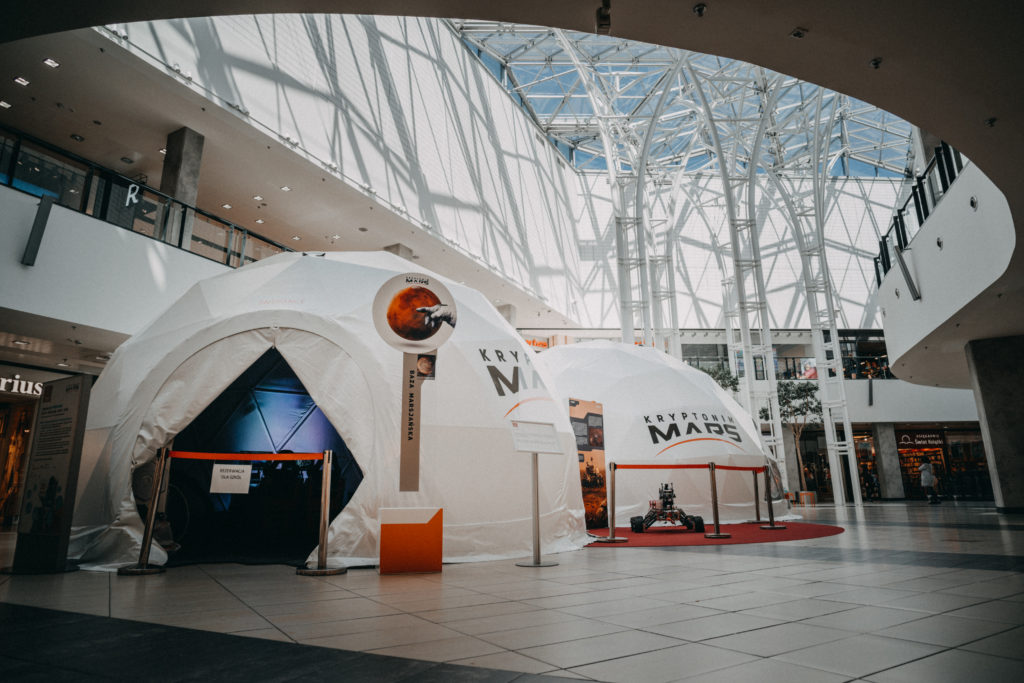 The presented exhibition was the project of the students passionate about Mars, that took second place in a competition hosted by the Mars Society and NASA.
The mission of the created exhibition domes was to take the visitors to the surface of Mars and make them feel like astronauts taking part in a space mission. The organizer – Gephard Group – made sure that the exhibition was as interactive as possible. Visiting the exhibition was carried out by organized groups guided by the leader of the project – Justyna Pelc.
The exhibition consisted of five stations: flight control, where visitors put on special vests and learned the details of the mission. The cosmodrome – was a 3D-printing station, where they learned the secrets of making the Martian habitat and missiles, and could also create their own model with the help of 3D pens. At the next station created inside the Polidome 30: the Shuttle, where the "astronauts" learn about the car's necessary equipment and studied the problems that they would have to face during such a long journey. And the habitat station – Polidome 50 – where visitors could watch hydroponics, plant cultivation, radio communication zone with the Earth and the control panel of space vehicles. Finally, at the end of the experimental activation visitors could experience the "Mars exploration" space, where everyone could feel himself sitting in front of the Martian Rover's control panel.


Except for P30 and P50 dome tents, Polidomes International also provided the essential accessories for the best results. Custom branding stickers for the best presentation created specially for the dome shape. The modular flooring that ensured comfort and safety for the visitors. And the lighting perfectly complementing the exhibition ambiance.
Polidomes geodesic domes are always ready to provide an exclusive, sheltered space, which can be used for individual needs. Contact us today!