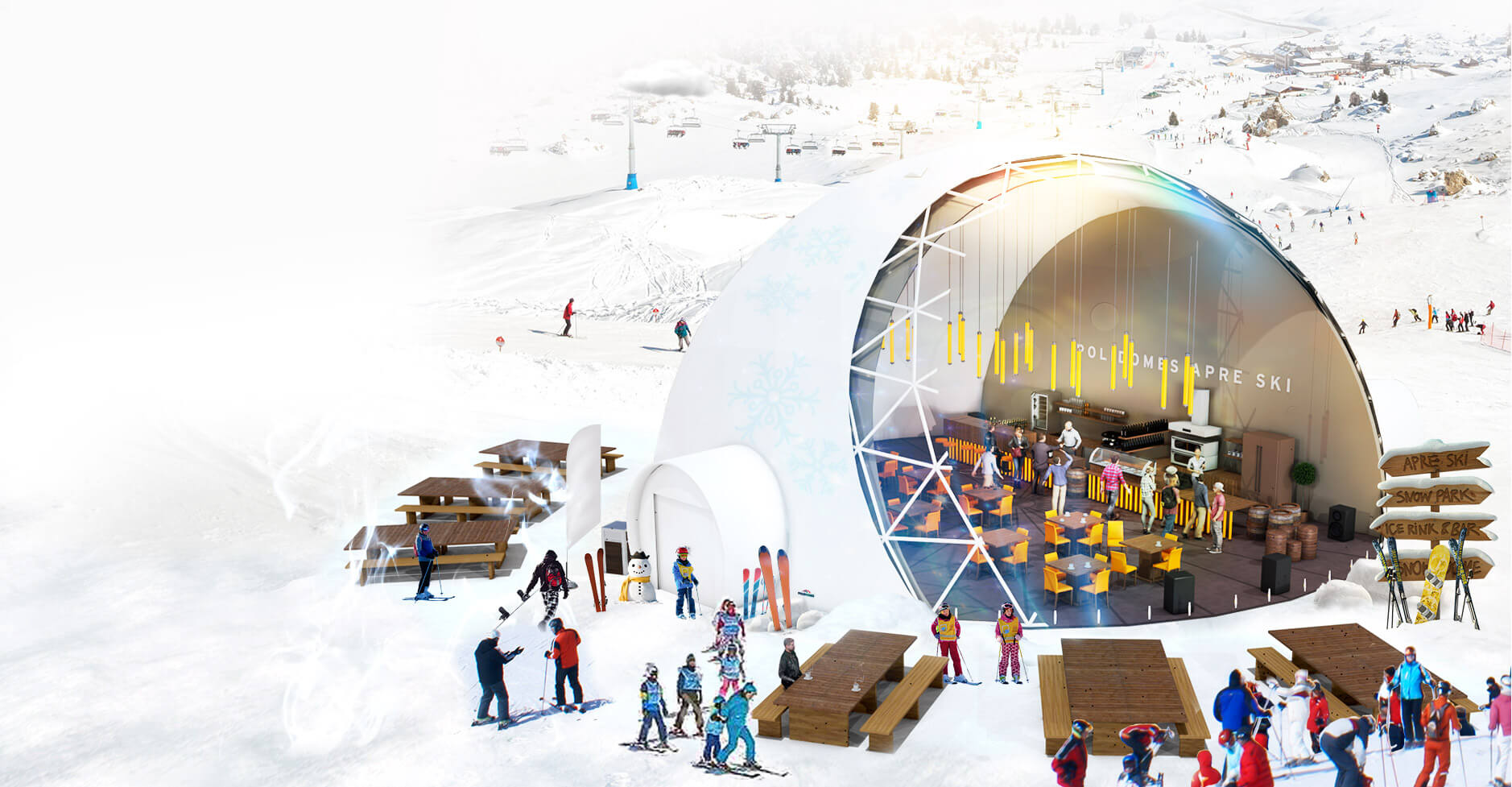 Apres-Ski Domes:

Year-round, all-climate winter fun

Recreational entertainment in snow and ice, perfect for ski resorts!

Profitable Winter Extensions
Leverage apres-ski geodesic domes to maximize your hotel's winter revenue and extend the operating season with unique guest experiences

Adaptable Apres-Ski Domes
Our diverse range of dome sizes seamlessly accommodates any scale of après-ski concept, from intimate to grand

Attracting Attention Igloo-style
Our uniquely shaped domes pique curiosity, drawing in crowds intrigued by this modern, igloo-inspired take on après-ski

Season-Defying Dome Freedom
Our domes grant you the freedom to create a summer oasis amidst icy peaks, or introduce winter to never-chilled locales

Overcoming Construction Challenges
With robust geodesic domes, building on challenging terrains like mountains or curved land becomes a risk-free reality

Global Dome Expansion
With a footprint in over 60 countries, we're eager to bring our domes to the remaining 136 - could your location be next?

Mastering Climate Control
Mastering temperature control, we create desired climates within our domes - even a winter wonderland in the world's hottest desert

Expandable Modular Domes
Our prefabricated domes are modular, offering easy extension possibilities for additional spaces like back offices, kitchens, or living areas

Cost-Effective Speedy Domes
Our domes offer a cheaper and quicker solution for inter-resort venues, ideal for year-round or permanent usage

Future-Ready Dome Tech
Every dome's potential is further amplified with our technology, enabling 360-degree mapping for an immersive experience, irrespective of the dome's primary function

Customized Climate Design
Depending on the dome's function, occupancy, and location, we meticulously design climate control solutions tailored to each specific environment

Flexible Dome Usage
Our domes can be set up for peak seasons, conveniently packed away for later use, or rented on-demand to suit your needs
Experience the ultimate après-ski sensation in our geodesic domes, where winter wonder meets modern luxury. These climate-controlled havens not only extend your season but also redefine the traditional mountain après-ski experience.

What is an

Apres-ski party dome?
An après-ski dome is an innovative concept that brings together the exhilarating experience of skiing with the fun-filled atmosphere of a party.
After a day on the slopes, skiers can continue their experience in these unique geodesic structures. Equipped with temperature control and a robust sound system, these domes create an inviting space for guests to unwind, socialize, and party. Enhanced with projection mapping and lighting technology, the interiors are transformed into a dynamic party environment. The dome's versatility allows it to simulate anything from a cozy chalet atmosphere to a vibrant dance club, catering to various après-ski experiences. Additionally, the dome's spacious layout and acoustic design ensures a comfortable and immersive ambiance, providing an optimal environment for any après-ski activities.
Perfect for Ski Resorts
The domes' customizable interiors can be adapted for diverse thematic settings, adding an additional level of excitement to the après-ski experience. Amidst a virtual alpine vista, guests might sip hot cocoa or dance under a pulsating light show. This unique setting turns the geodesic domes into unforgettable arenas that blend the physical and sensory into a memorable après-ski adventure. The dome, a versatile hub, not only fosters seamless transitions from physical activity to vibrant socializing but also enhances the overall ski resort experience, promising a unique, unforgettable winter escape. Beyond the unforgettable experiences, the domes' efficient assembly and disassembly allow them to be a sustainable option, blending effortlessly into the mountain landscape without compromising on the resort's environmental footprint.
Apres-Ski Domes: Exploring Multi-functional Uses

Dome Music Extravaganzas
Our domes provide a unique and immersive backdrop, perfect for unforgettable live concerts and music events

Cozy Refuge Domes
Our domes provide a comfortable and warm sanctuary, an unmatched solution in locations lacking such facilities

Starlit Dome Performances
Our domes offer an ideal setting for hosting electrifying DJ, VJ shows, and other nightlife events, turning any performance into a celestial spectacle

Immersive Projection Domes
With 360-degree projections, our domes provide a transformative atmosphere, taking guests on captivating, full-sensory journeys

Ice Wonderland Domes
Our domes serve as perfect venues for ice bars, ice sculpture exhibitions, and other enchanting winter attractions, amplifying the seasonal experience

Snowy Dome Adventures
Encase your skatepark or ski slope under our geodesic domes, creating a thrilling, weather-proof winter sports environment
For You
Join us in creating an unforgettable Après-Ski Experience!
Calling all potential partners and landowners! Don't miss out on our exciting Partnership Offer. Contact our trustworthy team today, and let's collaborate to build something truly tremendous together! Together, we'll craft a one-of-a-kind après-ski destination that will leave guests in awe and elevate the winter experience to new heights. Get in touch now and be a part of this thrilling venture!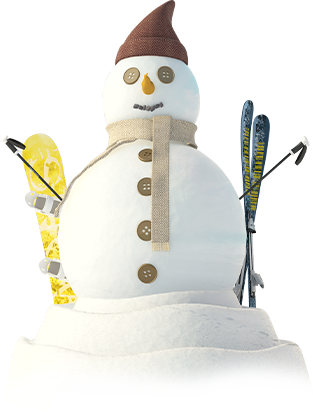 Ski & Sip: Dome Bliss!
Unlocking Winter Wonderland
Winter Domes for unconventional entertainment and activation. Imagine turning previously unfeasible locations into enchanting winter wonderlands of entertainment. With Polidomes' innovative winter domes, the possibilities are limitless! Our cutting-edge domes provide an ingenious solution to activate locations that would be otherwise challenging or impossible to build regular structures upon.
Unconventional Winter Wonders
Venturing beyond the typical, our winter domes find their place amidst snow-draped cityscapes or alongside ice-kissed mountains. The modular design of these domes grants unparalleled adaptability, making them apt for both fleeting and lasting setups across varied terrains. This flexibility propels the wintry allure to unexpected locales, presenting boundless prospects for businesses, event aficionados, and tourism innovators.
Winter's Theatrical Playground
Our domes are more than mere structures; they're a canvas for a plethora of entertainment avenues. Picture apres-ski lounges enriched by fulldome projections, live concerts resonating with energy, or a pop-up winter sports hub. They don't just extend business opportunities but weave an unparalleled visitor experience. Nestled inside, guests revel in a snug setting, all while winter's charm plays out beyond the dome.
Sustainable Frosty Retreats
Our winter domes are a nod to both novelty and nature. Beyond being entertainment venues, they champion eco-consciousness. Their modular, reusable nature minimizes environmental impact, making them a green choice for those keen on balancing entertainment with ecology. Whether it's a city-centered winter carnival or a secluded snowy spectacle, our domes craft unique experiences without compromising on sustainability.
Partner with Polidomes
Winter, with its enchanting tableau, beckons unique experiences. With Polidomes, you're not just creating a space; you're crafting memories. Join us in redefining winter landscapes, blending thrill with awe. Dive into this wondrous escapade, and together, let's set stages that resonate with magic, warmth, and unforgettable moments.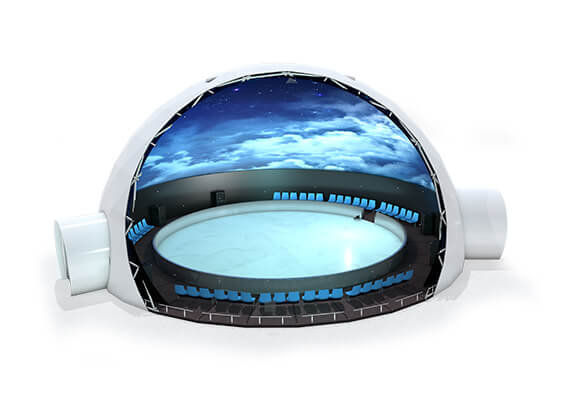 Apres-ski
Party Domes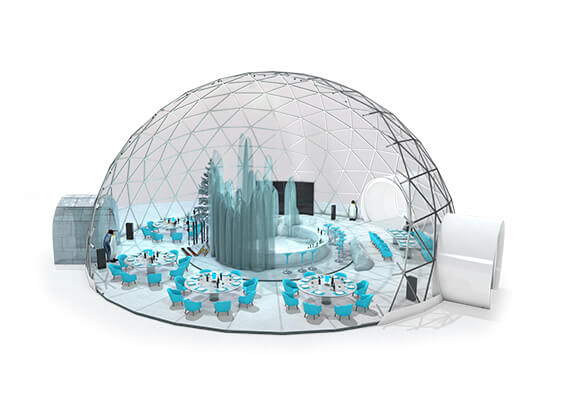 Indoor
Snow Domes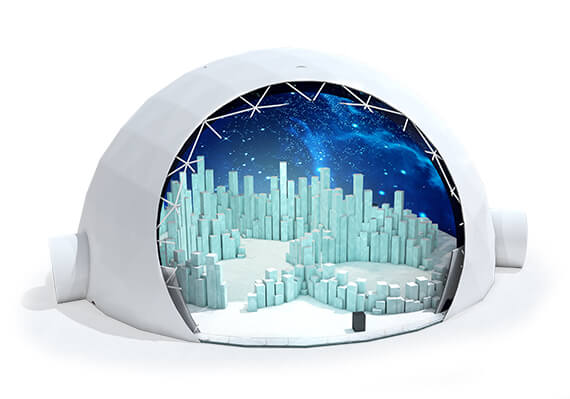 Ice Bar
Domes

Year-Round Snow Fun:
Unleash the Magic of
Snow Domes
Indulge in the excitement of winter sports throughout the year, no matter the weather! Our Snow Domes transcend climate limitations, bringing a snowy paradise even to the hottest locales, while ensuring a sub-zero inner temperature.
Polidomes Snow Domes offer boundless versatility, accommodating a myriad of winter activities, from ice skating to skiing, tubing, sledding, and epic snowball fights! With customizable sizes, we'll turn your winter wonderland dreams into reality.
Engineered by our expert HVAC specialists and architects at Polidomes, these geodesic domes boast full insulation and climate control, maintaining a stable, low inside temperature perfect for snowy adventures, irrespective of external conditions.
Join our team of creators and theme park designers, as we guide you through every step of the journey, crafting an enchanting Snow Dome experience that mesmerizes visitors year-round. Embrace the magic of snow with Polidomes and embark on an extraordinary snowy escapade!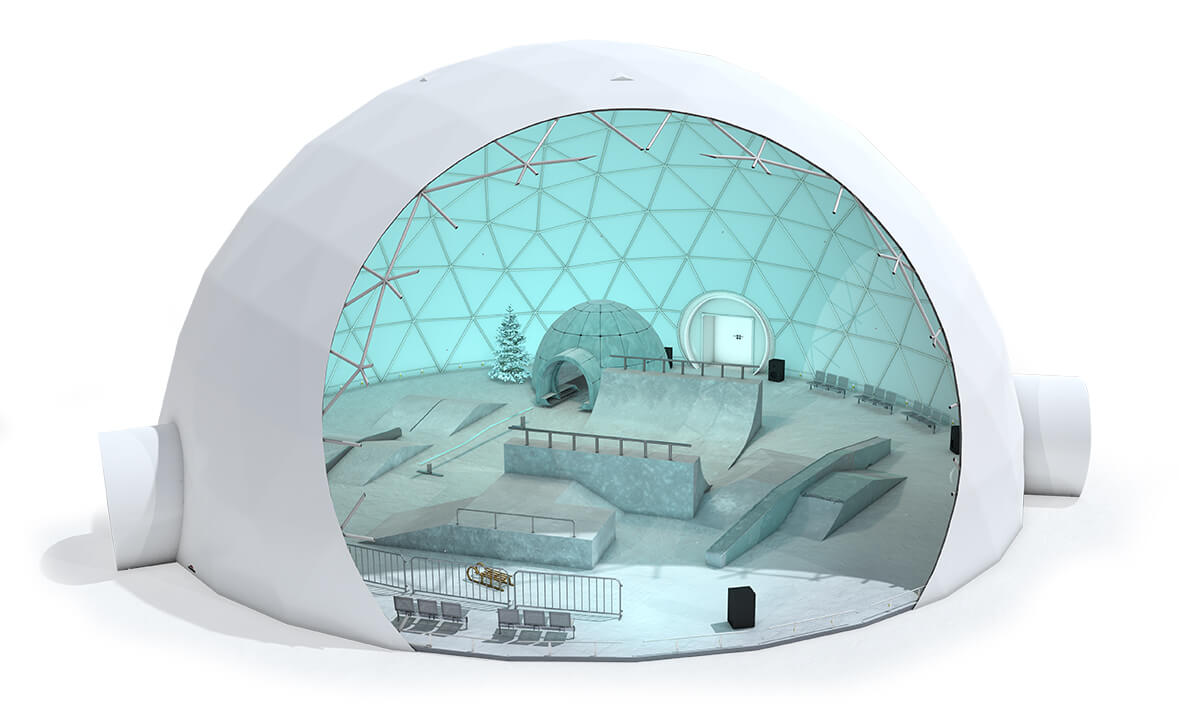 Ice Bar Domes: Chilling Winter Vibes
Escape to a winter wonderland with our Ice Bar Domes, where temperatures are kept below freezing, setting the stage for a unique and frosty experience. Embrace the chilly atmosphere as you marvel at intricately carved ice sculptures and engage in a plethora of winter fun.
While Ice Bars are traditionally found in cold countries, our Ice Bar Domes are becoming a global sensation, gracing luxury hotels and resorts worldwide. Whether it's Dubai or Las Vegas, you can now beat the heat and indulge in winter-themed excitement.
Equipped with our remarkable fulldome 3D projection system, our Ice Bar Domes offer an all-encompassing 360o degree illumination with captivating content of your choice. Imagine sipping a drink with friends while being mesmerized by a panoramic projection of the enchanting Northern Lights.
In addition to being an ice bar, our versatile domes can host thrilling ice sculpture tournaments, adding an extra layer of excitement and creativity to the experience. So, step into our Ice Bar Domes and immerse yourself in a world of chilling delight and endless winter magic.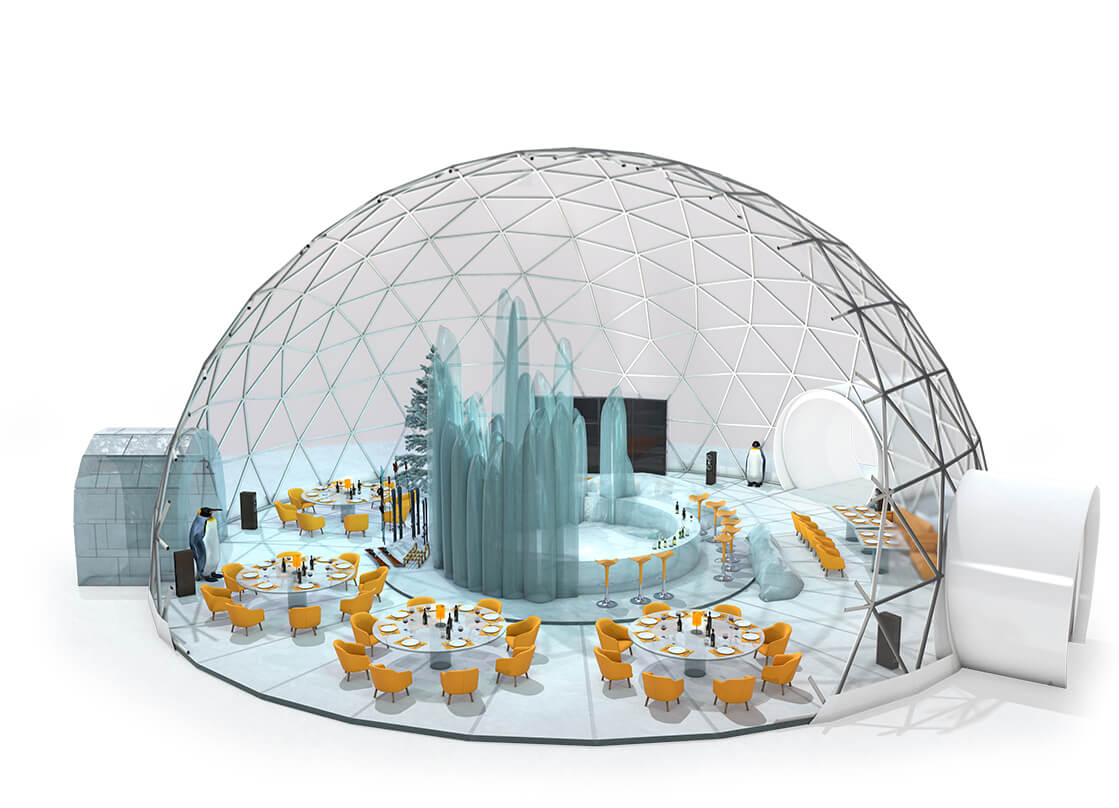 Tailored Scope
Whether you prefer to order just a dome or use us as your general contractor, we offer a comprehensive solution ready to make your project a reality

Architectural Adaptability
Dome size varies based on ground diameter and local architectural height restrictions for building permits

Chilled Projections
We'll ensure projectors work seamlessly in cold temps for flawless ceiling mapping, creating an immersive ambiance for all

Explore Innovative Upgrades
Open up new opportunities and embrace imaginative strategies to elevate and expand your business further

Viral Dome Experiences
Our domes capture social media's spotlight, providing the most cost-effective yet attention-grabbing commercial solution, as people love to share their unforgettable dome experiences

Instant Transformations
With a simple touch, our domes offer the freedom to change their function effortlessly, providing endless possibilities in the use of free space

Flawless Ingenuity
Our dome's brilliance lies in its simplicity and perfectly designed pieces, creating a resistant and seamless structure that requires no force during setup

Quick Response
With a fat compact delivery, ample inventory, and rapid in-house reaction, we cater to market needs promptly

Expert Tent Innovators
Our team of experienced professionals has tried it all and continuously improves tent solutions to make them more than just ordinary tents

OIgloo Domes
Secure your own winter resort domes today and start accepting reservations for a unique apre ski experience

Join Us in Creating

Extraordinary Winter Experiences:


A Partnership Offer
At Polidomes, we are on the lookout for reliable partners and prime locations to revolutionize the winter entertainment industry. Our vision is to introduce our winter-themed apres-ski model domes to major cities and resorts across Europe, the USA, and the Middle East.
We understand that every location is unique, and we welcome all forms of cooperation, whether it's through property lease or rental, or forging equal partnerships with shared profits. With our expertise as dome specialists, you can rest assured that you won't need to worry about the technicalities. We've got it all covered! From the initial concept to the execution, scaling, and even changing the setup to adapt to new ideas – leave it to us.
Our passion lies in bringing wild and creative ideas to life, and we believe that our partnership will thrive on mutual enthusiasm and shared ambitions. So, if you have a serious offer and believe in the advantages of your property and location, let us know how you envision our collaboration.
Let's embark on this exciting journey together and build something extraordinary that will redefine the winter experience for countless visitors. Reach out to us, and let the magic begin!
Northern Lights Apre Ski Dome in Iceland's Volcano Mountain
Immerse yourself in the enchanting Northern Lights experience within our Polidome, defying extreme weather conditions and creating an extraordinary après-ski adventure atop Iceland's mesmerizing volcano mountain.
Iceland Apre Ski Dome
Unveiling Winter Resilience: Romanian Dome Project in Minus 20oC
Witness the power of our domes in extreme cold as we conquered minus 20°C temperatures in Romania's winter season, transforming the surroundings into cozy havens despite the challenges faced during setup. Explore this remarkable project showcasing the unparalleled versatility and comfort of our Polidomes even in the harshest conditions.
Profi Romania
Unleashing Winter Magic: McDonald's TV Commercial and Beyond
Discover how we brought the enchanting winter vibes to a Polish city for McDonald's TV commercial, showcasing the brand's power to create winter experiences. Now, we're ready to take this amazing winter concept to the most unexpected countries, bringing the joy of winter to new and unexplored horizons.
McDonald's TV commercial
Additional possibilities
Basic

Equipment

Delve into the extraordinary standard features of our geodomes and unlock their full potential. Embark on an extraordinary journey of enhanced possibilities